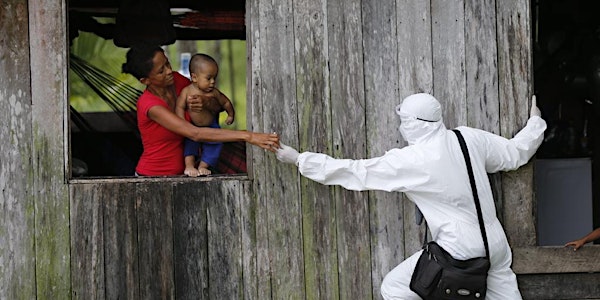 Film Screening: "Out of Breath" & Interview with Director, Helena Petta
An exclusive screening of "Out of Breath" and interview with Director Helena Lemos Petta.
When and where
Location
Tsai Auditorium, CGIS South 1730 Cambridge Street Cambridge, MA 02138
About this event
Join us for this in-person film screening of "Out of Breath," awarded the Best Documentary in the Brazilian Competition of the 2022 It´s All True International Documentary Film Festival. The screening will be followed by an interview with Director Helena Lemos Petta. A reception with light refreshments will be served as of 5pm and the film screening will begin at 5:30pm.
"Out of Breath" shows healthcare as it intersects with religion, inequalities and racism. The documentary sheds light on this health crisis giving a human face to our collective struggle against COVID 19 as we look for some healing in a world in desperate need of care.
Technical Specifications:
"Out of Breath," a film by Ana Petta and Helena Petta
Documentary, 81 minutes, 2022, Brazil
In Portuguese with English subtitles
Speaker: Helena Lemos Petta, Lemann Visiting Scholar, DRCLAS
Moderator: Marcia Castro, Andelot Professor of Demography; Chair of the Department of Global Health and Population, Harvard T.H. Chan School of Public Health; Chair, Brazil Studies Program - DRCLAS
Helena Lemos Petta graduated in Medicine from the Faculty of Medical Sciences of Santa Casa de São Paulo (2004), Master's in Public Health from the Oswaldo Cruz Foundation and holds a Doctorate from the Department of Preventive Medicine at the University of São Paulo. Helena was a PhD exchange student at Harvard School of Public Health (2017 - 2018). She is the creator of the medical television series Basic Unit transmitted by the Universal Channel, and author of "Basic Unit: a Brazilian public health on TV", by Hucitec (2020). Helena has experience in ​​communication and health.
Marcia Castro is Andelot Professor of Demography, Chair of the Department of Global Health and Population at the Harvard TH Chan School of Public Health, and Chair of the Brazil Studies Program of the David Rockefeller Center for Latin American Studies (DRCLAS). Her research focuses on the development and use of multidisciplinary approaches to identify the determinants of infectious disease transmission in different ecological settings to inform control policies. She has more than 15 years of collaboration with Brazilian researchers, Health Secretariats, and the Ministry of Health particularly related to infectious diseases. She made important contributions during recent public health emergencies (the Zika virus epidemic and the COVD-19 pandemic). Castro has projects on malaria, COVID-19, arboviruses, infant/child mortality and development, and climate change in the Brazilian Amazon. Specifically, on COVID-19 she has been assessing the spatiotemporal pattern of COVID-19 spread in Brazil, mortality, and fertility changes due to the pandemic, risk factors for mortality, and vaccine effectiveness. She serves on several advisory boards in Brazil, including the Institute for the Studies of Health Policies (IEPS), the Science Center for Early Childhood (NCPI), and Instituto Todos Pela Saúde (ITpS). She earned a PhD in Demography from Princeton University.
Presented in collaboration with the Department of Global Health and Population, T.H. Chan School of Public Health