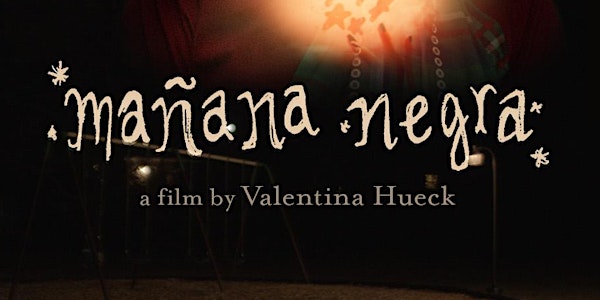 Film Screening of mañana negra
Join Artspace for a free screening of mañana negra by Valentina Hueck. A panel discussion will follow the film screening.
When and where
Location
Artspace 201 East Davie Street Raleigh, NC 27601
About this event
Join Artspace for a free screening of mañana negra, a film by Valentina Hueck. A panel discussion featuring the film's director, collaborators, and one of the actresses will follow the screening.
Screening Details
6:30pm: Mingling
7:00pm: Film screening begins
7:15pm: Panel discussion followed by Q&A
About the Film
On Christmas night, after discovering her mother reading her diary, Teresa runs away from home and is left with nowhere to go. Now in solitude, with her secret crush on her best friend exposed, Teresa divulges her fear and shame.
Such is the plot of mañana negra, which is a collection of vignettes that attempts to epitomize a teenage girl's emotional skepticism. The film's name and setting is a visualization of the merging of subconscious and consciousness: the black morning or the time when night seeps into morning. A reckoning without light. A sleepless dream.
The film aims to show how the trauma of immigration fuses the past with the present, and affects the discovery of Queerness. Teresa is haunted by her estranged family, a home that exists only in the past and the oncoming reaction of her Catholic mother. All the while, she dearly holds unspoken feelings for her best-friend, Jeimy, who is also leaving. The battle to be won is between the fear of loss and the will to love. Learn more about the film at https://hueckvalentina.myportfolio.com/manana-negra
About the Filmmaker
Valentina Hueck is a Venezuelan American filmmaker. In 2020, she graduated with Honors from Pratt Institute with a B.F.A. in Film. Since graduating, she has been working as a freelance video editor. She is one of the eleven 2021 "Filmed in NC" awardees. Her film, "pulsing orange, skinny youth," was screened at the New York Lift-Off Film Festival and the VisionsFFC, where she won the highest award for filmmaking known as the "VISIONARY AWARD." She has received an Artist Support Grant from the United Arts Council of Raleigh & Wake County, along with a grant from the Pivotal Fund for her upcoming short film "mañana negra." Through cinema, she dissects her ideas of love and identity as a queer, Venezuelan-American woman. The experience of leaving her home country as a child has instilled in her the understanding of a marginalized persons' endeavor in America. Therefore, she hopes that her filmmaking practice will not only represent and amplify her voice but also others, thus nurturing a community. The artistic object of her work is to heal and emotionally enchant all involved.