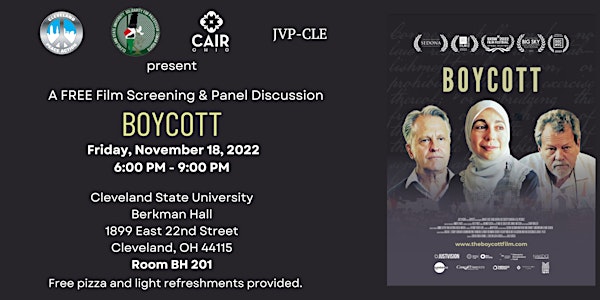 Film Screening of Boycott
Free film screening/panel discussion of Boycott, a documentary about three Americans' lawsuits that expose an attack on freedom of speech.
When and where
Location
Cleveland State University 2121 Euclid Avenue Cleveland, OH 44115
About this event
Cleveland Peace Action Education Fund, Cleveland State University's Solidarity for Palestinian Human Rights, the Cleveland chapter of the Council on American-Islamic Relations, Ohio, and Jewish Voice for Peace Cleveland are partnering to host a screening of Boycott, followed by a panel discussion.
Pizza and snacks will be served.
When: Friday, November 18, 2022 from 6:00 PM to 9:00 PM
Where: Cleveland State University, Berkman Hall, 1899 E. 22nd Street, Cleveland, OH 44115
Room BH 201
More about Boycott
When a news publisher in Arkansas, an attorney in Arizona, and a speech therapist in Texas are told they must choose between their jobs and their political beliefs, they launch legal battles that expose an attack on freedom of speech across 34 states in America.
Boycott traces the impact of state legislation designed to penalize individuals and companies that choose to boycott Israel due to its human rights record. A legal thriller with "accidental plaintiffs" at the center of the story, Boycott is a bracing look at the far-reaching implications of anti-boycott legislation and an inspiring tale of everyday Americans standing up to protect our rights in an age of shifting politics and threats to freedom of speech.
For more information, please visit https://justvision.org/boycott