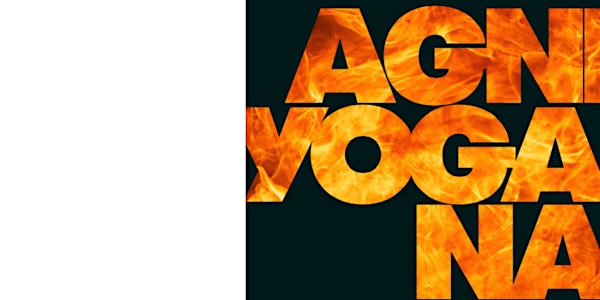 Film screening of AGNIYOGA | 6/26/2020
Date and time
Friday, June 26, 2020 · 6:30 - 9:30pm EDT
Location
Tibet House US 22 West 15th Street New York, NY 10011
Refund Policy
Contact the organizer to request a refund.
Eventbrite's fee is nonrefundable.
Description
Friday, June 26; 6:30-9:30PM | $10 (no member discount)
Join us for a film viewing of AGNIYOGANA, a documentary exploring the true potential of the ancient yogic path in the modern world. Followed by a Q & A with the director, Emma Balnaves.

AGNIYOGANA, the film's title, refers to the yoking of one's own inner fire. This inner fire is what transmutes and transforms every living being so they may become more fully awake, vibrant and alive. The commentary on the Vedas known as the Satapatha Brahmana states: 'Then...when about to speak the morning prayer, he yokes the fire altar…and when yoked, he obtains all wishes.' (9:4:4:1). So how does one yoke the fire to obtain our wishes for ourselves and humanity? This question is the basis for my lifelong inquiry into Hatha Yoga. As I studied the classical texts and systems of Hatha Yoga, and travelled the globe meeting those who were adept in the traditional forms, I saw the great potential of a film that illuminated the holistic practices of Hatha Yoga through the words and experience of authentic practitioners.
We needed to go back to the roots. To reveal these traditional practices to others so they may be remembered and once again shared with a world in need. To light the fire of inquiry in the next generation of spiritual aspirants. The tagline of AGNIYOGANA, "Lower the Head and Invoke the Fire," is an invitation to bow to the fire within each of us. - Emma Balnaves.
Running time: 63 minutes

Friday, June 26; 6:30-9:30PM | $10 (no member discount)

Click here for presskit
---
OFFICIAL TRAILER: https://www.youtube.com/watch?v=RMRnkVbEEp4&feature=emb_logo
---
Emma Balnaves is the producer and director of AGNIYOGANA and an internationally respected teacher of the traditional forms and philosophies of Hatha Yoga. She has been teaching yoga since 1998. Emma was introduced to yoga in her early teens when she became intrigued by the mystery of the practices. After studying visual communication, majoring in photography at university, and working in the creative arts in Sydney, New York, and London, Emma committed herself to a life of teaching yoga. Her early training began with a rigorous three-year apprenticeship at the Hatha Yoga Shala in Bondi Junction, Sydney, Australia. AGNIYOGANA is her first film. She is the author of three publications, "Nataraja - the Lord of Multiple Forms," "Yoga for Women," and "Seasonal Mandala". She is cofounder and director of Shadow Yoga (a form of classical Hatha Yoga) and Nŗtta Sādhanā. Emma resides in Adelaide, Australia with her husband and teaching partner, Shandor Remete. www.shadowyoga.com