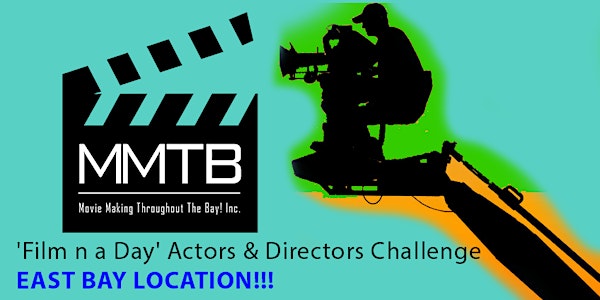 'Film n a Day' Actors & Directors Challenge- Win $1,000+
ACTORS, FILMMAKERS, WRITERS!!! COME MAKE A SHORT FILM WITH US!!! Compete In Film Teams! Everyone Welcome! **Must Register in ADVANCE.
By MMTB- Movie Making Throughout the Bay! Inc.
Date and time
Saturday, May 27 · 10am - 6:30pm PDT
Location
MMTB - Movie Making Throughout the Bay! Inc. 13 Pacific Avenue Rodeo, CA 94572
About this event
8 hours 30 minutes

Mobile eTicket
ACTORS, FILMMAKERS, WRITERS!!! COME MAKE A SHORT FILM WITH US!!!
Compete In Film Teams! Everyone Welcome!
-FILMS MADE ON THIS EVENT WILL BE Screened at a local Theater in the Bay Area during BASH- Bay Area and Sacramento Short Film Festival and Voted On for a chance to win $1,000 and a Trophy
- Everyone attending this event will receive IMDB credits.
-Chance to win $1,000 towards a new short film and Director Must Select Two People To Hire From Winning Team.
**Drinks, and snacks will be provided. Lunch provided with correct pass-Please arrive having eaten a big breakfast already.
**Must Register in ADVANCE.
This is a PRODUCTION- EVERYONE MUST Arrive ON TIME (30 min early for new people) for Paperwork/ ID Check In
- Teams Assigned/ Chosen Random however, directors are allowed to bring up to 3 crew members (with paid passes) to assign to their team as long as they were brought in as 1st timers by them, or get approval in advance. Must have a VIP pass to assign actors to your team, or actors assign themselves to your team and have a bigger role.
- Apprx 6 Hours To Collab, Write, and Film. Director must submit finished film by deadline, if they use anyone outside of the day event for crew or post, must have them register for a post production pass. NO OTHER ACTORS MAY BE USED.
- Films Edited & Due Apprx 1.5 Months from Shoot Date (On the 1st of the following month or 15th, depending on date of event)
-WRITERS WARNING- In order to take this challenge, you need to be flexible. You are welcome to bring a few scripts that are 6 pages or less, and can be easily rearranged for the type/number of actors, and location. However it is not guaranteed that your director will use them. If you have a problem taking direction, or need to be fully in charge of the writing, this is not the event for you. This is a team collab, and writers help with ideas, and to keep the story together and flowing, write lines(to kick it off, but there may be lots of improv as well) If you are not a team player, and If you are not flexible, this is not the event for you. You are welcome to work with Directors in advance on scripts prior to challenges if you have already connected with them, and are registered.
- Plenty of Free Parking
MMTB Production Studios, Theater and Lounge
13 Pacific ave Rodeo Ca, 94572
--------
These events are held around the Bay Area all year in various locations visit our annual calendar for more www.MovieMakingBay.com/events
MMTB is a Non-Profit Organization, any Donations are appreciated.
----
-To get in our Filmmakers and Actors Database for future employment opportunities- http://www.moviemakingbay.com/ Click Register
-----
-Under 18?- Parent or Guardian Must Accompany at all times. Child must have a current entertainment work permit copy along with them to leave with us.
-----
-For Photos of past events visit our Album Section on Facebook at- https://www.facebook.com/MovieMakingBay/photos_stream?tab=photos_albums
------
CARPOOL- We have a carpool page for MMTB Members, you MUST be registered before you can be accepted in the group. There is no guarantee to find ride, especially if you are new, however, the earlier you register and start posting to the carpool page, the more likely you will catch a ride.- https://www.facebook.com/groups/MMTB.carpool
About the organizer
        CELEBRATING OUR 13 YEAR ANNIVERSARY!!!!!!!
'MMTB- Movie Making Throughout the Bay! Inc.is a 501c3 Non Profit Organization that supports the efforts of filmmakers, performers and industry professionals throughout the Bay Area and Sacramento by providing a collaborative, supportive and fun environment for them to create, connect and succeed.' Serving the Bay Area & Sacramento Filmmaking Community Since Jan 2010 
REMINDER- ALL EVENTS Below Need To Be REGISTERED IN ADVANCE (The Film Festivals Only Have Door Entry Fees if it's Not Sold Out.)