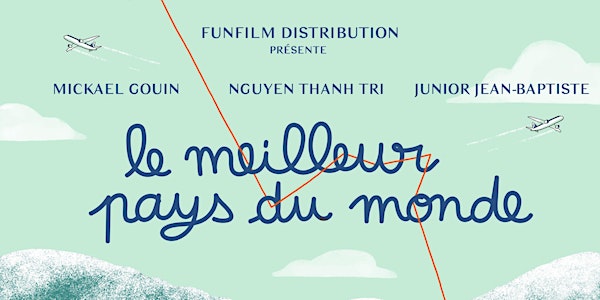 Film: Le meilleur pays du monde / The Greatest Country in the World
Ky Nam Le Duc's 2019 film "Le meilleur pays du monde" / "The Greatest Country in the World" Part of the 2022 FrancophonieDC Festival
About this event
The Québec Government Office in Washington and Georgetown University present the film "Le meilleur pays du monde."
This fiction imagines a world where after Canada's election of a far-right government, an older man decides to sell his dépanneur and his home and return to his native Vietnam. But when his daughter's ex-boyfriend shows-up with his son and asks to stay, the three men must learn to cohabitate for several turbulent weeks.
Film screened virtually. Link and password availalbe at noon on March 24 and remains valid for 72 hours.
Presented in French with English subtitles. Part of the 2022 #FrancophonieDC Festival.
Le Bureau du Québec à Washington et l'université Georgetown vous présentent le film « Le meilleur pays du monde. »
Dans ce film de fiction, suite à l'élection d'un gouvernement d'extrême droite au Canada, un homme décide de vendre son commerce et sa maison pour retourner au Viêt-Nam. Mais son ex-beau-fils vient chercher refuge chez lui, avec, à sa traîne, un enfant. Ensemble, ces trois hommes doivent cohabiter durant quelques semaines de grande transformation.
Projection virtuelle. Lien et mot de passe envoyés à midi le 24 mars et valides pendant 72 heures.
Présenté en français avec des sous-titres en anglais. Activité dans le cadre du festival de la #FrancophonieDC.