Discussion about contemporary Czech cinema and award-winning Czech film Old-Timers with U.S. film programmers Nick Bruno and Josh Gardner.
About this event
June 11, 2020 at 9 PM (EDT) on ZOOM
Moderated by Irena Kovarova
Film available to stream from June 8 here for a $4 fee: http://www.czechthatfilm.com/. In Czech with English subtitles.
***
Closing this year's Czech That Film online festival of contemporary Czech cinema is a discussion of the opening film OLD-TIMERS (Staříci) from directors Martin Dušek and Ondřej Provazník, brought back after opening the festival for repeat screenings.
When a democratic society fails to address injustice of the past, can you take justice into your own hands? That's the question brought forth by this untraditional road movie, centered on two aging and infirm men. They are victims of the Czechoslovak totalitarian regime who spent years as political prisoners sentenced to hard labor in the staged political trials of the 1950s. Based on real life events, the two protagonists – polar opposites – decide to take justice into their own hands, desperate to take revenge on a Communist prosecutor who destroyed their lives, but who didn't pay the price for his crimes. In an affecting portrait of the frailty and vulnerability of old age, the two veteran and beloved actors, Jiří Schmitzer and Ladislav Mrkvička, received a gift of profound, colorful roles to sink their teeth into.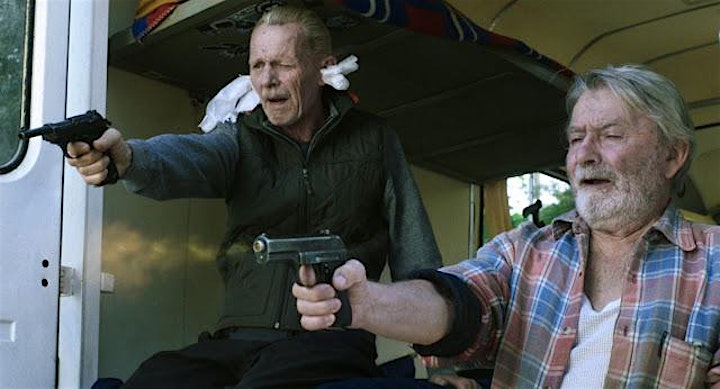 This often sharply humorous drama was a critical favorite among films that premiered last summer at the Karlovy Vary International Film Festival and the directors, seasoned documentary filmmakers, thus made their successful first foray into fiction filmmaking after a number of well-received non-fiction features. In 2019, Old-Timers won in the Best Actor in a Leading Role and Best Actor in a Supporting Role categories in the Czech equivalent of the Oscars (the Czech Lion Awards) and received eight other nominations.
Programmer Irena Kovarova will discuss the film and the appeal of contemporary Czech cinema for American audiences with Nick Bruno, who manages public cinema programs for the year-round screenings of SIFF cinemas and is a member of the programming team of the Seattle International Film Festival, and Josh Gardner, the founder of The Film Lab (a microcinema in Detroit) and Cinema Lamont, a non-profit that fosters cross-cultural understanding through the power of world cinema.