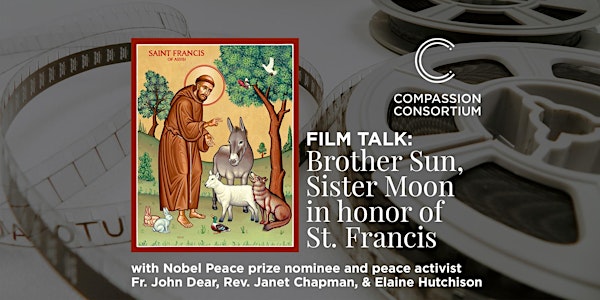 Film Discussion: Brother Sun, Sister Moon in honor of St. Francis of Assisi
Join us for a panel conversation with Nobel Peace prize nominee and peace activist Fr. John Dear, Rev. Janet Chapman, & Elaine Hutchison
Refund Policy
Contact the organizer to request a refund.
Eventbrite's fee is nonrefundable.
About this event
Please join us on for the Compassion Consortium Film Night, featuring a panel conversation with three experts on St. Francis.
On October 11 at 8:00 pm, and in honor of the October 4 Feast of St. Francis of Assisi, the Compassion Consortium will present our Film Night featuring the beautiful vintage film, Brother Sun, Sister Moon, an uplifting and visually stunning dramatization of the life of Saint Francis and his dear friend, Saint Clare, sometimes called "the female St. Francis." We will present a special panel to discuss Francis, animals, nature, the Pope who took Francis's name, and what it means to live in the legacy of this spiritual luminary. Panel members include Rev. Janet Warner Chapman, historian Elaine Hutchison, and Nobel Peace Prize nominee, Rev. Father John Dear.
​ABOUT THE FILM
Brother Sun, Sister Moon is a 1972 film directed by Franco Zeffirelli and starring Graham Faulkner and Judi Bowker. While you may certainly attend the panel discussion without having seen the motion picture, we highly recommend that you treat yourself to the experience (and if you live with cats, they will love this movie: there are many shots of birds that cats find captivating). The full film is available on the following platforms (rental prices are noted):
Amazon, $3.99 rental
GooglePlay, $2.99 rental
Vudu.com, $2.99 rental
iTunes.com, $3.99 rental
ChristianCinema.com, $3.99 rental
ABOUT THE PANEL
The Compassion Consortium is proud to present an august panel of experts who are both knowledgeable and passionate about St. Francis and what his message has to say to present-day animal and environmental activists. Panel moderator is Compassion Consortium co-founder, author and podcaster Victoria Moran. Panel members are:
Rev. Janet Warner Chapman, an ordained minister of the Christian Church (Disciples of Christ) since 1988, currently serves at First Christian Church (DOC) in Redding, California, an animal-friendly ministry which invites parishioners to bring their companion animals to partake in worship services (including taking weekly communion). Rev. Chapman's Master of Divinity comes from Brite Divinity School, Texas Christian University, and she has long pursued animal ministry. She recently spent three months focusing on the gifts of animal life in conjunction with faith development and nurture through a Lilly Clergy Endowment Grant. Part of this time was spent in Assisi focusing on the teachings and inspiration of St. Francis.
Rev. John Dear is a Catholic priest and one of the most well-known teachers and voices for peace and nonviolence in the world. In 2008, Archbishop Desmond Tutu nominated him for the Nobel Peace Prize. Dear has organized hundreds of demonstrations against war and injustice and been arrested some 85 times for nonviolent civil disobedience, spending nine months in jail and two years under house arrest.
Elaine Hutchison is a practicing Quaker and longtime student of the life and teachings of Francis of Assisi, with special emphasis on his relationship with the natural world. A copywriter and ghostwriter by profession, and the Compassion Consortium's go-to editor and wordsmith, she is also an autodidactic historian and is creating the veganhistory.org website, a hub for vegan/vegetarian history and research. Elaine, a Main Street Vegan Academy-certified Vegan Lifestyle Coach and Educator, lives on a small farm in the Cascade foothills of Washington state with her animal family of two horses, a dog, a cat, and a parrot.
For more information, visit: https://www.compassionconsortium.org/book-film-club-selection