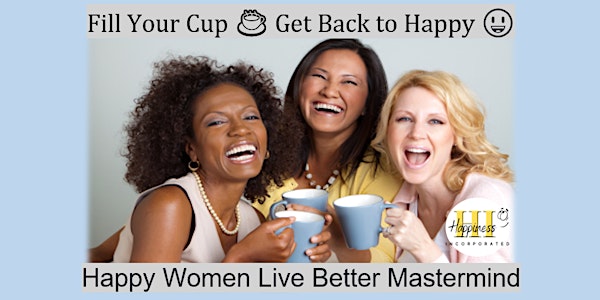 Fill Your Cup ☕️ Happy Women Mastermind
NOTHING COMPARES TO GIRLFRIEND THERAPY "The conversations spark a magic that I have been missing for a long time. I didn't know I could be t
When and where
Location
Happiness Incorrporated 1538 Crescent Pointe Lane Virginia Beach, VA 23453
About this event
NOTHING COMPARES TO GIRLFRIEND THERAPY - this is an 10 week journey rediscovering your beautiful significance.
"The conversations spark a magic that I have been missing for a long time. I didn't know I could be this happy"
Reconnect, Realign and Rediscover YOU... ROCK your HAPPY!
"Why are you so dutifully filling up another's cup constantly and filling your own cup so irresponsibly? Adam Roe
Happy Women DO Live Better! This 10-week mastermind group will induce positive emotion, laughter, confidence, and overall wellbeing. 
Build Circle of Influence.Learn Time Management.Set Healthy Boundaries.Gain Peace of Mind.
Discover 13 Ways to Trigger Happiness – choices that can boost your joy right now, even in the midst of deadlines, dating, marriage, parenting, and squeezing in a workout or girls' night out.
WHAT EACH ATTENDANT RECEIVES - Value over $3,000 - ONLY $299
26+ hours professional coaching ($2600) included
Unlimited talk/text directly with the coach ($1500) included
Professional Study Guide ($250) included
Weekly virtual mastermind conversations
FILL YOUR CUP weekly with encouragement, inspiration and motivation
New long-lasting friendships
Reduce emotional stress
Relieve mental fatigue
Relinguish spiritual warfare
What Attendees will gain from this mastermind:
Bounce back from stress and adversity faster
Enjoy deeper satisfaction in your marriage and friendships
Maximize career opportunities and increase your income
Fight off depression, colds, and other illnesses
Live Longer and Happier!
Fill Your Cup and Feed Your Soul - If you don't do things to keep your cup full, you have nothing left to give or share with others. You have to take care of yourself in order to have the alignment and the power to take care of others at the capacity that we do because it fills the well.
"We've been taught that taking care of yourself is a problem... in this country we've received the message that to be a wife and mother you have to sacrifice everything!" jada-pinkett-smith
Not anymore! Together we can rebrand the messaging women are receiving from societal stigmas and beliefs. Together we can build like-minded women to live happier, healthier and more successful.
Mastermind consists of 10 classes ONLINE beginning January 12, 2023 thru March 2, 6:30p - 8:00p.
Facilitated by Cynthia Gossman, EI Happy Coach, Happiness Incorporated. Visit www.cynthiagossman.com/fillyourcup/  for more details.