Filipinx Night of Storytelling
Description
Everyone must RSVP since there are room capacity limitations.
Please join us for a Night of Storytelling as we share with you origin stories, enriched with spoken word, followed by an After Party at Capitol Bar for the Smash Brothers DJs 10 Year Anniversary Party @ Capitol Bar Midtown (2415 Main Street)!
This is a fundraiser sponsored by FANHSxUNIPRO. The event is a celebration of Filipino American History month following the FYP (Filipino Young Professionals) Filipino Street Festival.
Featuring:
Filipino Martial Arts
Called Bahala Na®, meaning "come what may", Giron® Arnis Escrima / Bahala Na® Martial Arts is a Filipino/American martial art of self defense created by Grand Master Emeritus Leo M Giron, an original "bladed warrior" and a true WWII Hero. The Giron® System is a proven fighting system based on edged weapon combatives. The Giron® System is composed of 20 styles including sword, stick, knife and empty hand techniques applicable to many aspects of survival for modern life. Our wish is to guide students through the essential elements of this effective and combat proven system and to offer insight into the rich Filipino/ American culture and history that was given to us by GME Giron and the now Grand Master, Tony Somera of Stockton California. Check out their web site here.
Baybayin


Kristian Kabuay will speak about the lost art of Baybayin, which is an indigenous pre-Filipino writing system from the islands known as the Philippines, followed by a live demonstration. Check out his books on Amazon: Salat ng Kaluluwa and Kulay : Baybayin: PrePhilippine script coloring book
Filipino Tatoos

Lane Wilckin will talk about Filipino Tatoos, how centuries ago, tattooing was so integral to the culture of the Philippines, that the islands were originally called by the Spanish, Las Islas de los Pintados, or "The Islands of Painted People" due to the abundance of tattooing seen by early Spanish explorers. A live presentation will follow. Check out his book on Amazon: Filipino Tatoos Ancient to Modern
Spoken Word
The Night of Storytelling is not complete without some Spoken Word. FANHS-HTX President Christy Poisot will open the evening and Miko Jao will close the evening with his talented prose. Anyone else willing to "bring it" on open mic can do so.
Jessicatures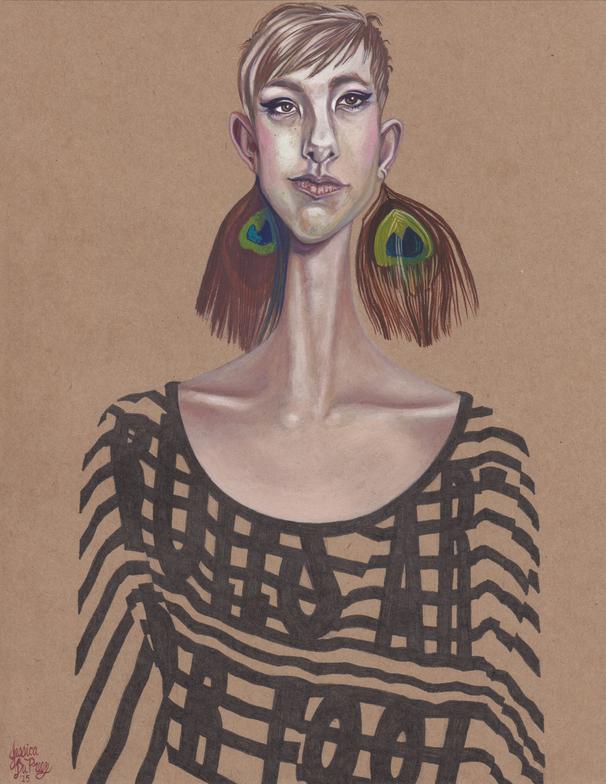 Jessica is a Friend of FANHS-UNIPRO and we are excited for her to use her talents to support our Night of Storytelling. She will be accepting donations for her Filipino-Themed caricatures she will draw of you to support FANHSHTX-UNIPRO projects. Jessica started her caricature career 7 years ago at Walt Disney World in Orlando, FL. In 2012, She was named one of the top 10 fastest caricature artists in the world at the 22nd Annual International Society of Caricature Artists conference. After graduating with a BFA in Fine Art with a double major in Art History from Florida Southern College in 2013, she moved to New York City to accept the position of Gallery Manager for Tally Beck Contemporary in the Lower East Side. In Mid 2014 Jessica relocated to Houston, TX where she currently works as a self employed artist. Jessicatures