Book talk w/ Dr. Kevin Nadal, Dr. Allyson Tintiangco-Cubales, and Dr. E.J. David - Filipino American Psychology
About this Event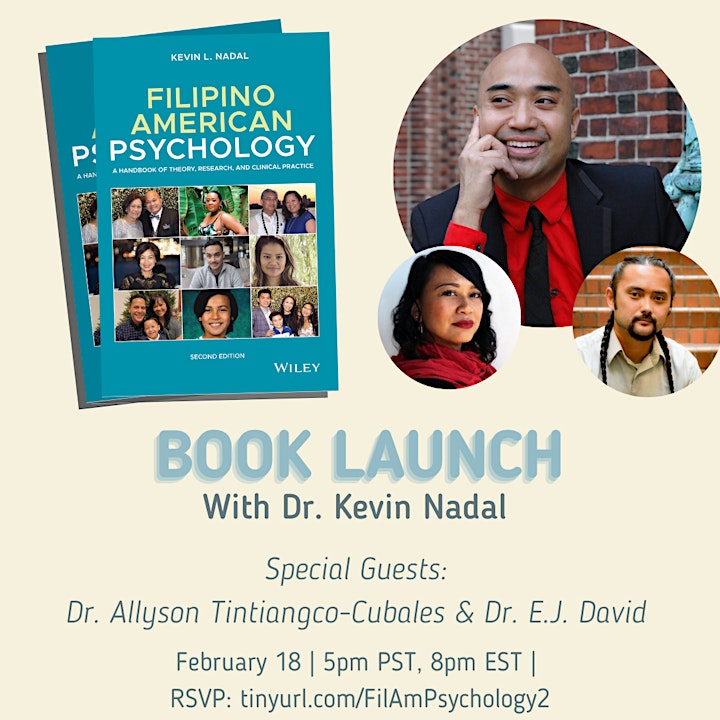 Dr. Nadal will host a virtual book talk on February 18, 2021 at 8:00pm EST with esteemed Filipino-American scholars Dr. Allyson Tintiangco-Cubales and Dr. E.J. David.
This book is an invaluable reference for psychologists and other practitioners to provide mental health treatment for Filipino Americans, as well as students and professionals who wish to understand this population.
Dr. Kevin Leo Yabut Nadal — Professor of Psychology, queer activist, leading researcher on microaggressions, and author — has released a new and improved edition of his critical text Filipino American Psychology: A Handbook of Theory, Research, and Clinical Practice through publisher Wiley. This second edition of Dr. Nadal's book, which comes a decade after the first edition, condenses the latest and best information about the psychology of Filipino Americans into a single, indispensable volume — the only contemporary resource of its kind.
"Dr. Kevin Nadal's book is a must-read for anyone interested in the psychological experiences of Filipino Americans," says Dr. E.J.R. David, Associate Professor of Psychology at the University of Alaska Anchorage and author of Brown Skin, White Minds: Filipino -/ American Postcolonial Psychology, among other books. "This book contains critical information and analyses that will be helpful for everyone, from the general public all the way to researchers, educators, and service providers who work with the Filipino American community."
Currently, Filipino Americans are the second largest Asian American population in the United States and are the oldest known Asian population in the nation. Despite these statistics, Filipino Americans remain largely overlooked and underserved. In terms of mental health, Filipino Americans experience higher rates of depression than other Asian American groups, yet are one of the least likely groups to seek mental health treatment.
"So much has changed in the past ten years in the field of psychology - especially for Filipino Americans," says Dr. Kevin Nadal. "Since the first edition, there has been a boom in research and service programs related to Filipino American psychological processes, mental health issues, and barriers to treatment. I am hopeful that this newest edition will help facilitate more conversations in Filipina/x/o American families and communities, which can help decrease mental health stigma."
The COVID-19 pandemic has magnified these mental health disparities, negatively affecting Filipino American family dynamics and compromising traditional support systems. For example, nearly 16 percent of nurses in the nation — who are among the many medical professionals at high risk of exposure to the virus — are immigrants, with almost one third of those being Filipinos (New York Times). Filipino American nurses and medical professionals have had to make the hard decision of isolating from their households — which are typically multigenerational — to minimize risk of exposure.
These snapshots are a stark reminder of the importance of having conversations about mental health and developing coping tools in the Fil-Am community. Dr. Nadal's book is a resource for these conversations and includes key topics such as:
Filipino and Filipino American Cultural Values
Overcoming the Model Minority: Contemporary Experiences of Filipino Americans
Intersections of Gender and Sexual Orientation
Multiracial and Multiethnic Filipino Americans
Mental Health and Psychotherapy in the Filipino American community
Historical traumas that still affect Filipino Americans, today
To purchase this book, please visit Wiley.
To book Dr. Nadal for a speaking engagement, please visit www.papalodown.com/dr-kevin-nadal
About Dr Kevin Nadal: Hel is professor of psychology at John Jay College of Criminal Justice and The Graduate Center at the City University of New York (CUNY). He received his doctorate in counseling psychology from Columbia University in New York City and is one of the leading researchers in understanding the impacts of microaggressions, or subtle forms of discrimination, on the mental and physical health of people of color; lesbian, gay, bisexual, transgender, and queer (LGBTQ) people; and other marginalized groups. He has published over 100 works on multicultural issues in the fields of psychology and education. He is the author of ten books including Filipino American Psychology (2011, Wiley); That's So Gay: Microaggressions and the Lesbian, Gay, Bisexual, and Transgender Community (2013, APA); Microaggressions and Traumatic Stress (2018, APA); and Queering Law and Order (2020, Lexington). To learn more about Dr. Kevin Nadal, visit www.kevinnadal.com.
About Dr. Allyson Tintiangco-Cubales: She is an associate professor of Asian American Studies at San Francisco State University's College of Ethnic Studies. She is also the founding director of Pin@y Educational Partnerships (PEP), an educational pipeline focused on providing ethnic studies to schools throughout San Francisco. She is also a founding director of the Institute of Sustainable Economic, Educational, and Environmental Design (ISEEED) where she is the co-lead on the Teaching Excellence Network (TEN). She received her Bachelors of Arts in Ethnic Studies at UC Berkeley in 1993 and her Ph.D. in Education from UCLA in 2000. She has published several books and a wide array of articles that focus on the development of ethnic studies curriculum and community responsive pedagogy. She has received several university and community awards for her work with youth and service learning, including the 2006 Distinguished Young Alumnus Award from UCLA and the 2008 Faculty Award for Community Service Learning and recently received the 2010 Distinguished Faculty Award, one of the highest awards given to faculty for her service. She was recently recieved the Community Advocate Award from the Critical Educators for Social Justice SIG of the American Educational Research Association. She was also recently named one of the 100 most influential Filipina women in the world by Filipina Women's Network.
About Dr. E.J.R. David: He is an Associate Professor of Psychology at the University of Alaska Anchorage, with his primary duties being with the PhD Program in Clinical-Community Psychology that has a Rural, Cultural, and Indigenous Emphasis. Dr. David has published theoretical and empirical works on Internalized Oppression or Colonial Mentality. His first book "Brown Skin, White Minds: Filipino -/ American Postcolonial Psychology" (Information Age Publishing), focuses on colonial mentality and its psychological implications among Filipino Americans. Dr. David's most recent book is "Internalized Oppression: The Psychology of Marginalized Groups" (Springer Publishing), which is the first book to highlight the universality of internalized oppression, but at the same time acknowledges its unique manifestations and implications for various groups.