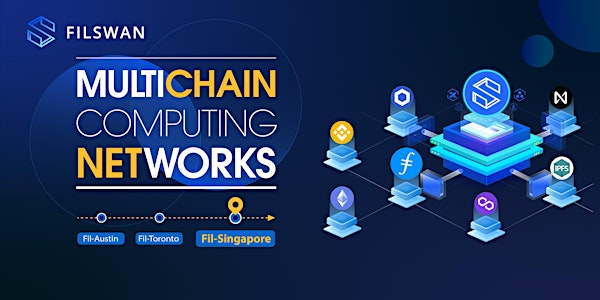 Fil-Singapore Side Event - FilSwan: Multichain Computing Networks
FilSwan will hold a side event themed Multichain Computing Networks at the Fil-Singapore Summit
When and where
Location
Cassia 3302, Level 3 of the Marina Bay Sands, Singapore 10 Bayfront Avenue Singapore, 018956 Singapore
About this event
As one of the most important conferences of the Filecoin ecosystem in the second half of 2022, the FIL-Singapore Summit held in Marina Bay Sands, Singapore from September 26th to 27th has attracted the support and attention of many teams in the Filecoin ecosystem.
FilSwan will hold a side event themed Multichain Computing Networks at the summit. Charles Cao, FilSwan Founder, as well as guests and experts from Filecoin and the Filecoin ecosystem have confirmed their attendance.
Guests:
Clara Tsao, Founding Officer of Filecoin Foundation
Stowell Porter, Head of Community of Filecoin Foundation
Redwan Meslem, Chainsafe Consulting Lead
Hidde Hoogland, Co-Founder of Dcent
Jademont.eth, Co-Founder & Managing Partner of Waterdrip Capital
Elaine, Investment Director of Waterdrip Capital
Charles Cao, FilSwan Founder
Daniel, IT Director of Nebula Block Data
Leo, IT Director of FogMeta
CooperDB
Afiant
ApeMiner
Storverse
The themed event is divided into 3 parts.
1. Discuss hot topics of the current Web3 infrastructure such as storage, multi-chain networks, computing, and network development
2. Review with our community partners the progress and achievements of our Data Dao Hackathon held since August 15th
3. A round-table discussion where various subtopics will be discussed in depth on Token Incentive in Web3 Networks, with guests and experts in blockchain infrastructure, multi-chain storage, and Web3 investing institutions
The important progress on FilSwan's products will also be presented during the event.
We've prepared gifts for you and look forward to seeing you at the venue! Stay tuned to our updates and activities on our Twitter. 👉 FilSwan Twitter
About FilSwan
An important participant in the Filecoin ecosystem and a project team that first proposed a cross-chain solution for Web3 resources
Incubated Project of the Startup with Chainlink Program
Recipient of the Chainlink and Filecoin Joint Devgrant
Member of the Binance Labs Season 4 Incubated Project
Important
All attendees, please register for a FIL Singapore on the FIL Singapore Eventbrite page and get your badge on Floor 4 of Marina Bay Sands first, and then move to Cassia 3302, Floor 3, to attend our Multichain Computing Networks side event.
Register for Free! 👉Fil-Singapore(The Fil-Singapore pre-registration is now closed. However, you may still register on site. Thank you!)
Looking forward to seeing you at Cassia 3302, L3 of Marina Bay Sands, Singapore!
FilSwan 将在 Fil-Singapore 峰会上举办"多链计算网络"边会
作为2022年下半年Filecoin生态的重要会议之一,9月26日-9月27日即将在新加坡 Marina Bay Sands (滨海湾金沙酒店) 举行的FIL-Singapore峰会获得了Filecoin生态众多团队的支持和关注。
FilSwan将于26日下午15:00-19:00 同期在会场 Cassia 3302, Level3 举行题为 "Multichain Computing Networks" 的边会活动。 FilSwan创始人Charles Cao, Filecoin Foundation、Filecoin生态多位重磅嘉宾已确认出席。
嘉宾:
Clara Tsao, Founding Officer of Filecoin Foundation
Stowell Porter, Head of Community of Filecoin Foundation
Redwan Meslem, Chainsafe Consulting Lead
Hidde Hoogland, Co-Founder of Dcent
Jademont.eth, Co-Founder & Managing Partner of Waterdrip Capital
Elaine, Investment Director of Waterdrip Capital
Charles Cao, FilSwan Founder
Daniel, IT Director of Nebula Block Data
Leo, IT Director of FogMeta
CooperDB
Afiant
ApeMiner
Storverse
活动分为三个篇章:
1. 讨论存储、多链、计算、网络发展等多个当前Web3基础设施的热点话题
2. 与社区伙伴共同回顾自8月15日以来Data Dao Hackathon的赛事进程和活动战果
3. 圆桌环节,来自DeFi、基础设施、多链存储和Web3投资机构等多个方向的嘉宾围绕 Token Incentive in Web3 Networks 进行深度探讨
本次活动上,FilSwan还将向社区公布产品重要进度成果同时我们准备了多重好礼,期待在会场上见到大家!我们的活动会持续更新,请密切关注我们的推特呦~ 👉FilSwan Twitter
关于FilSwan
FilSwan是Filecoin生态重要的参与者,也是首次提出Web3资源跨链解决方案的项目团队,FilSwan先后获得了Chainlink Startup的孵化以及Filecoin-Chainlink的联合资助,同时FilSwan也是Binance Labs第四季孵化器的成员。
重要提示
请与会者前往Fil-Singapore主会场 (滨海湾金沙酒店) 4楼进行注册,领取观众牌,移步至3楼 Cassia 3302 参与我们的 Multichain Computing Networks 边会。
Fil-Singapore 免费注册链接:👉Fil-Singapore(当前,Fil新加坡线上注册已截至,请所有观众前往主会场现场进行注册,谢谢。)
期待在滨海湾金沙酒店3楼 Cassia 3302 与您相见!