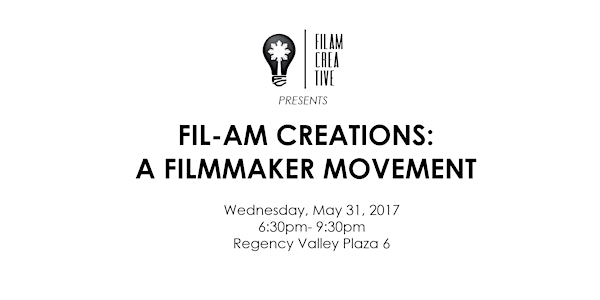 Fil-Am Creations: A Filmmaker Movement (Encore Presentation)
Date and time
Wednesday, May 31, 2017 · 6:30 - 10:30pm PDT
Location
Regency Valley Plaza 6 6355 Bellingham Ave North Hollywood, CA 91606
Refund Policy
Contact the organizer to request a refund.
Description
In an effort to inspire, motivate and mobilize the Filipino American and Filipino filmmaking community, Fil-Am Creative started a movement called "Fil-Am Creations" to challenge them to create short films which were premiered at The Los Angeles Asian Pacific Film Festival on May 3, 2017. Filmmakers of various levels of experience stepped up. We will be adding 1 additional short film titled "Pictures of Perla" to the lineup. We are proud to present their efforts to all of you for an encore presentation!
When?
Wednesday, May 31, 2017
6:30pm Doors Open
7:00pm Screening begins, Q&A with filmmakers
10:30pm Event ends
Where?
Regency Theater Valley Plaza 6
6355 Bellingham Ave.
North Hollywood, CA 91606

Tickets: $15.00 (Sales end 5/31 at 6pm)
At door: $20 starting at 6pm

Free parking lot available!

Eventbrite Ticket Link: www.filamcreations2017.eventbrite.com


In This Program
---
Watch Trailer

VINCE CRUZ, STANLEY WONG / USA / 2017 / 8 MINS

A former champion returns to boba competition with the help of a friend to face his over-the-top rival and rediscover his lost passion.




---

ROBIN JOHNSON, SOMLIT INTHALANGSY / USA / 2017 / 15 MINS

A modern day couple is forced to end their interracial relationship. This is a love story about an Asian American/African American couple inspired by a true story.




---

GABE PAGTAMA / USA / 2017 / 10 MINS

A dream story about the love of basketball between two brothers and a ghost.




---

CASSANDRA PIMENTEL / USA / 2017 / 10 MINS

Plaza Blvd is inspired by the nostalgic memories of growing up in a strong foundational Filipino community.




---

MARA DE LA ROSA / USA / 2017 / 5 MINS

Benji and Malou are newlyweds with a baby on the way. Malou is Benji's world, and she has what should be a picture perfect life: a doting husband, a nice house, and a life in America. But, Malou is hiding a secret, shocking enough to tear their worlds apart. Secrets and lies brew as a dark truth will soon be served over dinner.




---

ROMMEL ANDAYA / USA / 2017 / 10 MINS

A man attempts to overcome the obstacles that prevent him from expressing his love to the birthday girl.




---

ROMMEL ANDAYA / USA / 2017 / 10 MINS

Two dysfunctional sisters learn to find common ground.




---

GABE PAGTAMA / USA / 2017 / 10 MINS

An everyday love story.




---

KAITLYN FAE / USA / 2017 / 15 MINS

An ex-couple meets to sign divorce papers over dinner and wine. As the night progresses, it becomes increasingly apparent one of them has something up their sleeve.




---

Watch Trailer

JOHN CRUZ & MARK DORMITORIO / USA / 2017 / 8 MINS

A young woman thinks she has found the man of her dreams on a dating app and discovers the man she matched with was not who she thought he would be.




---

ANGELA PAVIERA / USA / 2017 / 15 MINS

Kailani and Nobu rekindle an old friendship and together they search for two criminal con artists.




---

CRAIG OBLIGACION-WILSON / USA / 2017 / 14 MINS

A Filipino Crime lord takes a look back at his life and what got him started down his path.

Pictures of Perla

Lynn Harrod / USA / 2017



About the organizer
FilAm Creative is a community organization dedicated to the advancement and empowerment of Filipino-Americans and Asian-Americans in the arts, media and entertainment industry.