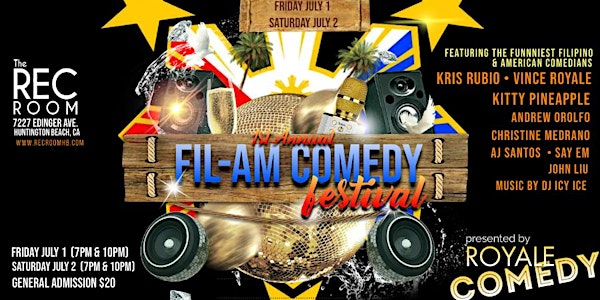 Location
The Rec Room
7227 Edinger Ave
Huntington Beach , CA 92647
Vince Royal Headlines our intimate club!!! Come see him record his comedy album.
About this event
Jersey City native Vince Royale was always the class clown, though he never thought comedy would be his career.
Currently living in Los Angeles, the former homeless salesman turned stand up comedian is currently on the Netflix original series "Cooking On High" and has appeared in the entire season of MTV's "Bad Sex", "Laughs" on Fox, "Stand Up and Deliver" on Hulu, "Not for Nothin" on Amazon Prime and currently on the horror comedy film "Attack of the Killer Donuts" on Showtime. Vince has been regularly performing in Los Angeles hot spots, New York night clubs, and touring internationally for nearly a decade. Vince is extremely down to earth and full of charisma and he has an uncanny ability to turn the things he sees into hilarity.
Vince Royale also performs as multiple sketch characters which he incorporates into his stand up, parody music videos, and comedy sketch videos on social media networks.
He is humble and says that his passion for comedy and ability to do what he loves in front of an audience is indeed a blessing. Vince utilizes his talents to inspire and promote positivity. He organizes comedy/music events for fundraisers and donation drives to benefit orphanages and homeless shelters in the U.S. and abroad.