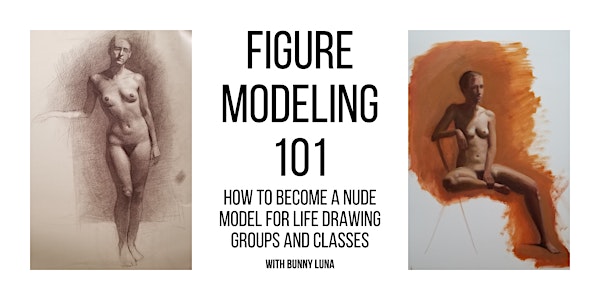 Figure Modeling 101
How to become a nude model for life drawing groups and classes
Date and time
Thursday, November 10, 2022 · 3 - 4:30pm PST
About this event

practical considerations
important safety information
accessibility for models with physical disabilities
how to prepare for a figure modeling session
how to pose
interaction with artists
how to find figure drawing groups/classes
how to book figure modeling gigs

the live training will take place in a private zoom meeting
auto-captions available
it will be presented with a slideshow
there will be a chat box for folks who want to discuss between themselves during the training (no private messages allowed, all chat messages are to everyone)
there will be time at the end for Q+A
it will be recorded
recording and slideshow will be sent to everyone who signs up

are creatives, freelancers, or small business owners
want to be in their bodies, be challenged, have fun, and get paid to do it
are curious about figure modeling
are new to figure modeling and want to learn more
want to expand their knowledge about figure modeling
are figure drawing artists who want to know more about the model's experience
are 18 years old or older

are expecting to draw a nude model, this is not a figure modeling session
are looking for mentorship or step by step instructions on what to do (to book a 1 on 1 session with me instead, click here)
need their hand held to get things done
believe that nudity is always sexual
are looking to build sexual or romantic relationships, or use the live training as a dating service
are under 18 years old

Members get lots of perks:
free or discounted tickets to all of my events (like this one!)
access to the members-only blog where I share resources, memes, videos + more about creativity, queerness, non sexual nudity, + connection
access to my photo + video archive of non-sexual art nudes from the last 10+ years (over 17,000 photos and 3,000 videos!)
members-only access + extra perks on my uncensored art sharing Discord server, The Burrow
the satisfaction of supporting a queer self employed artist, educator, + facilitator
an investment in community by allowing me to offer free, low cost, + sliding scale resources while also making sustaining donations to local organizations for BIPOC healing + land conservancy

Do I have to be nude to be a figure model? Not always, there are some figure drawing groups that like to draw clothed or costumed models, but the majority of them focus on drawing the nude figure.
Do I need prior experience with figure modeling? No prior experience needed! You will be provided with the information you will need in order to become a figure model, and there will be a Q+A at the end if you have any questions!
Do I have to look a certain way or be a certain weight or height in order to be a figure model? No! If someone tells you that you can't be a figure model because you're short, or fat, or Black, or disabled, THEY DON'T KNOW WHAT THEY'RE TALKING ABOUT! Models come in all shapes, sizes, colors, and abilities! Artists need a variety of diverse figure models in order to improve their drawing skills. They're not truly an experienced artist if they can only draw skinny/white/able-bodied people.
Will I have the opportunity to model/draw a model during the training? No, this is a live training only, there will not be any figure modeling or drawing during this event.
What platform are these sessions held on? We gather via private Zoom meeting. For the best user experience, please have your tech setup completed at least 10 minutes before joining.
Can I join the live training late? What if I can't log in on time? No worries! Join anytime during the live training. It will be recorded and sent to you, along with the slideshow, within a couple of days of the training.
Will there be a recording available if I can't make it live? Yes! Everyone who signs up will receive the recording and the slideshow, so even if you can't make it live, you'll still get all the information!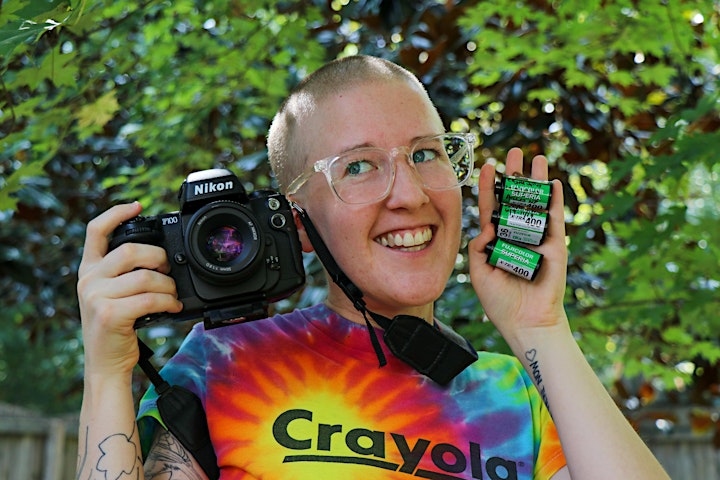 Bunny Luna (they/them) is a queer agender ecosexual witch who creates art, education, and events focused around creativity, non sexual nudity, queerness, and connection.
They have posed for numerous figure drawing groups and classes since 2010, including colleges, art academies, art guilds, private artist studios, and more. They are passionate about creativity and believe in its power to heal and transform ourselves, each other, and the world.
For more information about Bunny, click here.

Accessibility + representation is important!
In order for historically marginalized folks to have access to this workshop, economic justice has been incorporated into the ticket system. Tickets are sliding scale so that the folks who want to join can do so at whatever cost is best for them.
It's important for me to make these events + experiences available to as many people as possible while also sustaining myself in a capitalist society. Sliding scale tickets allow me to offer flexible price points for folks with different financial abilities + needs.
Sliding scale tickets are based on the honor system, + I trust that you will purchase your ticket accordingly. When I am paid fairly, I am able to invest more time + energy into free + lower-cost resources for the community.
General Admission: either $33 or $44
Economic Justice Admission: between $5 - 30 donation
***Please be mindful that if you purchase a ticket at the lowest end of the scale when you can truthfully afford the higher ticket prices, you are limiting access to those who truly need the gift of financial flexibility.***