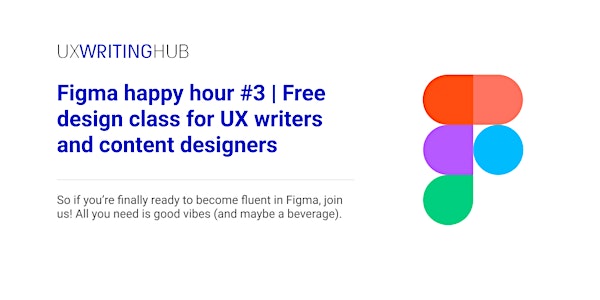 Figma happy hour #3 | Free design class for UX writers/Content designers
Free design class for UX writers & Content designers
About this event
Do you work as a UX writer but feel like you get lost every time you open Figma?
Are you constantly stressed that you'll mess something up, so you end up not doing anything?
Well, you're not the only one.
Most UX writers don't have design backgrounds. But when it comes to design tools, a little guidance goes a long way.
The UX Writing Hub is proud to present the Figma Happy Hour, a free online monthly event where we'll cover everything writers need to know about using Figma.
Topics for upcoming classes:
The grid system and composition in UI
Using various text components
Shortcuts, tips, and tricks
Easing into auto layouts
Nested components (it's not so scary!)
Prototyping and dev mode
Who it's for
Anyone looking to break into the field
Veteran writers that want to sharpen their Figma skills
So if you're finally ready to become fluent in Figma, join us! All you need is good vibes (and maybe a beverage).
See you there — cheers! 🍻
About the Instructor | Yuval Keshtcher
Yuval is a tech entrepreneur with a background in UX design. Today, he hosts the Writers in Tech podcast and runs the UX Writing Hub and UX Writing Academy, an extensive training program and the world's first and only UX writing boot camp. The UX Writing Academy has helped hundreds of professionals transition into UX writing and content design.
Spaces are limited.