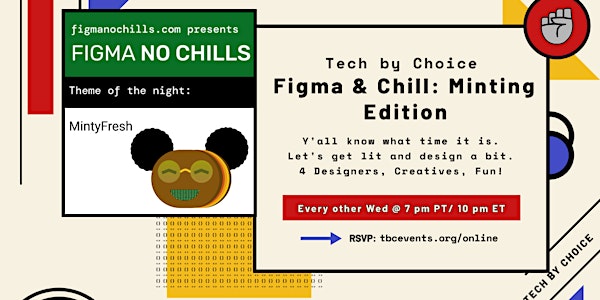 Figma & Chill: Minting Edition
Y'all know what time it is. Let's get lit and design a bit. 4 Designers, Creatives, Fun!
About this event
This event brings us together to create dope art around a nightly theme, talk life, and laugh🤣🤣🤣. All are welcome! Join us to make memes and mint them to learn how to use Figma to make memes and learn about NFTs in a stress free space.
❓What is this?
This will be our monthly twitter space (no camera needed) session where a group of us will jump in a Figma File to build some memes around a theme we pick together.
👥 Who is this event for?
Anyone and everyone! This is the perfect digital crafting event to join and just hang out with the community, or it could be a way for people to learn and build their skills in a low-stress environment!
🧐 Why are we running this event?
The main thing we want for our community is for people to learn through play! Below are a few ways we think folks will benefit from this event
Learn new tools like Figma while making memes
Ask career/work related questions in a low stress enviorment
How to work with a team online
Learn what it means to be a product designer
Help people learn how they can create and sell art in web 3
💡 How can I become a mentor?
Are you looking to become a mentor for this event? Send us an email at hello@techbychoice.org! We're always looking for mission aligned folks to help our community enter, stay, and thrive in the tech. We couldn't do this without more people like you.
✊ Who is Tech by Choice?
Tech By Choice is a non-profit organization that hosts events and workshops that help people of marginalized communities find their place within the tech industry. With over 1000 members, we've hosted events that have helped over 690 participants build the skills they need to find their dream job in STEAM fields.
You can Donate to us using this link or email us for more details at hello@techbychoice.org