Description
The latest in the GLBT Historical Society's monthly "Fighting Back" series exploring contemporary queer issues in a historical context, this community forum will offer a multigenerational conversation about the emergence and evolution of transgender rights activism in San Francisco and beyond.
A panel of historians, veteran organizers and younger activists will highlight the struggle and self-determination found in transgender lives, politics and cultures and will discuss how this history can help inform today's resistance movements.
The event will mark the 52nd anniversary of the Compton's Cafeteria Riot of August 1966 in San Francisco's Tenderloin, one of the earliest instances of militant transgender protest against police oppression.
ABOUT THE PANELISTS:
Cecilia Chung, Senior Director of Strategic Projects for the Transgender Law Center, is a long-time advocate for human rights, social justice, health equity, and LGBT equality. Ms. Chung is the first transgender woman and first Asian to be elected to lead the Board of Directors of the San Francisco Lesbian, Gay, Bisexual, and Transgender Pride Celebration, and the first transgender woman as well as the first person living openly with HIV to Chair the San Francisco Human Rights Commission. She is currently serving on the San Francisco Health Commission and directs Positively Trans. Her life story was one of four main story-lines in the 2017 ABC miniseries When We Riseabout LGBT rights from the 1970s to early 2000s.
Shawn Demmons is a queer African American trans man committed to social and racial justice. Shawn has engaged in community activism aimed to improve the lives and health of those most marginalized in our society such prisoners trying to access health care inside California Department of Corrections and newly diagnosed HIV positive individuals living in low-income communities. Shawn is a former member and Chair of the Transgender Law Center Board of Directors and currently leads the UCSFCapacity Building Assistance Partnership at the Center of Excellence for Transgender Health.
Janetta Johnson is an Afro-American Transsexual from Tampa, Florida. She moved to San Francisco in 1997, where she has worked in various capacities at non-profits and social service agencies. She recently survived 3 years in federal prison and is committed to developing strategies and interventions to reduce the recidivism rate of the transgender community. Janetta's involvement with TGI Justice Project (TGIJP) dates back to 2006.
Donna Personna is an advocate and activist for LGBTQ rights with a focus on transgender lives. As a transgender woman in the public eye, Donna hopes to inspire recognition and value to transgender lives. Donna has served on the committees and boards of directors for the Trans March, Trans day of remembrance , and Trans visibility. She co- wrote the play "Compton's Cafeteria Riot" in order to bring the history of San Francisco trans (and LGBTQ) lives to the present demographic.
MODERATOR: Clair Farley is senior adviser to the mayor and executive director of the SF Office of Transgender Initiatives. A human rights and transgender rights advocate, she also worked for over a decade leading economic development and employment programs at the SF LGBT Center. She received the 2017 Outstanding Voices Award from San Francisco Business Times and was recognized as a "Soldier of Social Change" by San Francisco Magazine.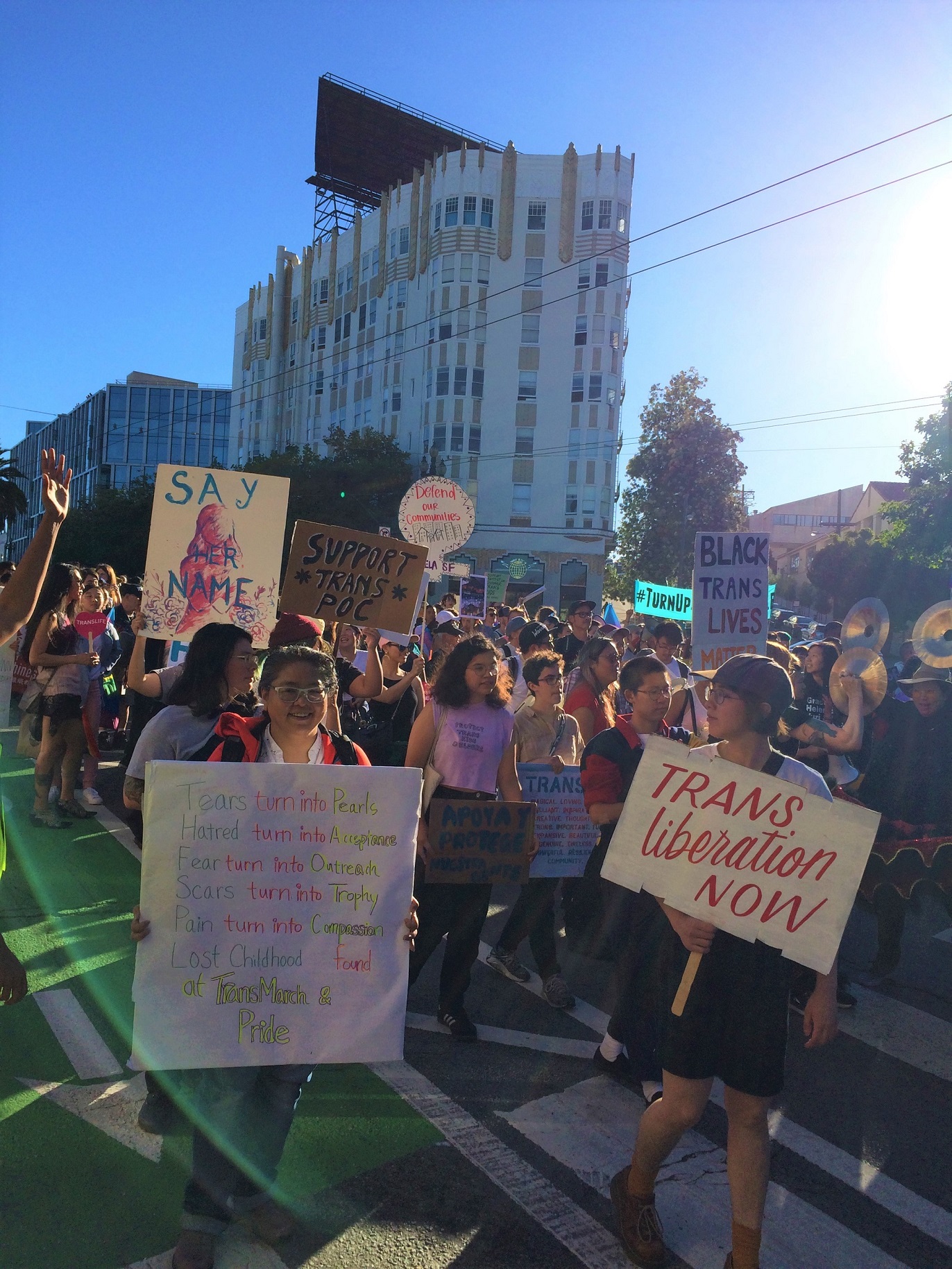 LOCATION
The GLBT History Museum
4127 18th St., San Francisco
www.glbthistory.org

ADMISSION
Free; $5.00 donation welcome

JOIN THE GLBT HISTORICAL SOCIETY
Become a member of the GLBT Historical Society for free admission to the exhibition opening and other programs, free museum admission, discounts in the museum shop and other perks: goo.gl/WjkGSn
This program is cosponsored by the SF Office of Transgender Initiatives.
Header photo credit: Trans March 2018, San Francisco