Description
The latest in the GLBT Historical Society's monthly "Fighting Back" series exploring contemporary queer issues in a historical context, this community forumwill outline how social, physical and mental health resources for LGBTQ people first emerged in San Francisco and will address how to further strengthen and care for LGBTQ communities.
A panel of historians, health providers, community organizers and advocates will discuss the evolution of LGBTQ health initiatives while underlining how this history can help inform today's resistance movements.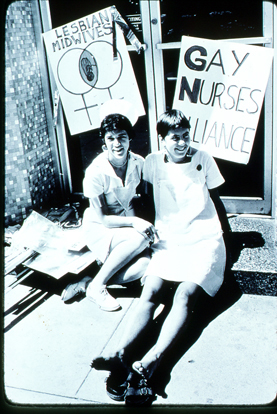 Lesbian Midwives and Gay Nurses Alliance, San Francisco. Amber Hollibaugh Collection, 1994. From the GLBT Historical Society Archives.
LOCATION
The GLBT History Museum
4127 18th St., San Francisco
www.glbthistory.org

ADMISSION
Free; $5.00 donation welcome

JOIN THE GLBT HISTORICAL SOCIETY
Become a member of the GLBT Historical Society for free admission to the exhibition opening and other programs, free museum admission, discounts in the museum shop and other perks: goo.gl/WjkGSn
Header: Bay Area Physicians for Human Rights, San Francisco Pride Parade. Amber Hollibaugh Collection, 1994. From the GLBT Historical Society Archives