Description
The latest inthe GLBT Historical Society's monthly "Fighting Back" series exploring contemporary queer issues in a historical context, this community forum will offer a multigenerational conversation about about bringing LGBTQ history into classrooms for students from kindergarten through 12th grade in California public schools.
A panel of educators, historians, community organizers and school advocates will highlight resources and the latest educational initiatives, including implementation of the FAIR Education Act. The panel also will look at how these efforts can help inform today's resistance movements.
ABOUT THE PANELISTS:
Don Romesburg is Professor of Women's and Gender Studies at Sonoma State University. He is editor of the Routledge History of Queer America (2018) and has published scholarship with queer takes on public history as well as histories of adolescence, sex work, transracial adoption, family, and queer/trans performers. He was the lead scholar working to bring LGBT content into California's 2016 K-12 History-Social Science Framework and new textbooks. He now trains educators on implementation.
Carolyn Laub is a social entrepreneur, strategy consultant, and executive coach for non-profits and foundations focused on strategic communications, policy advocacy, growth and scaling, and fundraising. She is the founder and former executive director (1998-2014) of GSA Network, where she grew 40 GSA clubs in California to 940, trained youth advocates who helped pass 12 pieces of legislation, and scaled nationally thereby accelerating a movement of 4,000+ GSA clubs creating safer and more equitable schools today. While leading GSA Network, Carolyn spearheaded the community-driven effort to pass the FAIR Education Act in 2011, and since then served as the lead strategic consultant to the FAIR Education Act Implementation Coalition, helping win passage of the LGBT-inclusive California History-Social Science Framework and state-approved LGBT-inclusive instructional materials.
Dr. Rob Darrow is an educational consultant in LGBT history, safe and inclusive schools, curriculum development, college and career planning, and digital learning. He works as Director of Research and Professional Learning with the Safe School Project Santa Cruz County and recently taught the online course titled "LGBT History in Schools". He has worked as an online school principal, adjunct professor, school librarian, and teacher in K-12 schools and has worked and consulted with people, schools, universities and organizations from pre-school to doctoral programs.
MODERATOR: Rick Oculto - Education Coordinator at Our Family Coalition where he collaborates with educators and school administrators to implement Welcoming Schools to create safe and LGBTQ-inclusive elementary schools. Formerly the Youth Service Coordinator at Billy DeFrank LGBT Center in San José, Rick developed programs that addressed LGBT youth issues and created the first transgender youth support group in the area.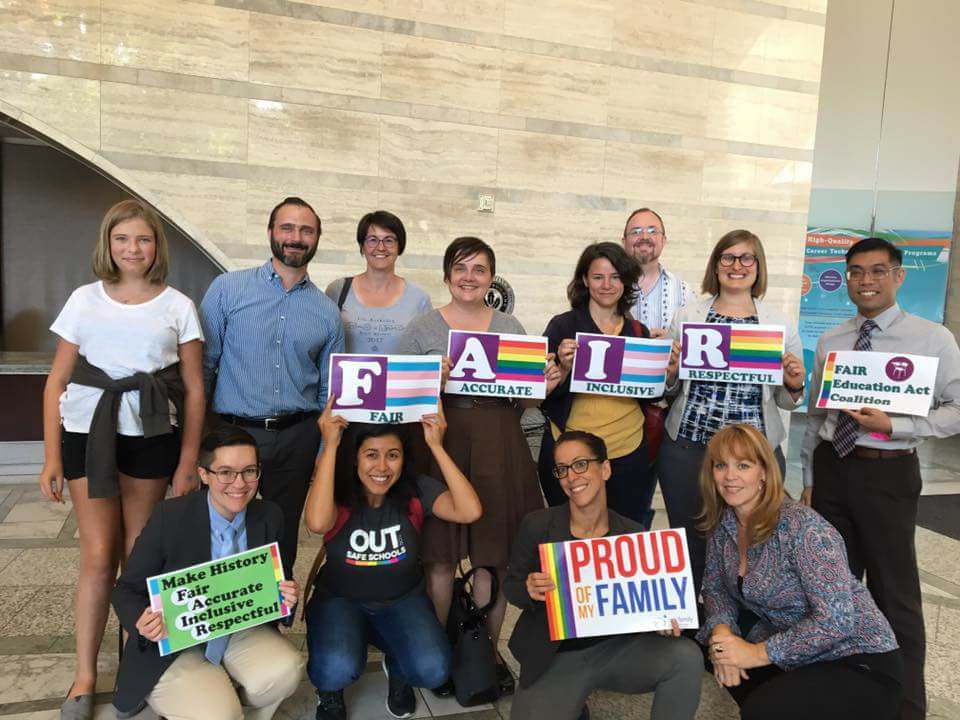 Members of the FAIR Education Act Coalition after testifying at the California Department of Education (August 2017). Photo courtesy Our Family Coalition.
This program is cosponsored by Our Family Coalition.
LOCATION
The GLBT History Museum
4127 18th St., San Francisco
www.glbthistory.org

ADMISSION
Free; $5.00 donation welcome

JOIN THE GLBT HISTORICAL SOCIETY
Become a member of the GLBT Historical Society for free admission to the exhibition opening and other programs, free museum admission, discounts in the museum shop and other perks: goo.gl/WjkGSn
Photo credit: FairEducationAct.com