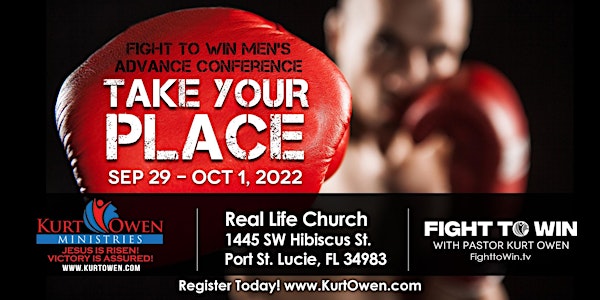 Fight To Win Men's Advance Conference
KOM Fight To Win Men's Advance is a men's conference where all men are welcome and encouraged to learn to excel in their faith.
When and where
Location
Real Life Church Port Saint Lucie 1445 SW Hibiscus St Port Saint Lucie, FL 34983-4903
About this event
Too often in the body of Christ, women have been the backbone of the body and it is time for men to take their place. The world needs to see Godly men stand up for righteousness and stand up and protect their families, their homes, and their nations. This 2 ½ days conference is for Men of all denominations and walks of life to get built up through anointed teachings, praise & worship, and fellowship with men of like great faith. Our theme this year is "TAKE YOUR PLACE". Mark your calendars and plan to join us for this life-changing weekend!
Hotel Room Block
We have reserved a block of rooms at the Marriott Towne Place Suites in Port St. Lucie for the Men's Advance Conference - Kurt Owen Ministries International Network of Churches. Inc./Real Life Church.
Start Date: Thursday, September 29, 2022 - End Date: Saturday, October 1, 2022
The Hotel is offering a special group rate: TownePlace Suites Port St. Lucie I-95 for 119 USD per night.
Link to Marriott Towne Place Suites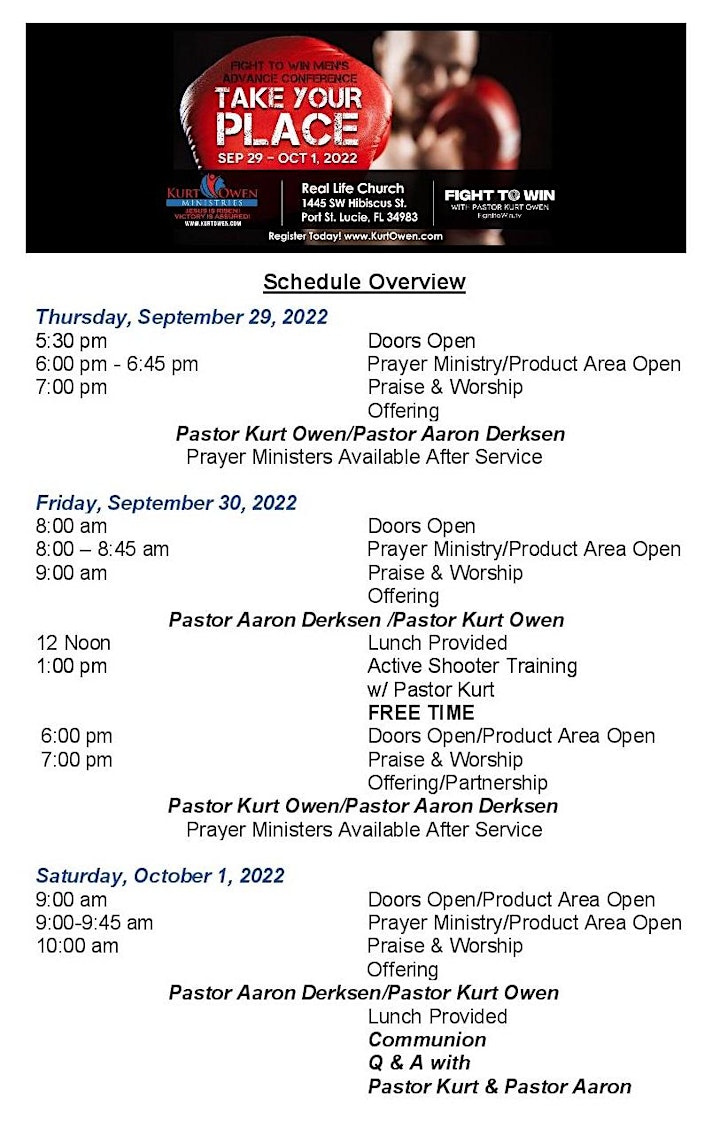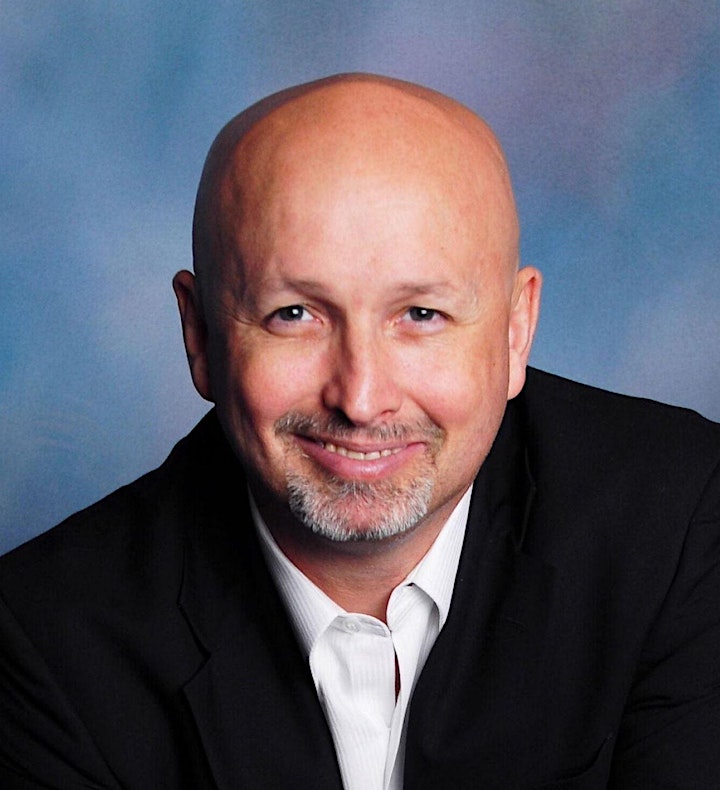 Meet Kurt Owen, of Kurt Owen Ministries, the organizer of the Fight to Win Men's Advance 2022 Conference!
Pastor Kurt has been in full-time ministry for over 30 years. He is the founder of Kurt Owen Ministries, Ministers of Victory, and is the Senior Pastor of Real Life Church with his lovely wife Terry Owen.
At the heart of Kurt Owen Ministries (KOM) is ministering to the spiritual needs of pastors, ministers, and congregations/churches. KOM is determined to Lead, Equip, Affect and Demonstrate (LEAD) the Body of Christ in the Love of God. KOM believe in encouraging people, building them up, and teaching them to know and believe the love that God has for them.
For more information about Kurt Owen Ministries and the full meaning behind our vision, please visit our website at www.KurtOwen.com and follow us on Facebook.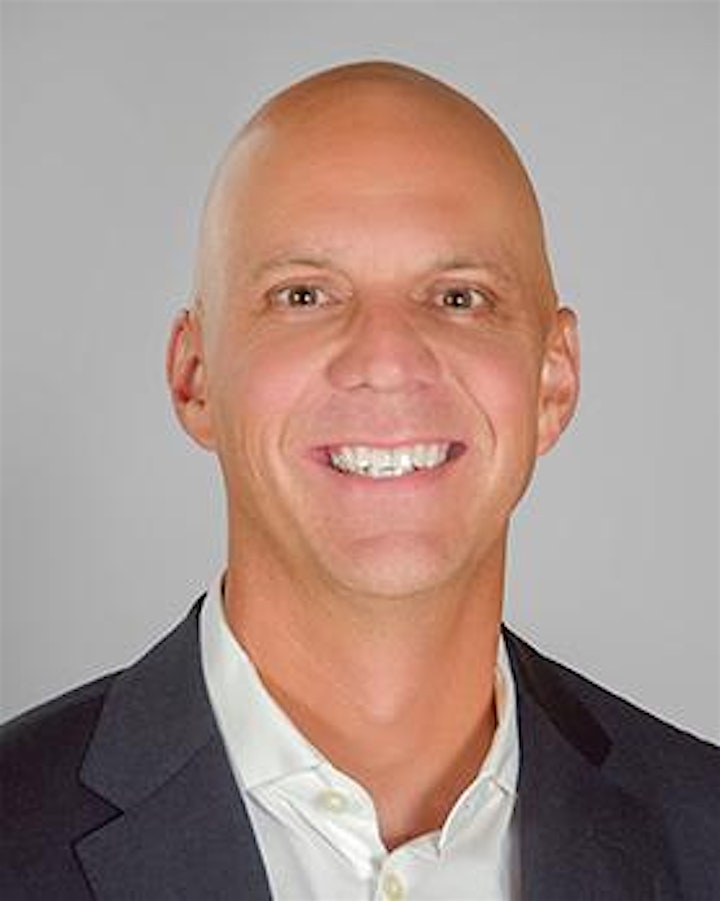 Meet Pastor Aaron Derksen, of West Coast Word Church, a guest speaker for the Fight to Win Men's Advance 2022 Conference!
Pastor Aaron Derksen, of Tarpon Springs, FL attended Trinity College from 1990 – 1992 andcontinued his education in Professional piloting at St. Pete College from 1993 – 1995. Duringthis time, Pastor Derksen, along with his wife Angela was involved in church and committed toserving and growing in the Lord.
In 1996, as their hunger for the Lord grew, they were led by the Holy Spirit to begin a bible study with extended family and friends in their home. As the bible study grew, the future of their ministry unfolded.
The Lord spoke to Pastor Aaron that he would begin three things: a church, a radio station and a school. His purpose would be to facilitate the teaching of God's children as to who they are in Christ Jesus. God instructed him to teach His children their covenant rights and privileges as children of God. To equip them through the Word so they could live victoriously in this present world. It was from this revelation that West Coast Word Church, located in Tarpon Springs, FL, was birthed.
The first meeting of WCWC convened in a 900-square-foot space on Resurrection Sunday 2002, with 48 in attendance. Today, WCWC is in a 6,500-square-foot facility, with an attendance of over 225 for their weekly worship services which include children, youth, and college ministries. Under Pastor Derksen and his wife Pastor Angela, WCWC is able to minister to families, children, and the community on a regular basis. In 2016 an additional building was purchased for future growth; currently, a portion is leased to a Christian school headed by current church members. Each week, WCWC services can be viewed online via live stream as WCWC continues to move forward with the vision God has given.
Currently, Pastor Aaron Derksen lives in Tarpon Springs with his lovely wife Angela and his four beautiful children.