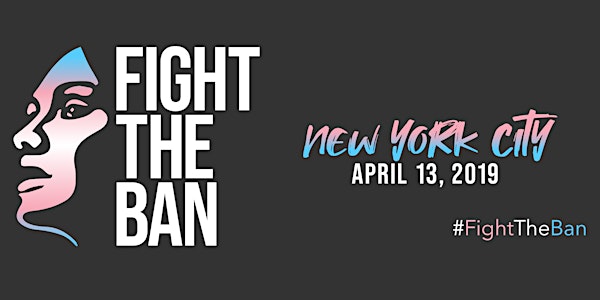 FIGHT THE BAN RALLY NYC
When and where
Location
City Hall Park (Sidewalk Across From 250 Broadway) New York, NY 10007
Description
STAND WITH TRANS TROOPS!
Join NYC Veterans Alliance, Minority Veterans of America, OutServe, Iraq and Afghanistan Veterans of America, Veteran Advocacy Project, Transgender American Veterans Association, Service Women's Action Network, The Steven A. Cohen Military Family Center at NYU Langone Health, Military Resilience Foundation, TransMilitary, and Advocacy & Services for Aging LGBT Elders (SAGE), elected officials, allies, and advocates for "Fight the Ban NYC."
On April 12, the federal ban on transgender military service goes into effect. This ban overturns prior policy established by the U.S. Department of Defense permitting the open service of transgender individuals. "Fight the Ban NYC" and rallies nationwide will voice nonviolent, nonpartisan opposition to this cruel and discriminatory policy that will result in discharges for servicemembers currently serving with honor and distinction in our nation's Armed Forces. The ban will also prevent accessions of otherwise fully qualified Americans wishing to serve our nation in uniform. The ban on transgender service harms our national security and perpetuates discriminatory policies and perceptions against transgender individuals and their families.
New Yorkers must show that we are on the right side of history on this issue. We ask all New Yorkers to stand with us in condemnation of the military trans ban and show support for transgender persons serving openly and authentically. Transgender Americans have been serving their country in U.S. Armed Forces for generations and should not have to conceal their identities do so, but only be held to same standards that define excellence with their non-trans peers.
This NYC rally is part of a national effort that includes a rally in Washington, DC, on April 10, and rallies on April 13 nationwide. "Fight the Ban" will peacefully unite advocates, cities, and the American people in celebrating the contributions of transgender servicemembers, defending their right to continue serving, and denouncing the ban as ill-founded, discriminatory, inhumane, and supremely un-American.