Description
This fundraiser event will be held at the Severna Park Taphouse on August 24th from 11am-8pm. It will be a day filled with great music, food, silent and live auction items, raffles and more. See a preview of all items here. Our entertainment for the day will feature Nashville recording artist Chad Bearden and his band as our headliner along with several other bands that will be performing at our event.
In November 2018, Katherine Mueller was diagnosed with a rare form of cancer called Neuroendocrine Tumors (NETs). ALL proceeds from this event will be donated to the Neuroendocrine Tumor Research Foundation (NETRF). NETRF is a 501(c)(3) organization and the leading private funder of research into causes and treatments of NETs in the search for a cure. All funds that we raise will be MATCHED dollar for dollar through the NETRF Spark Hope Campaign.
Important Info:
• PARKING. We are expecting over 400 people at this event so parking will be tight. Please carpool or take Uber/Lyft if you can. Earleigh Heights Fire Station has kindly agreed to let us use their back lot for overflow parking (161 Ritchie Hwy, Severna Park, MD 21146) and Chesapeake Charter, Inc. has generously offered us one of their buses/drivers to shuttle people between the fire station parking lot and Tap House from 2pm- 8pm. The shuttle will be going back and forth every 15 minutes or so.
• BRING CASH. If you are interested in taking part in the raffles, auctions, buying a cup, t-shirt, etc. remember to bring cash!! If you are looking at one of the higher priced auction items and don't feel comfortable carrying that much cash, be sure to bring a check or download the Venmo app before you come! Venmo payments and donations can be made to @fightNETcancer.
• RAFFLES AND SILENT AUCTION END AT 4PM. Basket raffle, bike raffle, quilt raffle, 50/50 raffle and silent auction will all start at 11am and end at 4pm. Make sure you get there early enough to put your tickets in and place your bids! Winners will be announced at 4:30pm. Basket raffle and 50/50 raffle winners must be present to win. However, if you need to leave before we announce the winners, you could always leave your tickets with a friend and have them claim a basket on your behalf. We will have contact info for bike/quilt raffle and silent auction winners, so you do not need to be present to win those. Live auction will take place at 4:45pm.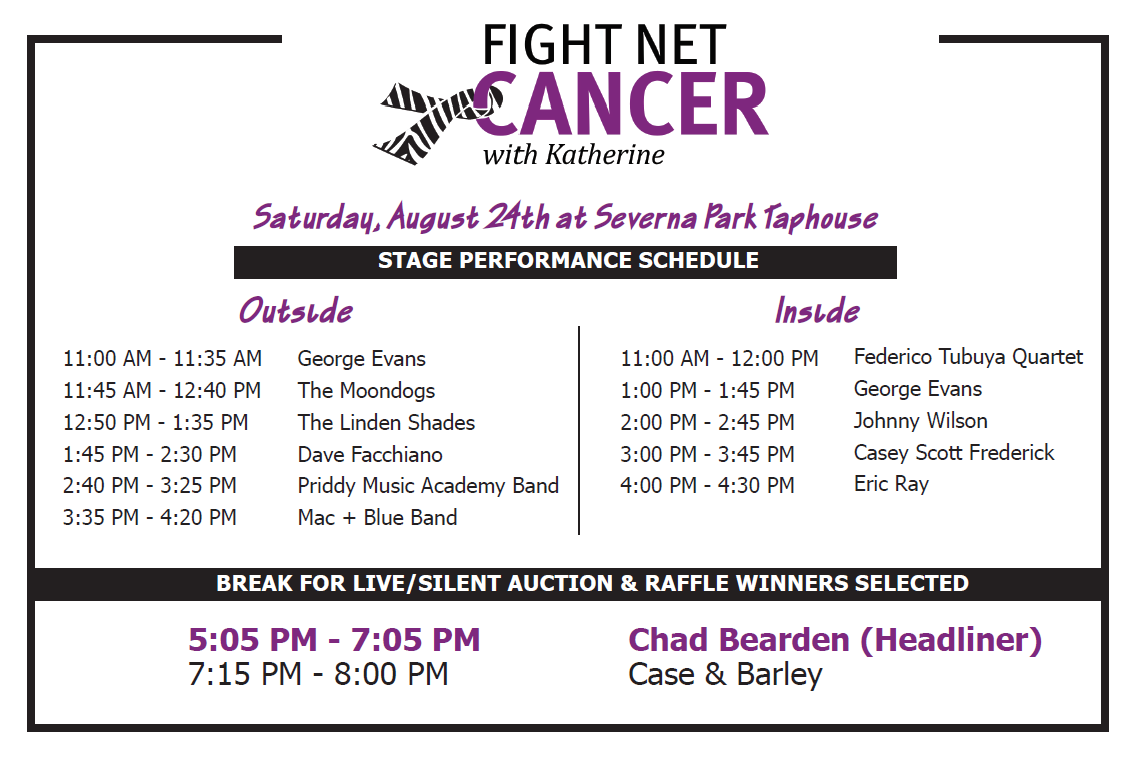 Please click 'contact the organizer' or call Larry Sells at 443-569-9598 with any questions about this event or to request a copy of our sponsorship brochure.