Description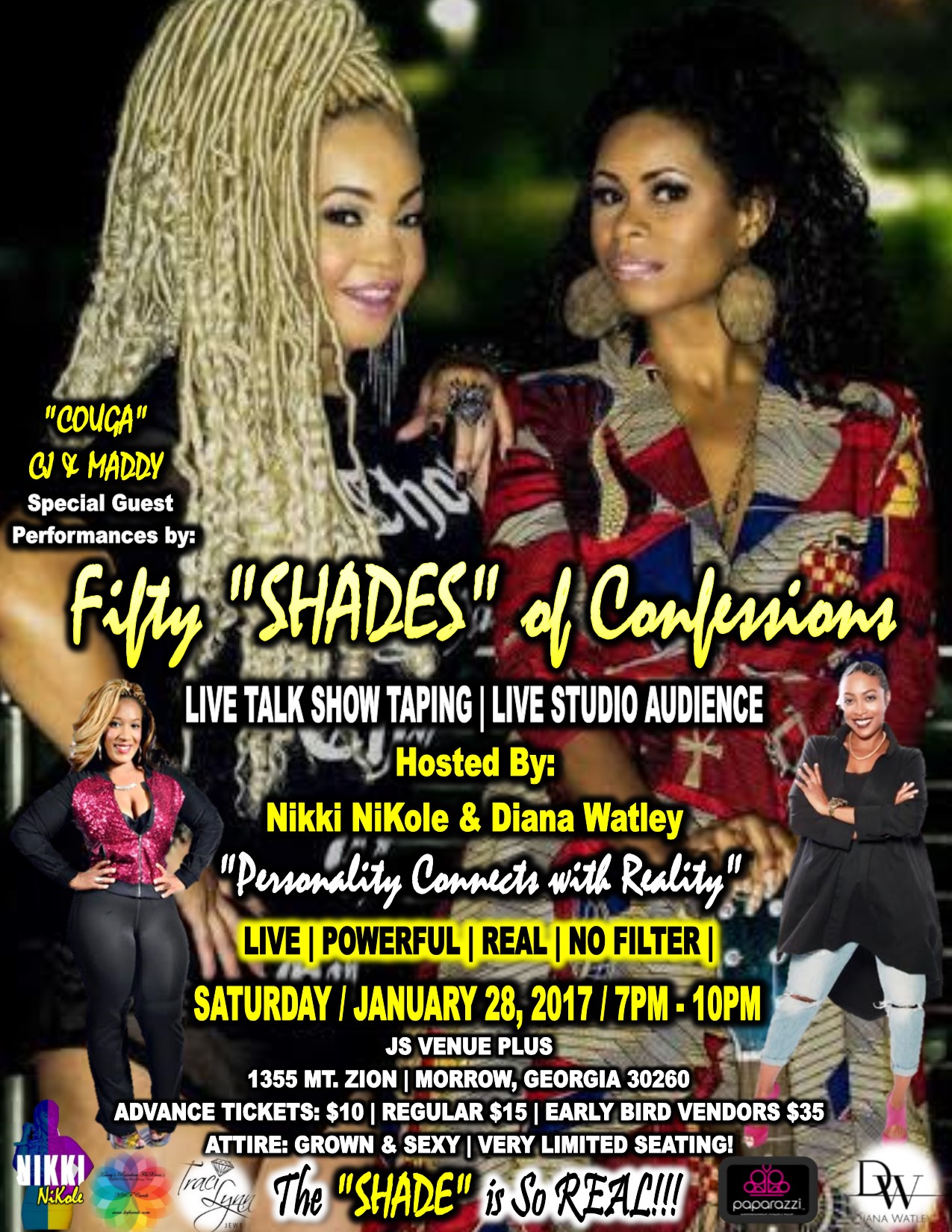 On Social with Nikki NiKole and Diana Watley presents FIFTY SHADES OF CONFESSIONS "Hiding Behind the Shade" Talk Show a LIVE studio taping event that will give women the opportunity to face their shade in their past. We want to share our SHADE so that others can heal!! We will be speaking on various issues relating to depression, insecurities, men, etc. The audience will get a chance to ask questions as we address them during the show with an interactive feed so that the healing can begin immediately. This is event will be spirit filled, informational and inspirational!!
ARE YOU READY TO BE REAL WITH YOUR OWN SHADE????
Are you TRULY afraid to show the REAL YOU?? As women, we live in a world that praises beauty,image, accomplishment, men & money. The presumption and prespective of HAVING IT ALL!! Hiding behind the shade will your roadmap to your break through. Hiding behind the shade will help women to understand the pressures of superficiality to discover the passions and true purposes to step into their destiny.
LET'S BE REAL with ourselves!!! There are women who are clingling on to these false identities, overwhelming expectations, nagging lies, spilling tea, jealousy and throwing dirty SHADE to other women. BUT WHY??????
Its because women are hiding behind their own SHADE. Fifty Shades of Confessions open the doors up for a candid, life-changing conversations about life, love, men, and the MASK of the SHADE the we all wear!
Guest will have the chance to ask questions,enjoy light refreshments and a good ole glass of wine.
On some level we are all facing the fear of being seen for who we TRULY are, afraid of seeing ourselves for who we REALLY ARE, afraid if confronting our limited beliefs.
BRAND YOURSELF AND PARTNER WITH US!!!