Description
2018 Royse Law AgTech Innovation Network
Silicon Valley AgTech Conference
Join us at the 5th Annual Silicon Valley AgTech Conference. This startup-focused event features the latest technologies and industry updates. Our 500+ attendees find partners, investors, and customers every year. We have broadened our focus to include the latest AgTech & FoodTech technologies across the entire Ag & Food system. We have also expanded our Silicon Valley startup alley to showcase more incredible companies, and added more time to demos and presentations to provide an in-depth look at the most promising AgTech startups and technologies. We look forward to seeing you in Silicon Valley!
Learn more about the conference - watch the 2016 Silicon Valley AgTech Conference Summary and visit http://royseagtech.com/ to stay up to date on all our AgTech events.
---
Apply to Pitch (After Jan. 1, 2018)
---
Join a Panel (Opens Jan 1, 2018)
---
Sponsorship Inquiries:
Contact jspencer@svagtech.org for more information.
---
Agenda *

8:30 am - Registration
9:00 am - Welcome & Keynote
9:30 am - Silicon Valley Investment Outlook
10:45 am - Morning Session 1
10:45 am - Morning Session 2
11:45 am - Lunch & Keynote
1:00 pm - Breakout Session 1&2
1:00 pm - Big Data / AI
1:00 pm - CAnnabis update
2:00 pm - Breakout Session 3&4
2:15 pm - Global Markets in AgTech
2:15 pm - Afternoon session 2
4:00 pm - Silicon Valley AgTech Demo Day
* Subject to change
---
Past Speakers:
Rick Crawford, U.S. Representative - Arkansas 1st Congressional District

Jane Wales, CEO Global Philanthropy Forum and World Affairs Council

Jimmy Panetta, U.S. Congressman

T.J. Rodgers, Cypress Semiconductors

Neal Gutterson, DuPont Pioneer

Devon Mathis, CA State Assembly

Jim Slama, Family Farmed

Leland Strom, Farm Illinois

Colleen Callahan, USDA Rural Development Illinois
---
2017 Exhibitors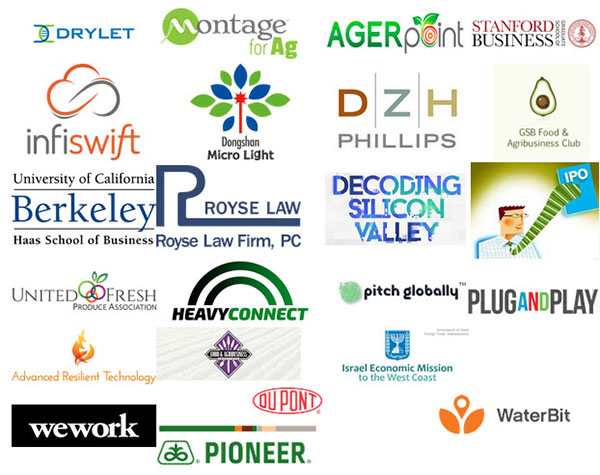 ---
2017 Sponsors & AgTech Partners