Location
Capital Factory
701 Brazos Street
Austin, TX 78701
Founders, Investors, Entrepreneurs, Startups, Techies, & Austin Newcomers Come Have Fun! Connect, Network, Pitch, and Support one another.
About this event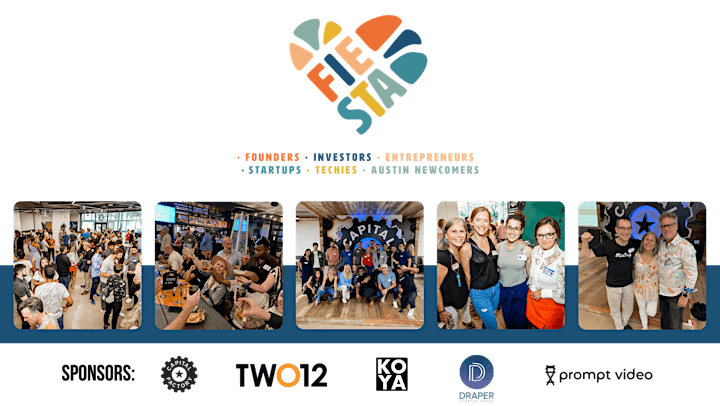 Welcome 🎉 F.I.E.S.T.A. 🎉 Founders, Investors, Entrepreneurs, Startups, Techies, and Austin Newcomers. Learn more about us and connect to the ATX Tech community at FIESTA.COMMUNITY
Our Mission is to connect startup founders to the "community builders" serving the startup ecosystem. These community builders include event organizers, networking events, accelerators & incubators, service providers, VCs, and more.
AGENDA
Let us know who you are by scanning the QR code at the entrance and wearing a name tag? There will also be greeters handing out name tags and checking you in.
5:30 PM Check-in begins and doors open
5:30 - 6:40 PM - Sign-in, network grab pizza & drinks available until 6:35
6:45 –7:15 PM - Announcements, sponsors/community members share.
7:15 - 8:30 PM network & connect with many amazing humans
8:30 PM - Exit the room as doors close. Head over to the after-party if you want to continue visiting.
Parking: Street parking is free after 6 PM and is usually available. The Omni Hotel parking garage entrance is located on the east side of Brazos Street, just north of 7th Street.
Capital Factory offers parking validations in Austin Monday-Friday, between 5 PM-10 PM. Guests must enter the garage at 5 PM or later and leave before 10 PM to have their parking validated for $7. Find a CF employee usually at the desk to obtain a validation ticket. https://www.capitalfactory.com/parking
Thank You to our monthly sponsors as you make our events extra special.
Corporate Sponsors:
Capital Factory is the center of gravity for entrepreneurs in Texas.
KOYA Innovations Send kudos and kindness to anyone, anywhere, at any time. Delight your customers, colleagues, or employees with a KOYA through text or email.
Service Provider, Accelerator, Incubator, VC sponsors:
Draper Startup House Accelerator (DSH) - fostering and funding early-stage startup by providing an environment where passion, creativity and a desire to change the world collide. Apply for cohort 2 by July 15th
Prompt Video directs brands to produce authentic videos quickly from their community.
Two12 Provides $240/year cap table management as well as the valuation, fund administration, and SPV formation services.
In-Kind Services provided by:
Texas Beer Co. is brewing delicious, locally sourced beer that makes Texans proud.
Free Water is a revolutionary marketing channel that utilizes premium spring water as a new type of advertising medium while prioritizing philanthropy and sustainability
Important notice about COVID-19: Austin has officially reentered the strictest set of recommendations under the COVID. Please note any interaction with the general public poses an elevated risk of being exposed to COVID-19 so we cannot guarantee that you will not be exposed while in attendance. We are not responsible for anyone's health and safety at this event. We encourage you to follow any posted safety policies, as well as local laws and restrictions. Thank you.