Celebrate Cinco de Mayo with RISE! Enjoy dinner, cocktails, live music and A LOT of fun.
About this event
On Wednesday, May 5th, join us for this brand new fundraiser event for RISE Life Services:
"Fiesta Para Vecinos" - A Party For Neighbors! Enjoy a festive cocktail hour with a Mariachi band and signature cocktails, served complimentary.
Then, move on to a magical evening at this beautiful venue where you will enjoy a full dinner, with some themed Mexican options, along with other gourmet dishes.
Celebrate Cinco de Mayo with RISE! Join honorees, Victoria Schneps, president and publisher of Schneps Media (Dan's Papers and Long Island Press); and Todd S. Shapiro, president of Todd S. Shapiro Associates, Inc.
We will have the Gissel Garcia Band playing music influenced by genres like Rock, Reggae, Jazz, Latin and Pop. The introspective lyrics and power vocals of Gissel coupled with the rhythmic flavor of her New York born and raised band, captures audiences with a deep and resonating musical experience unlike any other.
$100 per ticket
100% of the profits support RISE Life Services, our programs and the individuals we serve!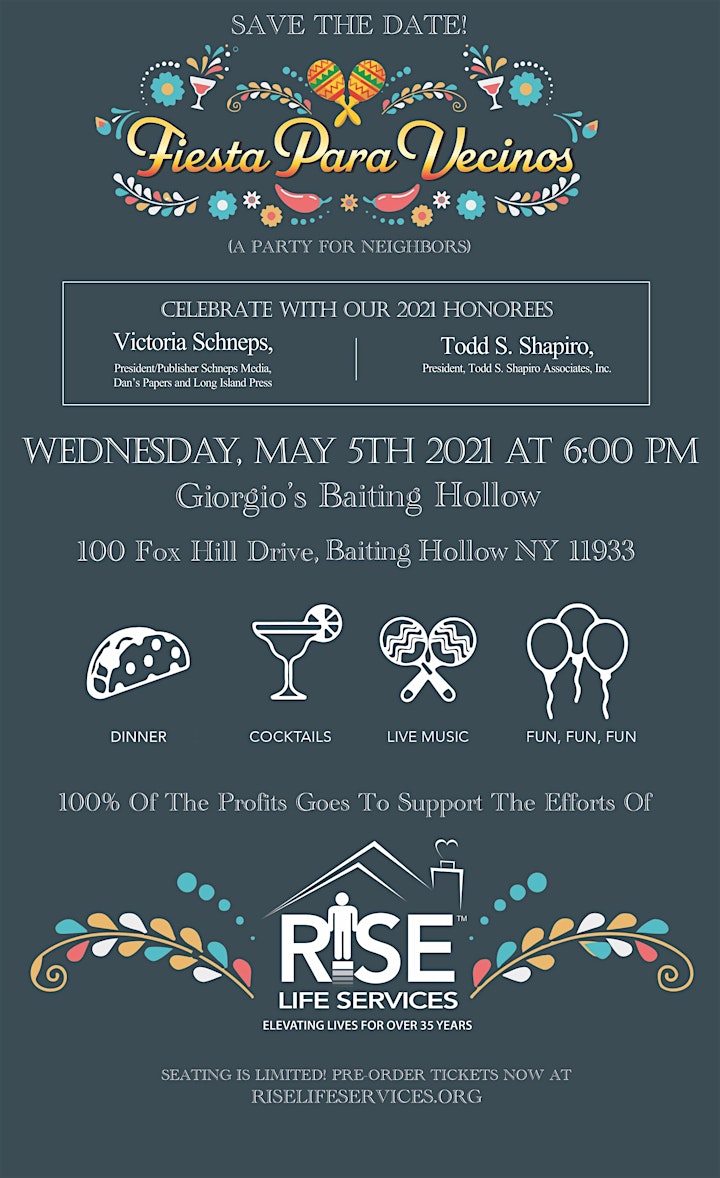 Organizer of Fiesta Para Vecinos
RISE Life Services provides a residential and supported living environment dedicated to empowering people with intellectual disabilities and mental health challenges to RISE to their full potential. 
At RISE Life Services, we provide enhanced opportunities for individuals to reach and often surpass their personal goals.  Our multi-faceted services enrich and inspire the life of each individual.  Our core values of quality, dignity and respect serve as our guiding principles.
Among our finest assets is our dedicated workforce, a diverse, knowledge-based team of professionals committed to offering the highest quality of services that are individualized, responsive to the needs of the individuals we serve and their families, and compassionately delivered.
We assist our individuals, each day, to build their foundation to a better, more productive and fulfilling life.  Individual and family member satisfaction is the hallmark of our measurement of success and we hold ourselves to the highest of standards. Learn more about us at www.addny.org.