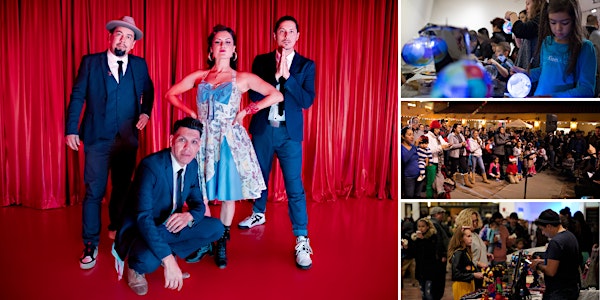 Fiesta Navideña Con Las Cafeteras
On Friday, December 9 from 5:30 pm to 9:30 pm, La Plaza will host their annual Fiesta Navideña, featuring Las Cafeteras.
When and where
Location
School of Arts and Culture at the Mexican Heritage Plaza 1700 Alum Rock Ave San Jose, CA 95116
About this event
El viernes 9 de diciembre, La Plaza invita a los miembros de la comunidad de todas las edades a celebrar cuando el año de eventos finaliza con la celebración anual de las fiestas, la Fiesta Navideña. La fiesta anual se ha convertido en una tradición local por su capacidad de reunir a amigos, familias y vecinos para alegrarse esta Navidad.
Las festividades de este año incluirán un mercado de vendedores artesanales, deliciosa comida mexicana, música folclórica tradicional a cargo de Los Panaderos, una representación teatral de Teatro Alebrijes, baile folclórico a cargo de Los Lupeños de San José y un concierto de conclusión a cargo de Las Cafeteras. Este grupo de Los Ángeles es conocido por su explosión sónica de ritmos afromexicanos, ritmos electrónicos y rimas potentes que documentan historias de una comunidad que busca "construir un mundo donde quepan muchos mundos".
____
On Friday, December 9, La Plaza invites community members of all ages to celebrate as the year of events culminates with the annual holiday celebration, Fiesta Navideña. The yearly festival has become a local tradition for its ability to bring together friends, families, and neighbors to rejoice in the season.
The festivities this year will include an artisanal vendor market, delectable Mexican cuisine, traditional folk music by Los Panaderos, a theatrical performance by Teatro Alebrijes, folklórico dance by Los Lupeños de San Jose, and a closing concert by Las Cafeteras. This Los Angeles-based band is renowned for their sonic explosion of Afro-Mexican rhythms, electronic beats, and powerful rhymes that document stories of a community seeking to "build a world where many worlds fit."
This family-friendly event begins with a luminescent Christmas tree lighting, arts and crafts booths in the gallery, a vendor market in the theater lobby, photo opportunities in the Plaza's garden, and plenty of chances to get up and dance in the warmth of our indoor pavilion. Wrap up the year by creating new memories with our beloved community at La Plaza.
Fiesta Navideña is brought to you by the Silicon Valley Community Foundation, Councilmember Magdalena Carrasco, TOPA Architecture, AARP, Destination: Home, City of San José ABIERTO Program, County of Santa Clara, PG&E, Councilmember Raul Peralez, Pro-Sweep, True Partners Consulting, Excite Credit Union, Stanford Health, BluSky Restoration, eBay, On Lok, Indian Health Center, Strickland Strategies, Meriwest Credit Union, Rocketship Public Schools, Stanford University, Gardner Health Services, Comcast, The Health Trust, Vice Mayor Chappie Jones, Councilmember Sergio Jimenez, and the City of San José.