Description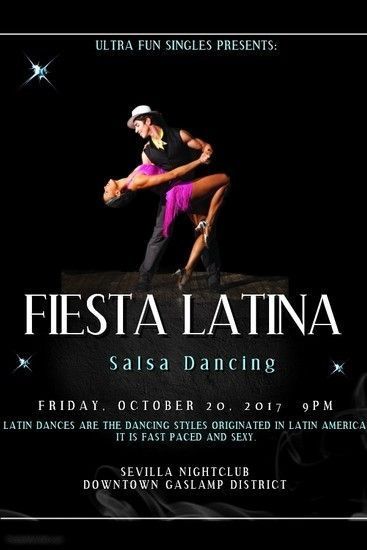 It's Fiesta Latina! HOT!
Join us and COME DANCE YOUR A** OFF!
CAUTION: FUN Extreme Dancing All Night - Be Ready !! Loud Music Too !!
Come Dance, Come Watch, Come Meet Friends, Come have FUN !!!
Fiesta Latina is on Friday, October 20, 2017 at 9PM.
A fun night of salsa dancing at one of the most popular and longest running nightclubs in Gaslamp Quarter! Latin dances are the dancing styles originated in Latin America. It's fast paced and sexy.
Ultra Fun Singles will have a social hour from 9PM-10PM with lots of dancing afterwards! The cost of admission is $15 at front door.
RSVP AHORA - Let us know you will join our FIESTA LATINA DANCE PARTY.
This will be a GREAT Dance Night for ALL !!!
DON'T MISS THE FIESTA GRANDE !!!
RSVP AHORA! RSVP NOW! RSVP AHORA!
Join us! www.meetup.com/ultrafunsingles