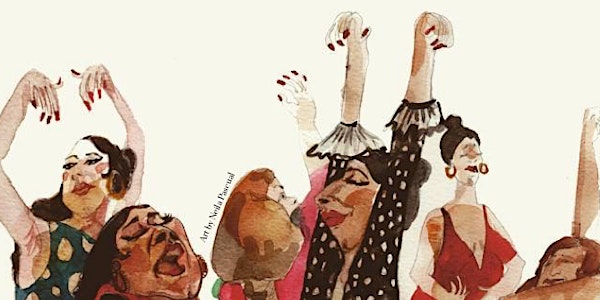 ¡Fiesta Flamenca! at Manny's in San Francisco
Join us for a passionate evening of flamenco dance and music in the authentic style of the tablaos of Spain.
When and where
Location
Manny's 3092 16th Street San Francisco, CA 94103
About this event
Experience an intimate live performance with dancers, guitarists and singers from the vibrant Bay Area flamenco community, followed by a sevillanas and bulerias dance party open to all.
Fiesta Flamenca ("flamenco party" in Spanish) is a celebration for the Bay Area flamenco community hosted by La Tania, a world-renowned dancer, choreographer and master teacher. Our goal is to provide flamenco students with opportunities to perform and learn alongside professionals in a traditional cuadro setting, which is how in Spain dancers gain performance experience as soloists. At Fiesta Flamenca, everyone in the Bay Area flamenco community - regardless of background, ethnicity, age or financial means - can express themselves through the beauty and soul of flamenco.
In this special holiday event, you will also enjoy traditional Spanish Christmas carols and plenty of polvorones (a holiday treat from Spain)!
EVENT DETAILS
Date: Sunday December 8 (and every second Sunday of the month)
Venue: Manny's on 3092 16th St, San Francisco, CA, 94113
Time: 6:00pm doors / 6:30pm show / 8:00pm dance party
Admission: $15-20 sliding scale. A limited quantity of additional tickets will be available for purchase at the door (cash only).
FEATURING:
Artistic Direction: La Tania
Guest Dancer: Marina Elana
Vocals: Roberto Zamora and Yuli Sayuri
Guitar: Roberto Aguilar
Fiesta Flamenca Cuadro Dancers: Sara Moncada, Claudia Deveze and Ana Lucia
ABOUT FLAMENCO: Flamenco is an art form that originated in Andalusia, Spain and encompasses dance, guitar and singing. Flamenco music styles (palos) are known for both their deeper expression (cante jondo) as well as a lighter, easier kind of music. While it's a well known art form around the world, its roots are mysterious and go back over four centuries, blending influences by the Arab, Christian, Jewish, Gypsy and South American cultures in the region. In its Golden Age in the late 19th and early 20th centuries, flamenco was a main attraction in music cafés (cafés cantantes, which later became the tablaos of today). As flamenco became more popular all around the world, artists and intellectuals in Spain moved to preserve and promote its essence and development. This led to a flamenco revival in the 1950s, with prominent dancers and guitarists now performing in major theaters and concert halls. From this higher platform, great artists such as Paco de Lucia, Camaron de La Isla, Manuela Carrasco, and many others have continued to bring flamenco to broader audiences. That said, flamenco remains at its core a cultural art best experienced in small gatherings, in the backyards or terraces of family homes in Spain, with music and dancing into the late night.
ABOUT LA TANIA: La Tania is a world-class dancer, choreographer, master teacher, and is the founder and director of La Tania Baile Flamenco Company & School. She was born in France and grew up in Andalucía, southern Spain, in the heart of flamenco culture where she began to learn flamenco dance at a very young age. By the age of 17, she was performing professionally in Mallorca and later made Madrid her base where she performed for years as a featured dancer in tablaos such as Corral de la Morería, Canasteros, Zambra, and Casa Patas. She toured internationally with many companies including Mario Maya Company, Compañia Raul, and Paco Peńa.
In 1994, La Tania moved to the U.S. and since then toured with her company internationally, earning rave reviews from the Tokyo Times, Los Angeles Times, New York Times, San Francisco Chronicle, as well as awards such as the Guggenheim Fellowship, the California Arts Council Fellowship, the National Endowments for the Arts Fellowship, the James Irvine Fellowship in Dance, and the Isadora Duncan Dance Award twice for Artistic Excellence in the category of Individual Performance. In 2018, she was awarded with a sustained achievement award from the Isadora Duncan Awards. La Tania has collaborated with Alonzo King Lines Ballet, Theatre of Yugen, Opera Parallel, Rupa & The April Fishes, and Adrian Arias to name a few. Currently residing in Oakland, she teaches in San Francisco and Oakland all year round and has been a driving force in the Bay Area flamenco community since 1994.
(Image credit: Neila Pascual)