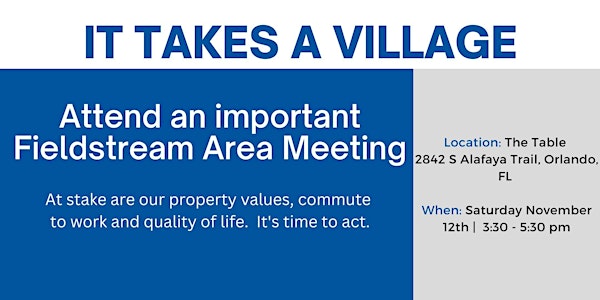 Fieldstream Area: Important Community Meeting
Fieldstream Area Impartial Residents (FAIR) formally invites you to attend an Important Community Meeting.
When and where
Location
The Table 2842 South Alafaya Trail Orlando, FL 32828
About this event
Attend this Important Community Meeting on Saturday November 12, 2022 from 3:30 - 5:30 pm.
--
The long-term future of our Fieldstream Area neighborhoods will be decided by Orange County
in the next 60 days. At stake are your property values, your commute to work and your quality of life.
Indeed, it is hard to overstate the impact of the pending decision by the Board of Orange County
Commissioners on our way of life and on the investment that we have made in our homes.
Why should you attend this meeting? Let me share with you the reasons why. Should the
Fieldstream Village proposal fail – a distinct possibility – here is what that will mean to you and your
families:
A long-term mess for Lake Underhill Road. We all know that Lake Underhill Road needs to be widened, and Orange County even has a plan that could be implemented. But left unchanged, the Orange County plan would elevate Lake Underhill Road by as much as 30 inches, creating even more headaches for drivers as they enter and exit our neighborhoods. (Think about young, inexperienced drivers trying to turn left out of a subdivision onto a four-laned Lake Underhill Road while negotiating a 2½-foot incline.)
Provide no control for traffic. No traffic lights – nor any other technique to calm traffic – means even more nightmares for drivers in our neighborhoods.
No economic driver to improve the value of our homes. Throughout our region, you can see local economic development projects driving the desirability of local neighborhoods and the values of residential communities. Think about the impact of Baldwin Park; the new Packinghouse District, or all the activity around Horizon West. What drives the values of Fieldstream Area homes? It's definitely not a safe-to-drive Lake Underhill Road, and it is definitely not an old landfill in our collective back yards.
Finally, after many months of observing Orange County and the Board of County Commissioners, it is clear to us that our elected officials are genuinely attuned to making decisions based on how they perceive the wishes of Orange County residents. We have seen how – when residents show up for Board meetings, elected officials take heed.
That is why I am reaching out to you with this letter. The choices for Fieldstream Area residents are plain:
The vision put forward by Orange County bureaucrats is simply more of the same: Isolated subdivisions connected by wide swath of pavement that requires cars to get anywhere.
The vision put forward by MMI, the Fieldstream Village developer, is for a pedestrian-friendly Lake Underhill Road, no landfill and lifestyle/retail options that improve the quality of our lives and the values of our homes.
Please join me on Saturday November 12, 2022 at The Table to learn more about the Fieldstream Village proposal and what we can do to affect the outcome.