Fielding Educational Series - Summer 2015

Tuesday, July 14, 2015 from 7:00 PM to 9:00 PM (CDT)
Event Details
Fielding Graduate University is pleased to present:
Fielding Educational Series Summer 2015
Please join us for the following FREE and OPEN to the public presentations and discussions:

---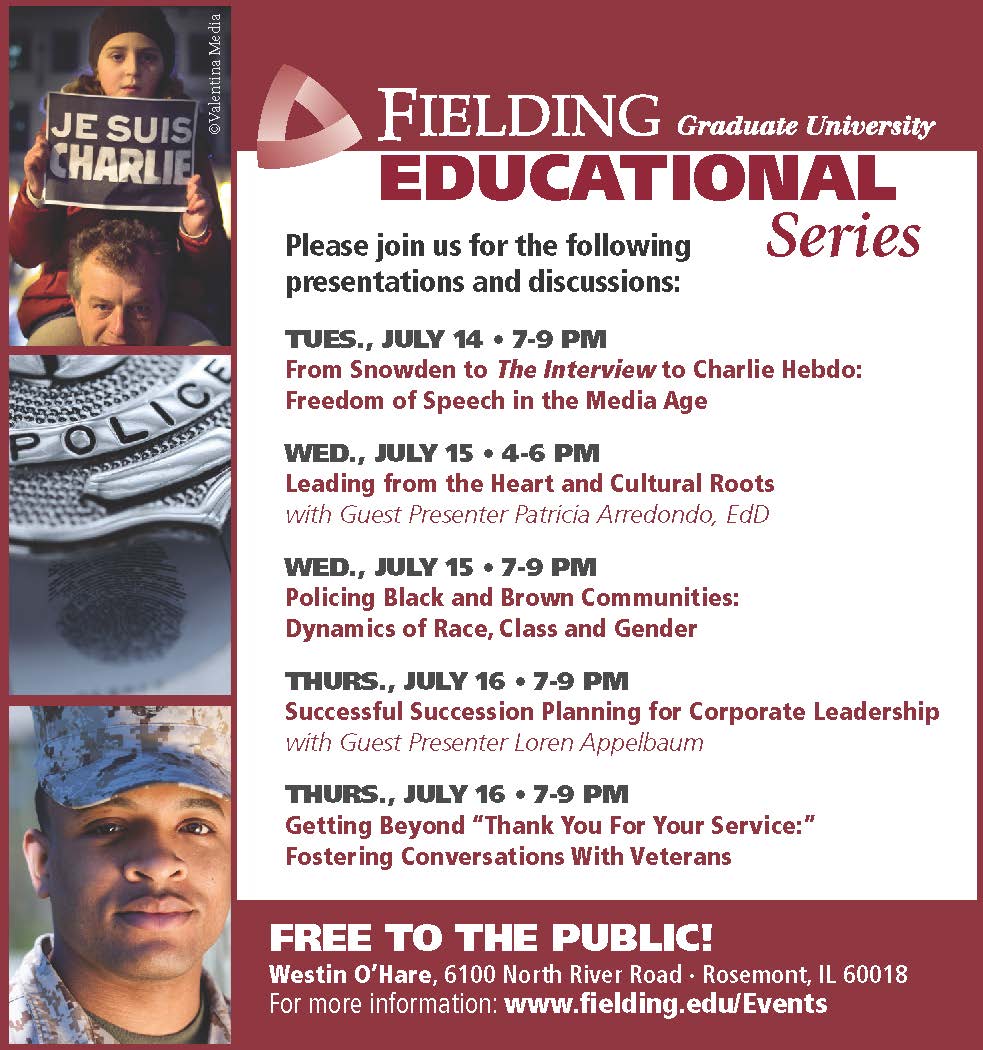 From the Snowden Files to the Interview to Charlie Hebdo: Freedom of Speech in the Media Age
Tuesday, July 14, 7–9 pm
What can and cannot be said in public? Are there limits? Join us for a dynamic and open discussion about state secrets, provocation, commentary and dialogue about freedom of speech.
---
Leading from the Heart and Cultural Roots with guest presenter Patricia Arredondo, EdD
Wednesday, July 15, 4–6 pm
Latina feminism influences our relationship-oriented cultural worldview and sense of fairness and social justice. This feminist framework is rooted in historic events that place a value on education, community engagement, and compassion. Latinas in the U.S. are in the process of claiming their power through higher education while navigating cultural divides in personal and professional relationships and in other social contexts. Dr. Arredondo will present concepts and models, often invisible to Latinas themselves that contribute to our sense of identity and empowerment. This event is sponsored by Fielding's Worldwide Network for Gender Empowerment.
---
Policing Black and Brown Communities: Dynamics of Race, Class and Gender
Wednesday, July 15, 7–9 pm
In the current national conversation about police activity and brutality, especially in low income neighborhoods of people of color, we recognize that there are intersecting issues of racial classification, economic class, as well as gender and gender expression at work on our streets. Through a panel of local experts and activists on various aspects of this situation, along with Fielding faculty members, a discussion will ensure over the "right-wrong," "police-citizen," "for police-against police" debates. Understanding the historical relationships between identified groups (racially, economically, gender-based) and law enforcement in this country can help us more clearly identify paths of action to promote social justice for all peoples, rather than demonizing them based on categorical status. Featuring special guest speaker Monique W. Morris, EdD, an author and social justice scholar with more than 20 years of professional and volunteer experience in the areas of education, civil rights, juvenile and social justice.
---
What Makes for Good Leaders? Successful Succession Planning for Corporate Leadership with guest presenter Loren Appelbaum
Thursday, July 16, 7–9 p.m.
Top corporate leaders need the skills, attributes, experiences and knowledge that will enable them to effectively lead in a constantly changing business environment. This session will provide best practice ideas, practical application tools and examples that enable organizations to link talent and succession management initiatives to their strategic business and cultural priorities. Achieving true organizational value from talent initiatives requires the leadership insights derived from assessment and development tools to be aligned and executed in the context of the organization's strategic priorities. Guest presenter Loren Appelbaum's areas of expertise span a broad range of global human resources and talent management functions, including senior executive selection, development, assessment and succession management; executive mentoring and coaching; organization and culture change; staffing and recruiting.
---
Getting Beyond "Thank You For Your Service:" Fostering Conversations With Veterans
 Thursday, July 16, 7–9 p.m.
This interdisciplinary seminar will examine the various aspects of interactions between military veterans and the systems of transition and caregiving support in which they are enmeshed. Focus will be specifically on shared meaning-making in the domains of education; organizations (work, health care, and social); portrayal in the media, and interactions with and between veterans, families, caregivers, therapists coaches, and other "helping" professions or roles. Special guest speaker includes Rev. Carlos R. Evans, Sergeant USMC Ret., who lost both legs and an arm in an IED explosion during his fourth combat tour in Afghanistan. Following his own recovery and physical rehabilitation, he advocates for and mentors fellow veterans, and is a competitive athlete using prosthetics. He has been recognized nationally veteran organizations and the White House for these exemplary and inspiring efforts.
---
---
PARKING DISCOUNT at the Westin O'Hare: Fielding will provide you with a $10 discounted parking pass. Make sure to get this at the end of the session before you leave.
When & Where

Westin O'Hare Hotel
6100 North River Road
Rosemont, IL 60018


Tuesday, July 14, 2015 from 7:00 PM to 9:00 PM (CDT)
Add to my calendar
Organizer
Fielding Graduate University is an accredited nonprofit leader in blended graduate education, combining face‐to‐face and online learning. Our curriculum offers quality degrees and courses for professionals living and working anywhere in the world. Fielding's faculty members represent a breadth of scholarship and practice in the fields of educational leadership, human and organizational development, and clinical and media psychology. Maintaining Fielding's reputation for quality programs faculty are mentors and guides to self‐directed students who use their skills to become powerful, and socially‐responsible leaders in their communities, workplaces, and society.