Field Trip to the San Francisco Public Library

Thursday, May 16, 2019 from 11:00 AM to 1:00 PM (PDT)
Event Details
Field trip to the San Francisco Public Library 
with
Susan Goldstein
May 16, 2019, 11:00 AM - 1:00 PM
Join Susan Goldstein, San Francisco City Archivist and San Francisco Public Library staff members for a tour of areas of genealogical interest at the San Francisco Public Library.
Attendees will gather at 11:00 AM outside our The San Francisco History Room on the 6th floor and be split into two groups for the tour. 
After the tour, we will gather to learn about the online catalog and the many San Francisco Records that the library has digitized through Archive.org and FamilySearch and how to access them.
If you do not have a library card this would be a great time to get one. Here is a link for more information.  http://sfpl.org/index.php?pg=2000001201.
BART is the transportation of choice. Go to CIVIC CENTER walk towards the large blue medallion painted on the wall then up the stairs/escalator. The library entrance is across the street. 
These links take you to the list of parking areas and directions and more. http://sfpl.org/index.php?pg=2000063501.
http://sfpl.org/index.php?pg=0100000101
Plan to go out to lunch. 
There is a small café in the library that has light lunches. 
The Asian Art museum near-by has a great café.
New Bi-Rite lunch store on Civic Center Plaza, if nice can sit. 
Websites of interest for the San Francisco Public Library:
https://www.facebook.com/sfpl.org/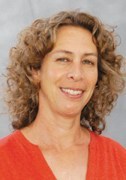 Susan Goldstein has served as the City Archivist of San Francisco for over 20 years, documenting the city's official and community history. Previously, Goldstein worked as the Archivist to Senator Alan Cranston and at the Labor Archives and Research Center at San Francisco State University.
REGISTRATION INFORMATION
Pre-registration is required. Class size is limited so register early. 
CGS members enjoy free admission.
This is a Members Only Event.
Register early to confirm your place. Walk-ins will not be admitted.
If something comes up and you will not be able to attend please let us know at: Cancel My Attendance.
When & Where

San Francisco Public Library
100 Larkin Street
San Francisco, CA 94102


Thursday, May 16, 2019 from 11:00 AM to 1:00 PM (PDT)
Add to my calendar
Organizer
   Connecting people to their diverse family heritage

Whether you have Gold Rush ancestors or have no family connection to California, you will find extensive support for your genealogy research at the California Genealogical Society (CGS) in Oakland. The society offers research services, online indexes and databases, and a research library housing over 38,000 reference materials from California, the United States, and around the world. CGS is a 501(c)(3) nonprofit corporation. The library is conveniently located in Uptown Oakland, one block north of the Paramount Theatre, at 2201 Broadway, Suite LL2. We are three blocks from the 19th Street BART Station.
Phone: (510) 663-1358 
Non-Discrimination Statement
The goal of the California Genealogical Society is to connect people to their family heritage and to promote a spirit of diversity and inclusivity for our members and patrons. The California Genealogical Society does not tolerate discrimination in any form. 
Courtesy Request
In order to maintain a welcoming and healthy environment, please refrain from using scented products at CGS events or in the library.
Photography Notice
California Genealogical Society (CGS) may take photographs, audio recordings, and video footage in our library, classrooms or events for historical records or publicity purposes.  If you do not want to be photographed or filmed, it is the individual's responsibility to 'opt out' by notifying the event leader or photographer at the event.