Field Trip To Oakland Public Library & Oakland History Room

Thursday, January 23, 2020 from 11:00 AM to 1:00 PM (PST)
Event Details
Field Trip To Oakland Public Library
& Oakland History Room
Oakland Main Library
125 14th Street
Oakland, CA 94612
Thursday January 23 11-1
FOR CGS MEMBERS ONLY (a perk of membership)
Limited to 15 members
Free to CGS members
Coordinator:  Jane Knowles Lindsey
  jlindsey@CaliforniaAncestors.org
Join Jane Lindsey for a tour of the Oakland Main Library. Dorothy Lazard, Principal Librarian in the Oakland History Room, will discuss the resources available at the Oakland Public Library to assist you with your family research.
The Oakland History Room is an important center for the study of the history and current development of the East Bay. Its collection contains a wide variety of materials relating to the history of Oakland and the larger Bay Area, including books, magazines, pamphlets, newspaper clippings, photographs, postcards, sheet music, trade catalogs, and scrapbooks. Following the ninety-minute tour, you are encouraged to stay and do research on your own. The library is open until 8:00 p.m. on Thursdays.

Metered street parking is available in the area and there are several public parking lots nearby, including at the Oakland Museum. The library is 5 blocks north east of the Lake Merritt BART station.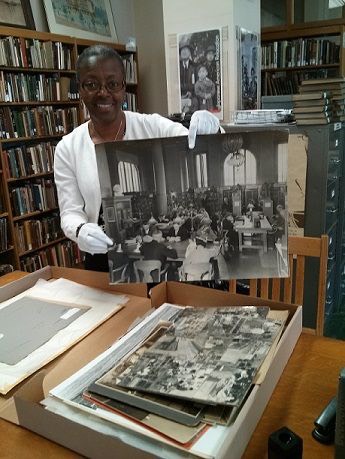 Dorothy Lazard manages the Oakland History Room of the Oakland Public Library where she provides reference services to genealogists, architects, real estate professionals, homeowners, teachers, students, and writers. For the past decade she has hosted popular history programs, mounted exhibits highlighting Oakland history, and written articles for the Oakland Heritage Alliance News. Her mission is to make more of Oakland's history accessible to a local, national and international audience, and to contribute to a fuller interpretation of California history. She holds a Master's degree in Library and Information Studies (UC Berkeley) and a Master's of Fine Arts degree in Creative Nonfiction from Goucher College (Baltimore). Lazard writes on history, the use of public space, and travel.
REGISTRATION INFORMATION
Pre-registration is required. 
This is a CGS members only event, enjoy free admission.
Register early to confirm your place. 
If something comes up and you will not be able to attend please let us know at: events@californiaancestors.org
When & Where

Oakland Main Library
125 14th Street
Oakland, California 94612


Thursday, January 23, 2020 from 11:00 AM to 1:00 PM (PST)
Add to my calendar
Organizer
   Connecting people to their diverse family heritage

Whether you have Gold Rush ancestors or have no family connection to California, you will find extensive support for your genealogy research at the California Genealogical Society (CGS) in Oakland. The society offers research services, online indexes and databases, and a research library housing over 38,000 reference materials from California, the United States, and around the world. CGS is a 501(c)(3) nonprofit corporation. The library is conveniently located in Uptown Oakland, one block north of the Paramount Theatre, at 2201 Broadway, Suite LL2. We are three blocks from the 19th Street BART Station.
Phone: (510) 663-1358 
Non-Discrimination Statement
The goal of the California Genealogical Society is to connect people to their family heritage and to promote a spirit of diversity and inclusivity for our members and patrons. The California Genealogical Society does not tolerate discrimination in any form. 
Courtesy Request
In order to maintain a welcoming and healthy environment, please refrain from using scented products at CGS events or in the library.
Photography Notice
California Genealogical Society (CGS) may take photographs, audio recordings, and video footage in our library, classrooms or events for historical records or publicity purposes.  If you do not want to be photographed or filmed, it is the individual's responsibility to 'opt out' by notifying the event leader or photographer at the event.