Field Trip 12: Salem

Friday, August 5, 2011 at 10:30 AM

-

Sunday, August 7, 2011 at 9:00 PM (EDT)

Salem, MA
Event Details
FIELD TRIP XII: SALEM.
TICKETS GO ON SALE TUESDAY NIGHT, 12:01AM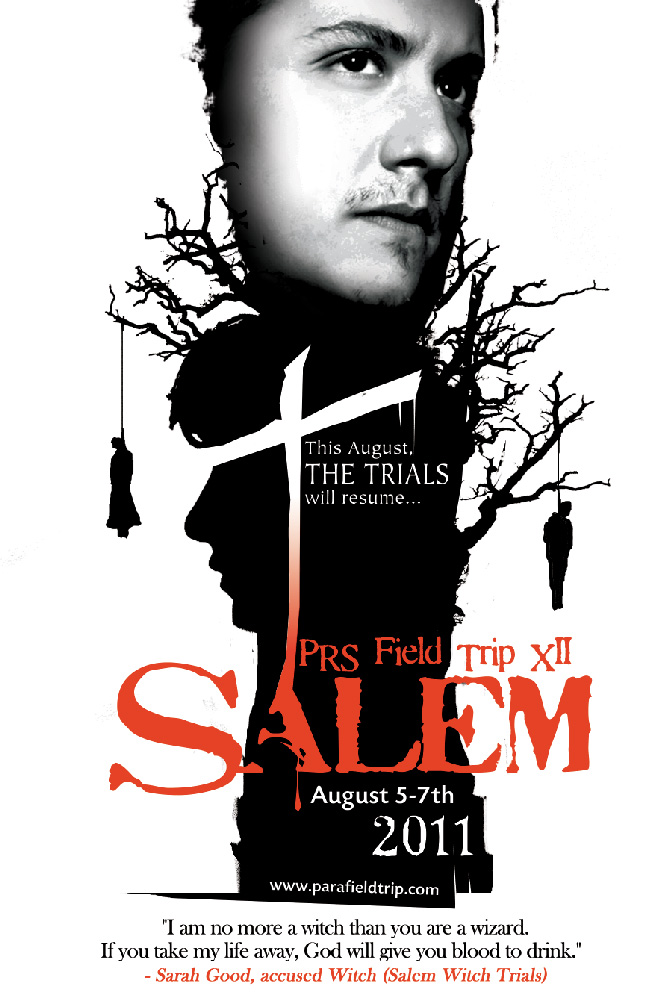 OVERVIEW
FT SALEM is all about delving in to America's dark past.  During the Witch Trials, over 19 people were executed and dozens of other lives were ruined due to mass hysteria.  Field Trippers will be part of a social experiment, where some attendees will be "the accused" and others, "accusers."  The lectures will also focus on the truth behind witchcraft, as well as debates on psychics, occult practices and religious intolerance.  And at night, attendees will investigate an historic hotel (which is locked down just for our use), take Witch House tours, witness the Salem Trials re enactment and more!  Then, of course, there's the fun afterwards! 
OVERVIEW OF EVENTS

Salem Witch Trials re enactment & Witch House Tour - Attendees will get to sit in and play jury during a live performance re enacting the witch trials.  After that, a private, Field-Trip-only tour of the Witch House. 
Ghost Hunt - We all like to have a real, genuine ghost hunt.  So we've locked down an entire Bed-&-Breakfast hotel that has a history of being haunted, just for us to investigate all-night in!
Circle Discussions - We're bringing back one of the more popular elements of previous Field Trips, where attendees get to sit in a smaller, more intimate discussion with a member of PRS.
Rapid-Fire Lecture & New Workshops - PRS is introducing a new, group lecture where each speaker has 15 minutes to add to the discussion/point.  There will also be guest speakers and brand new workshops that tie-in with the theme of Salem and what it stands for, as well as some new, general paranormal topics.
Authentic Magick Rituals & Ceremonies - To get in the spirit of Salem, we'll get to observe real (not the tourist stuff) rituals and ceremonies and understand the nature of them. 
Haunted Museum - Attendees will get to see some rare items in a just-for-Field-Trip set up exhibit!
Much, Much more!!
TENTATIVE SCHEDULE

Friday
10:30-11:00a EE Registration, Witch Assignments
11:00-12:00p EE Meet and Greet
11:00-12:00p Registration, Witch Assignments
12:00-1:15p Meet and Greet
1:15-1:45p Quick Welcome/Announcements/Auctions
2:00-3:15p 3 Workshops
3:15-4:00p Walk to Old Town Hall
4:00-4:45p Cry Innocent @ Old Town Hall
5:00-7:00p Dinner Break/Free Time
7:00-9:00p Witch House
10:00p-?:00 Ghost Hunts
Saturday
11:00-12:00p Merch, Tarot Readings, Pictures
12:00-1:00p Guest Speaker
1:15-2:30p 3 Workshops
2:45-4:00p The POE Lectures
4:00-4:15p Group Photo
4:30-6:30p Dinner Break/Free Time
6:30-8:00p EE Event TBD
6:30-9:30p TBD
10:00-?:00 Ghost Hunts
Sunday
12:00-2:30p Accusation Party and Executions
3:00-6:30p EE Sessions
7:00p EE – TBD
When & Where



Salem

,

MA




Friday, August 5, 2011 at 10:30 AM

-

Sunday, August 7, 2011 at 9:00 PM (EDT)
Add to my calendar
Organizer
"PARANORMAL: THE EXPERIENCE" 2014 CANADA TOUR
TOUR SCHEDULE
OTTAWA
April 3rd / April 4th
TORONTO
April 5th / April 6th 
VANCOUVER
April 8th
CALGARY
April 10th / April 11th
EDMONTON
April 12 / April 13th
WINNIPEG
April 15th
HALIFAX
April 17th