FIELD to BODY: Sowing Seeds for a Backyard Medicine Garden with Madelene McCann of Full Moon Folk Medicine + A Delightful Lunch

Sunday, April 12, 2015 from 1:15 PM to 3:30 PM (PDT)
Event Details
Interested in growing your own medicine? Adding medicinal herbs to your established garden? Join Madelene McCann herbalist, farmer and founder of Full Moon Folk Medicine CSH for this hands on class on cultivating medicinal herbs. Learn gardener friendly, region specific medicinal herbs and their uses. Plant your own medicine and heal locally! Class will go home with seeds and inspiration in cultivating a Bay Area medicine chest!
Plus join us for tea and a light vegetarian lunch made from fresh local herbs, grains and vegetables from the surrounding area. Food will be served at 1:15 immediately before the workshop. The workshop begins at 2:00pm.
Madelene McCann is an herbal practitioner, farmer and founder of Full Moon Folk Medicine. At a young age, she learned from her mother the native and medicinal uses of plants. This kindled a fascination and deep connection with the plant world that has, with the help of teachers and elders, guided her to the teaching and practice of herbal medicine. Madelene has taught herbalism at Humboldt State University, community classes and for environmental education organizations. Through her education initiatives, she hopes to inspire the next generation of plant people. In addition to being an herbalist, Madelene has been a farmer since 2008. She has managed production farms to school gardens and has cultivated a firm belief that food is medicine. Recently, she has blended eastern medicine with her western herbalism roots. She is a graduate of the Ayurveda Clinical Practitioners Program at the Dhyana Center in Sebastopol, California. Madelene is an active member and grower of the Sonoma County Herb Exchange and volunteers her time at two Ayurvedic clinics is west Sonoma County. Her craft is inspired by the songs of the plants, rhythms of the seasons and magic of the soil. With her love of teaching, farming and food, she hopes to inspire the reclamation of the human body's own ability to heal.
Space is limited to 20 so purchase your tickets today!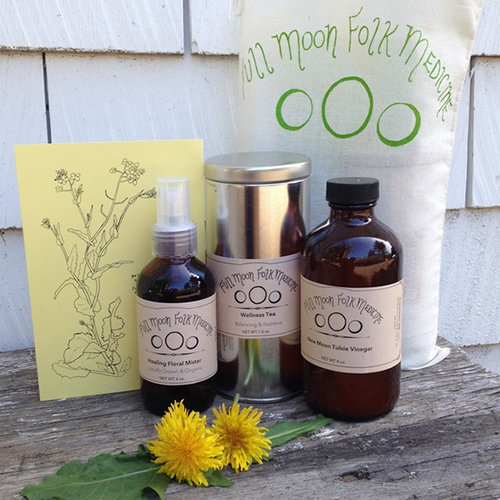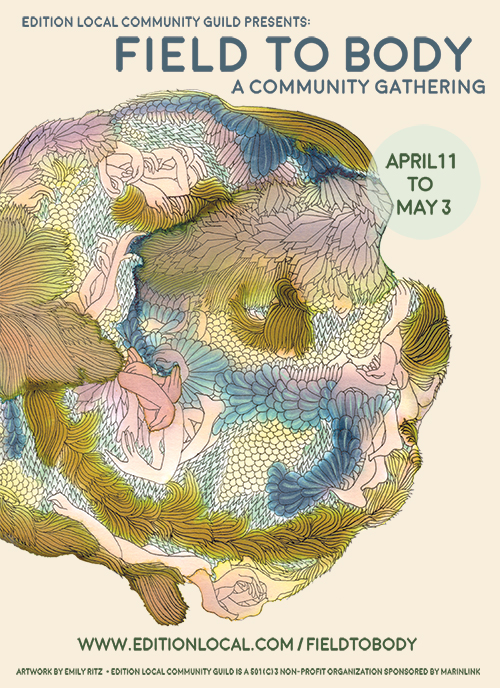 Much attention has been shed on the connection between farm and table, but what about the connection between farms, fields, foraging, and the body? Edition Local Community Guild presents a month-long series of community gatherings called FIELD to BODY, an exploration of the growing and thriving local economy created by herbalists, plant medicine practitioners, traditional apothecaries, aromatherapy, foragers, botanical dyeing, and ethically sourced plant-based textiles.
FIELD to BODY will feature the inspiring stories of people whose efforts have made this growing local economy an invaluable aspect of sustainable living. Through a series of workshops, talks, tastings, walks, and a community gathering dinner, FIELD to BODY is an invitation to conversation, education, and participation in a local economy where the connection between people and place is essential. Learn how these medicines, tinctures, textiles, and products are made and where they come from. Experience how a tangible relationship to ethical farming, foraging and the land can inform our bodies. Join us as we respond to and continue a long-standing movement that examines the direction connections between consumer goods and their origins.
Meet your neighbors and support your own local economy. Gather with us for FIELD to BODY. April 11th to May 3rd.
Featuring: Deepa Natarajan (Plantspeople), Nicholas Weinstein (Homestead Apothecary), Full Moon Folk Medicine, Leaves & Flowers Tea Company, Liz Migliorelli (Sister Spinster), Olivia Johnson (Fat+Fallow), The Living Seed Company, Travis Meinhoff (Action Weaver), Kristina Holey, Dr. Daphne Miller, Emily Ritz (artist), The Great Kosmic Kitchen, Chef Tina Dang, Taproot Medicine, Traveling Miles Studio and more. 
SIGN UP FOR WORKSHOPS AND EVENTS www.editionlocal.eventbrite.com
Edition Local Community Guild is a 501(c)3 non-profit fiscally sponsored by MarinLink.
FIELD to BODY: A Community Gathering is made possible by a grant from Marin Community Foundation's New Ground Fund.
Is my registration/ticket transferrable or refundable?
Tickets to workshops are non-refundable, but are transferable. Please notify Edition Local Community Guild below with the new participant name, phone number and email address if you would like to transfer your ticket.
Have questions about FIELD to BODY: Sowing Seeds for a Backyard Medicine Garden with Madelene McCann of Full Moon Folk Medicine + A Delightful Lunch?
Contact Edition Local Community Guild
When & Where

Dance Palace
503 B Street
Main Hall
Point Reyes Station, CA 94956


Sunday, April 12, 2015 from 1:15 PM to 3:30 PM (PDT)
Add to my calendar
Organizer
Edition Local Community Guild is a fiscally sponsored 501(c)3 non-profit that strives to build resilient local economies in which people truly know their neighbors. We are an ongoing story about People and Place. Through storytelling community gatherings, community connectivity, membership, and educational resources, Edition Local Community Guild creates opportunities to know your neighbors, engage with your local economy, and examine your environment through multi-faceted perspectives. We seek inspiration from engaged communities where neighborly bonds are strong, as we strive to help stressed communities where neighborly bonds are degenerating. We hope to empower purveyors, craftspeople, locally-owned businesses, artisans, cottage industry, community-minded organizations, and communities as a whole.
Our Motto: Know Thy Neighbor.
*MarinLink currently serves as Community Guild's fiscal sponsor for 501(c)3 status.
VISIT US AT: www.editionlocal.com