FIELD to BODY: Flower Essence Making and Plant Magic with Liz Migliorelli of Sister Spinster + Lunch by The Great Kosmic Kitchen

Saturday, April 18, 2015 from 11:00 AM to 3:00 PM (PDT)
Event Details
Liz Migliorelli of Sister Spinster introduces working with plants energetically and magically in this afternoon workshop. The workshop will begin with basic energetic exercises then will discuss the deep historical folk traditions of magic as medicine and self-determination. Liz will cover flower essences, intuitive practice, ritual work, developing personal ceremonies with plants and ways to deepen personal relationship with herbal allies. All materials will be provided, but please bring a special object to place on the group altar.
This workshop is part of a weekend series at Gospel Flats Farm Stand. April 19th is Homestead Apothecary and Nic Weinstein, who will also be assisting on April 18th.
In addition The Great Kosmic Kitchen will be crafting a magical lunch infused with herbal ingredients. You can look forward to a nourishing meal highlighted by seasonal wild edibles harvested from the area.
Space is limited so purchase your tickets today! Pre-registration is required.
Liz Migliorelli is a western herbalist and magic maker. She believes in the healing that comes from our own gardens, the local land and our kitchens. She is devoted to encouraging others to find empowerment through self-care and harm reduction, to find healing in a cup of fir tip and strawberry leaf tea, and to find magic in the simple practices that connect us to the Earth. She graduated from the Clinical Herbalism program at the Ohlone Herbal Center and now lives and works in Oakland teaching herbal & ancestral magic classes, seeing clients in her private practice and running Sister Spinster Apothecary, where she makes medicine with love and ceremony for her community.
The Great Kosmic Kitchen is inspired by medicinal herbs, wild foods and ancient preparations, Summer and Sarah of The Great Kosmic Kitchen showcase the art of incorporating these practices into the modern meal. As herbalists and cooks their meals seek to nourish and balance the body while bringing you closer to your own internal guide. They believe eating is an act of self-care and hope to empower you to nourish yourself in the most loving way.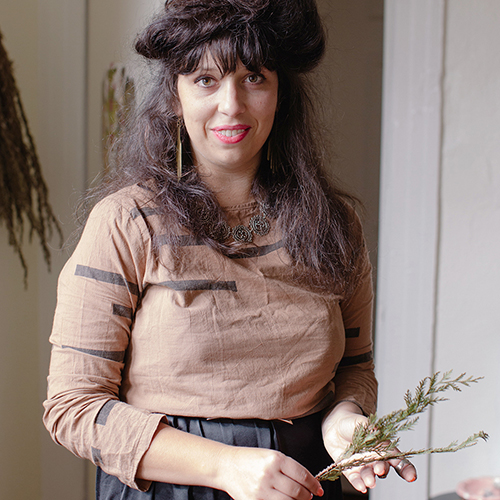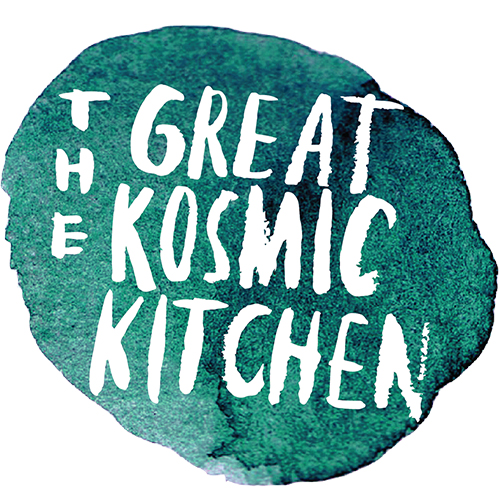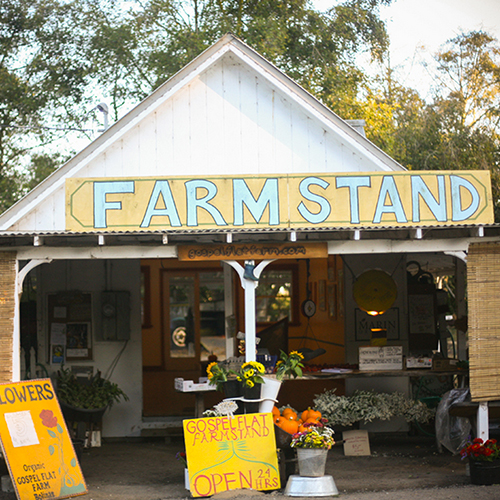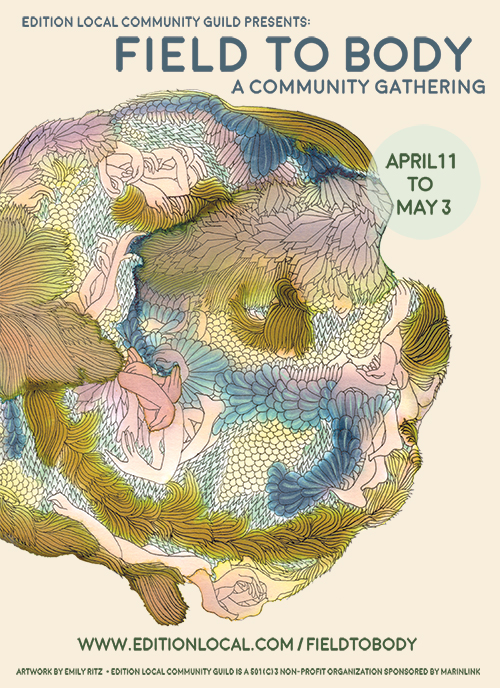 Much attention has been shed on the connection between farm and table, but what about the connection between farms, fields, foraging, and the body? Edition Local Community Guild presents a month-long series of community gatherings called FIELD to BODY, an exploration of the growing and thriving local economy created by herbalists, plant medicine practitioners, traditional apothecaries, aromatherapy, foragers, botanical dyeing, and ethically sourced plant-based textiles.
FIELD to BODY will feature the inspiring stories of people whose efforts have made this growing local economy an invaluable aspect of sustainable living. Through a series of workshops, talks, tastings, walks, and a community gathering dinner, FIELD to BODY is an invitation to conversation, education, and participation in a local economy where the connection between people and place is essential. Learn how these medicines, tinctures, textiles, and products are made and where they come from. Experience how a tangible relationship to ethical farming, foraging and the land can inform our bodies. Join us as we respond to and continue a long-standing movement that examines the direction connections between consumer goods and their origins.
Meet your neighbors and support your own local economy. Gather with us for FIELD to BODY. April 11th to May 3rd.
Featuring: Deepa Natarajan (Plantspeople), Nicholas Weinstein (Homestead Apothecary), Full Moon Folk Medicine, Leaves & Flowers Tea Company, Liz Migliorelli (Sister Spinster), Olivia Johnson (Fat+Fallow), The Living Seed Company, Travis Meinhoff (Action Weaver), Kristina Holey, Dr. Daphne Miller, Emily Ritz (artist), The Great Kosmic Kitchen, Chef Tina Dang, Taproot Medicine, Traveling Miles Studio and more. 
SIGN UP FOR WORKSHOPS AND EVENTS www.editionlocal.eventbrite.com
Edition Local Community Guild is a 501(c)3 non-profit fiscally sponsored by MarinLink.
FIELD to BODY: A Community Gathering is made possible by a grant from Marin Community Foundation's New Ground Fund.
Is my registration/ticket transferrable or refundable?
Tickets to workshops are non-refundable, but are transferable. Please notify Edition Local Community Guild below with the new participant name, phone number and email address if you would like to transfer your ticket.
Photos by Aubrey Trinnaman and Julia Sabot
Have questions about FIELD to BODY: Flower Essence Making and Plant Magic with Liz Migliorelli of Sister Spinster + Lunch by The Great Kosmic Kitchen?
Contact Edition Local Community Guild
When & Where

Gospel Flat Farm Stand
600 Bolinas Olema Road
Bolinas, CA 94924


Saturday, April 18, 2015 from 11:00 AM to 3:00 PM (PDT)
Add to my calendar
Organizer
Edition Local Community Guild is a fiscally sponsored 501(c)3 non-profit that strives to build resilient local economies in which people truly know their neighbors. We are an ongoing story about People and Place. Through storytelling community gatherings, community connectivity, membership, and educational resources, Edition Local Community Guild creates opportunities to know your neighbors, engage with your local economy, and examine your environment through multi-faceted perspectives. We seek inspiration from engaged communities where neighborly bonds are strong, as we strive to help stressed communities where neighborly bonds are degenerating. We hope to empower purveyors, craftspeople, locally-owned businesses, artisans, cottage industry, community-minded organizations, and communities as a whole.
Our Motto: Know Thy Neighbor.
*MarinLink currently serves as Community Guild's fiscal sponsor for 501(c)3 status.
VISIT US AT: www.editionlocal.com