FIELD to BODY: A Gathering and Spring Dinner Feast

Saturday, April 25, 2015 from 6:00 PM to 9:00 PM (PDT)
Event Details
Join us to celebrate our first community gathering, Field to Body with a night of words, music, and food. In honor of our month long gathering we are creating A Spring Feast including a beautiful dinner featuring local meat and produce prepared by Chef Tina Dang, pastries by Annie Callan former chef at Zuni, now at Camino, a keynote talk from Dr. Daphne Miller, author of the highly-praised book Farmacology, and a musical performance by local artist and musician, Emily Ritz of Yesway. Flowers by NorthSouthEastWest & Caty Woodstrom and chocolate by Guittard.
MENU
Cheese from Marin French Cheese Company with Crafted Crackers from Brickmaiden
Grilled Citrus Marinated Marin Sun Farms Lamb Kebabs 
Star Route Farms Green Garlic Tzatziki 
Gospel Flats Warm Baby Artichokes, Roasted Potatoes & Star Route Carrot salad - Dill Vinaigrette 
Fragrant Rice Cooked with Currants, Onions & Tumeric 
Rancho Gordo Chickpeas Wild Nettle Pesto & Gospel Flats Farm Eggs 
Fresh Parkside Bakery Bread and Olive Oil from McEvoy Ranch 
Guittard Chocolate Brownies 
Buckwheat Palace Strawberry Shortcakes
Sean Thackrey Wines, Revival Wines
Also partake in a raffle of great items including:
Tickets to both workshops held on the Little Mesa on May 2nd:
Traveling Miles Studio Cochineal Dying Workshop and Backstrap Weaving with Travis Meinolf.
An Edition Local library of hand-signed books from Leonard Koren, Betty Goerke
Prince Andrew Romanoff, Sym Van Der Ryn, Judith Larner.
Ticket to Tea Tasting and Afternoon Tea with Leaves & Flowers at
Saltwater + The Depot in Inverness on Sunday, April 26th.
A selection of jewelry from designer Marion McKee.
A handmade cutting board and board butter from Gwen Gunheim of Hendley Hardgoods.
A membership to the Bolinas Museum and a waterbottle designed by Charlie Callahan
And more!
All proceeds from our Spring Feast will help Edition Local Community Guild with future programming, maker's profiles and maker support, education, community gatherings, and advocacy on behalf of craftspeople, small businesses and cottage industry in rural, suburban and inner city communities. Build resilient communities by supporting local economies. 
Space is limited so get your tickets today! Kids under 10 are free!
Edition Local Community Guild is a 501(c)3 non-profit fiscally sponsored by MarinLink. FIELD to BODY: A Community Gathering is made possible by a grant from Marin Community Foundation's New Ground Fund.
Daphne Miller, M.D. is a practicing family physician, renowned nutrition explorer, and professor of family medicine at the University of California, San Francisco. Her writing explores the frontier between biomedicine and the natural world, between food and health, between farms and our bodies. Her books include The Jungle Effect and most recently, Farmacology: What Innovative Family Farming Can Teach Us About Health and Healing.
Tina Dang is a personal chef, a professional cook, and a loving home cook living in San Francisco. "I love food and it's unique glory to fulfill me with so many joyful moments, and I love to cook for anyone that I come into contact with." She worked in San Francisco restaurants, including Zuni Cafe, for many years.
Emily Ritz is an artist and musician living at Inverness. After graduating from California College of the Arts, she decided to pursue painting and music full-time. Both her art and music are whimsical, imaginative, and playful. She was kind enough to create the illustration for the FIELD to BODY poster.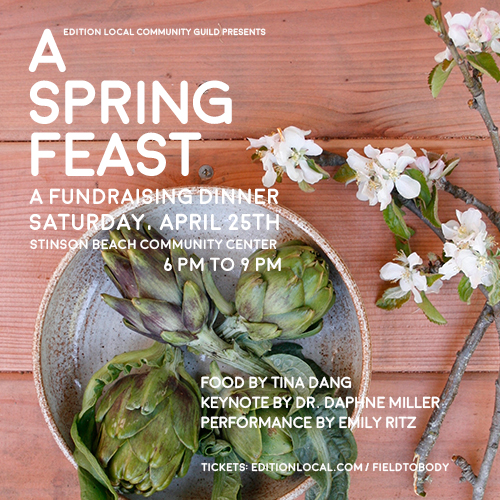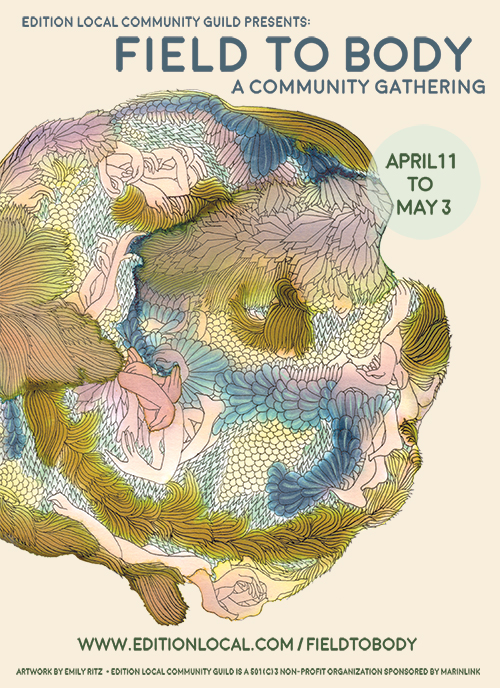 Much attention has been shed on the connection between farm and table, but what about the connection between farms, fields, foraging, and the body? Edition Local Community Guild presents a month-long series of community gatherings called FIELD to BODY, an exploration of the growing and thriving local economy created by herbalists, plant medicine practitioners, traditional apothecaries, aromatherapy, foragers, botanical dyeing, and ethically sourced plant-based textiles.
FIELD to BODY will feature the inspiring stories of people whose efforts have made this growing local economy an invaluable aspect of sustainable living. Through a series of workshops, talks, tastings, walks, and a community gathering dinner, FIELD to BODY is an invitation to conversation, education, and participation in a local economy where the connection between people and place is essential. Learn how these medicines, tinctures, textiles, and products are made and where they come from. Experience how a tangible relationship to ethical farming, foraging and the land can inform our bodies. Join us as we respond to and continue a long-standing movement that examines the direction connections between consumer goods and their origins.
Meet your neighbors and support your own local economy. Gather with us for FIELD to BODY. April 11th to May 3rd.
Featuring: Deepa Natarajan (Plantspeople), Nicholas Weinstein (Homestead Apothecary), Full Moon Folk Medicine, Leaves & Flowers Tea Company, Liz Migliorelli (Sister Spinster), Olivia Johnson (Fat+Fallow), The Living Seed Company, Travis Meinhoff (Action Weaver), Kristina Holey, Dr. Daphne Miller, Emily Ritz (artist), The Great Kosmic Kitchen, Chef Tina Dang, Taproot Medicine, Traveling Miles Studio and more. 
SIGN UP FOR WORKSHOPS AND EVENTS www.editionlocal.eventbrite.com
Edition Local Community Guild is a 501(c)3 non-profit fiscally sponsored by MarinLink.
FIELD to BODY: A Community Gathering is made possible by a grant from Marin Community Foundation's New Ground Fund.
Is my registration/ticket transferrable or refundable?
Tickets to the dinner are non-refundable, but are transferable. Please notify Edition Local Community Guild below with the new participant name, phone number and email address if you would like to transfer your ticket.
When & Where

Stinson Beach Community Center
32 Belvedere Avenue
Stinson Beach, CA 94970


Saturday, April 25, 2015 from 6:00 PM to 9:00 PM (PDT)
Add to my calendar
Organizer
Edition Local Community Guild is a fiscally sponsored 501(c)3 non-profit that strives to build resilient local economies in which people truly know their neighbors. We are an ongoing story about People and Place. Through storytelling community gatherings, community connectivity, membership, and educational resources, Edition Local Community Guild creates opportunities to know your neighbors, engage with your local economy, and examine your environment through multi-faceted perspectives. We seek inspiration from engaged communities where neighborly bonds are strong, as we strive to help stressed communities where neighborly bonds are degenerating. We hope to empower purveyors, craftspeople, locally-owned businesses, artisans, cottage industry, community-minded organizations, and communities as a whole.
Our Motto: Know Thy Neighbor.
*MarinLink currently serves as Community Guild's fiscal sponsor for 501(c)3 status.
VISIT US AT: www.editionlocal.com