About this Event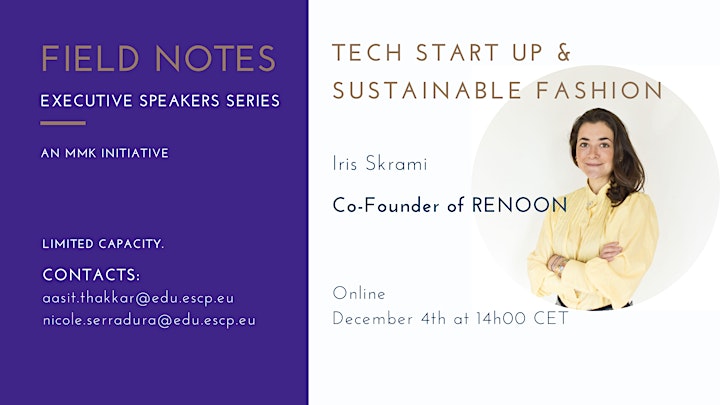 Field Notes - an Executive ESCP Speaker Series - aims to expose students to the realities and challenges of working within a variety of marketing disciplines. Executive insight will help bridge students' academic motivations towards their professional journeys in the near future. This is an exclusive ESCP experience to gain insight from executives at the forefront of their sectors.
We will interview Iris Skrami, the co-Founder of Renoon, an online platform to browse sustainable garments.
Their mission is to make sure that people can combine their love for Fashion and Planet by helping users to find the perfect styles while contributing to positive change in the world.
Renoon algorithm is constantly researching and curating an even wider selection of pre-owned and new products that meet strict sustainability standard.
Accenture, Prada, Marzotto Group are partners of the Startup, which is also supported by Startupbootcamp. Moleskine CFO and the ex-CTO of Yoox-Net-à-Porter are some of their investor