Description
FIDM invites Educators to join us for our 2017 Educators Day & DEBUT Runway Show. Get an inside look at FIDM's curriculum and see what happens when creativity meets a world class education.
This is an all-day event that begins with lunch and tours at our Los Angeles campus, followed by a round-trip bus ride to the Barker Hangar to enjoy the premier fashion runway show on the west coast as graduating FIDM Students make their debut in the fashion/design industry.
Agenda
10:30 a.m. EDUCATORS DAY begins at FIDM's flagship in downtown Los Angeles for campus tours, faculty presentations, shopping, and lunch
3:45 p.m. DEPART FIDM CAMPUS FOR THE DEBUT RUNWAY SHOW. Attendees depart from downtown Los Angeles to Santa Monica as a group. Round-trip bus service from FIDM Los Angeles to the Barker Hangar is provided

5:30 p.m. DEBUT RUNWAY SHOW BEGINS AT THE BARKER HANGAR featuring the work of FIDM Advanced Fashion Design, Digital Media, Interior Design, Textile Design and Theatre Costume Students

7:30 p.m. DEPART BARKER HANGAR FOR FIDM LOS ANGELES CAMPUS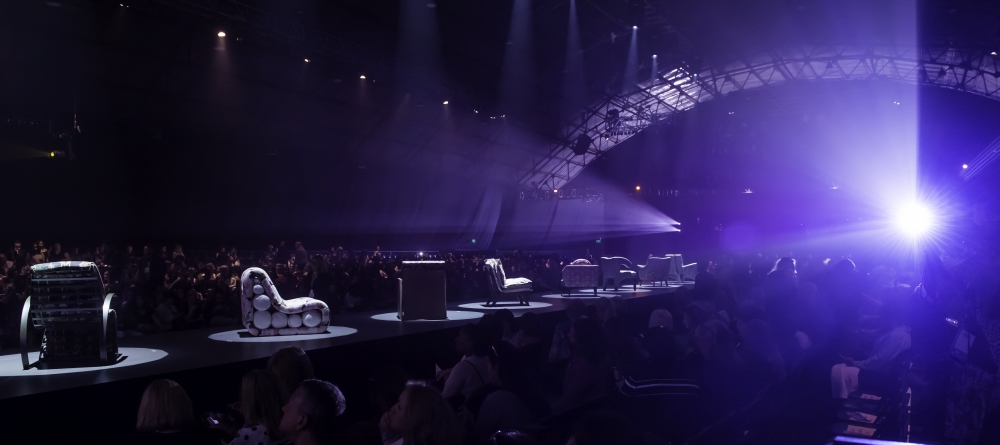 FAQs
What are my transport/parking options getting to the event?
Parking is extremely limited at the Barker Hangar, which is why FIDM offers round-trip bus transportation from our Los Angeles campus to the Barker Hangar, returning to campus at approximately 8:30 p.m. FIDM also offers complimentary bus transportation from various locations in southern California to our Los Angeles campus (see below). Alternatively, attendees may travel on their own to FIDM's LA campus at 919 S. Grand Avenue, Los Angeles, CA 90015 (click here for directions).
For your convenience, complimentary ground transportation will be provided from the following locations:
San Diego: Old Town Transit Center, 4009 Taylor Street (The parking lot is on Pacific Highway at Taylor Street, behind the trolley lines.) - Departure 7:00 a.m.
Carlsbad: La Costa Avenue Park and Ride (The parking lot is on the east side of the 5 Freeway.) - Departure 7:45 a.m.
Irvine: FIDM Orange County Campus, 17590 Gillette Avenue (Use the parking area behind the FIDM campus, or street parking.) - Departure 9:00 a.m.
Buellton: Park and Ride on Avenue of Flags (south of Highway 246) - Departure 7:00 a.m.
Christ the King Episcopal Church 5073 Hollister Avenue, Santa Barbara, CA 93111– Departure 7:45 a.m.

Camarillo: Park and Ride, Highway 101 and Las Posas Road - Departure 8:30 a.m.
Santa Clarita: Metrolink Station, 22122 Soledad Canyon Road (east of Bouquet Canyon Road) - Departure 8:00 a.m.
Encino: Balboa Tennis Center, 5651 Balboa Boulevard (The parking lot is adjacent to the tennis courts.) - Departure 9:00 a.m.
Corona: Target at The Crossings, 2615 Tuscany Street (Cajalco exit off the 15 Freeway; parking is located in front of Target on the east side.) - Departure 8:00 a.m.
Ontario: Sam's Club, 951 North Milliken Avenue - Departure 8:30 a.m.
West Covina: Eastland Mall, 2753 East Eastland Center Drive (Citrus exit off the 10 Freeway; parking is next to Albertsons.) - Departure 9:00 a.m.
LAX/Los Angeles International Airport: Meet the bus outside of the baggage area for Southwest Airlines Terminal #1 in the Arrivals area. (FIDM will reimburse up to $16 for your airport parking.) - Departure 9:45 a.m.
LA FIDM Campus: 919 South Grand Avenue - Departure 3:45 p.m. (The bus is provided for educators driving to the FIDM Campus for the remainder of the day's activities.)
Is this event for my students? No. High school and college Educators, Counselors, Administrators, and Career Technicians are invited. For Educators interested in attending the DEBUT Runway Show with a group of students, visit fidm.edu/go/debutgroup.