Fidelity National Title Group Leadership Sales Skills Camp

Friday, December 11, 2015 at 1:00 PM

-

Saturday, December 12, 2015 at 5:00 PM (CST)
Event Details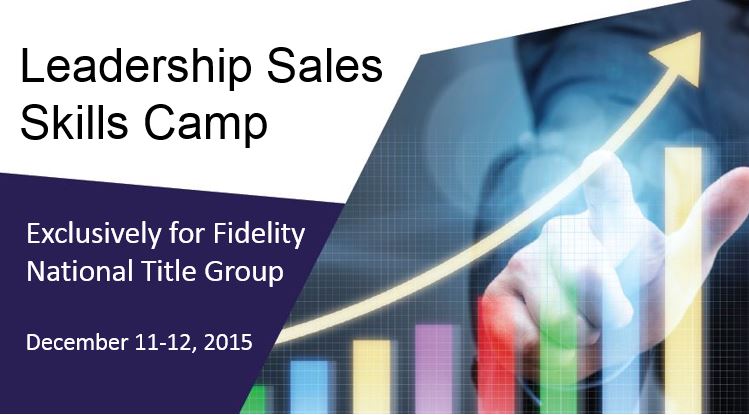 Announcing the first ever
Fidelity National Title Group
Leadership Sales Skills Camp
     Limited seating… Don't miss this unique training opportunity
Imagine two days that will grow your business, open your eyes to new possibilities and elevate your life results! Fidelity National Title Group has imagined it and has engaged the #1 Training Company in the World to bring you this program. In these 2 days, you will have the opportunity to think and act differently, while seeing new possibilities to do business with the #1 Real Estate Company in the world, Keller Williams Realty. This will be an eye-opening look at the culture, expectations and inner world of all the stakeholders in Keller Williams Realty. And the best part is, this program is being held at the headquarters of Keller Williams Realty International. That's Fidelity National Title Group inside KW.
You'll hear from insiders, from KW Executives to Operating Principles and Mega Agents. They will give us the clues on how we can build the relationships we desire to build, and put context to how our actions and processes can help us attract more business with all our potential clients, grow our team's knowledge, and ultimately, get the results we desire!
It all happens in Austin, TX on December 11-12, 2015
December 11 1:00PM - 7:30PM            
December 12 9:00AM - 5:00PM
Special FNTG price: $799    (Regular price: $899) 
When you make the decision to attend these powerful two days you will:
Experience personal and professional breakthroughs
Increase your Emotional Quotient (EQ)

Gain clarity on your vision of leadership
           

Define leadership

            Learn to build a wall of value for your FFS

            Renew your commitment to personal growth

 Discover ways to grow y

our people



Experience 3 KW Top-Producer Panels
            MegaAgent

            Team Leader

            Operating Principle

            Interview a KW Regional Director

Learn to building culture so it sticks to people
            Redefine title reps as business leaders
            Create commitment to lead generation
Experience being a training company in the title business
            See training and influence that your reps value?
Recruit for market domination
            Gain clarity on your ongoing search for talent

            Discover the ultimate recruiting campaign

            Scripts
Learn purposeful lead generation and effective marketing for market domination
Discover your ONE Thing?
Learn One Thing tools for productivity
            Time block for focused action

            Mastering lead generation

            Create a BIG life through The ONE Thing

            Write your GPS - Ensuring the right path to results

Uncover your role as leader/coach
Discuss challenges and get solutions to your biggest issues
Where else can you get this powerful and information from the:
#1 Real Estate Company

#1 Training Company in the World, rated by Training Magazine (T-125, 2015)

#1 Coaching Company



Do you see yourself succeeding at even higher levels? How will you get there?

Are you ready to be bigger, have more and create the results you really want?
Then make a decision to take action now and register for this event.

When & Where

KWRI Learning Center
1221 S Mopac Expy
Garden Level (Lower Level)
Austin, TX 78746


Friday, December 11, 2015 at 1:00 PM

-

Saturday, December 12, 2015 at 5:00 PM (CST)
Add to my calendar
Organizer
MAPS BUSINESS TRAINING, Business Models and Coaching
MAPS Business Training, a division of MAPS Coaching and Keller Williams Realty, has been ranked in the top 3 training companies in the world, according to the Training Magazine T-125 since 2014.
Through powerful and specialized programs, MAPS Business Training offers result oriented solutions, models and systems for business owners, entrepreneurs, salespeople and their teams.
Programs like BOLD Business, BOLD Career, The ONE Thing Teleseminar or Workshop, Language of Influence and Mastery Coaching train and condition participants to lead more effectively, focus and be more productive, increase sales and profits through lead and conversion strategies, and even align conscious and unconscious thoughts to achieve more in all areas. MAPS Business Training elevates individual's accountability, while supporting success habit formation, to change career and life trajectory and promote the achievement of extraordinary results.
Fidelity National Title Group Leadership Sales Skills Camp