Description
The Fidalgo Shoreline Academy is a "One Day University for Everyone"
The day consists of a keynote speaker followed by three class sessions with your choice of a variety of presentations offered by local and regional experts.
This year's Keynote address will be:
Eelgrass, Blue Carbon and Climate Change

by Dr.Jude Apple
Research Coordinator @ Padilla Bay NERR

Dr. Jude Apple is an oceanographer, estuarine ecologist and Research Coordinator for the Padilla Bay National Estuarine Research Reserve. His research interests include ocean acidification, plankton communities, eelgrass, and response of coastal ecosystems to a changing climate. Jude uses his research to achieve a better
understanding and sustainable management of our valuable coastal resources.

Jude will speak about the work being done at the Padilla Bay National Estuarine Research Reserve (PBNERR) and all across the PNW to quantify the capacity of coastal wetlands to sequester and store carbon, aka "blue carbon", and the potential mitigating effect these wetlands have on ocean pH/acidification.

Optional Box Lunch is available for $11.00. Lunch is provided by "The Store"
Once in the "Ticket Box" Please scroll down to see this, and other, options.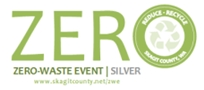 Attendees are encouraged to bring reusable beverage containers to minimize our need for disposable cups