Sales Have Ended
Ticket sales have ended
For questions about the Shoreline Academy contact Friends of Skagit Beaches at friends@skagitbeaches.org
Event Information
Location
Northwest Educational Service District 189
1601 R Avenue
Anacortes, WA 98221
Refund policy
Refunds up to 1 day before event
Sales Have Ended
Ticket sales have ended
For questions about the Shoreline Academy contact Friends of Skagit Beaches at friends@skagitbeaches.org
Description
Friends of Skagit Beaches (FOSB) brings another quality public education event to our community this fall. If you have enjoyed the Winter Lecture Series over the past 12 years, interpretative walks or other FOSB events, you won't want to miss the 6th Annual Fidalgo Shoreline Academy to be held on Saturday, October 21, 2017, 9 AM–3:30 PM, at the Northwest Educational Services District 189 Building in Anacortes.
The cost of the Shoreline Academy is $30.00 if you wish to attend the Academy and bring your own lunch. The cost of the Shoreline Academy including a box lunch from "The Store" is $40.00. This lunch includes your choice of sandwich, a bag of chips, and two cookies.

Teachers: five (5) free clock hours for teachers are avaiable through Padilla Bay. When registering, check "yes" if you are interested in receiving Clock Hours.
Our keynote address will be "WHEN ROME IS BURNING: The Effects of a Global Decline in Biodiversity" presented by Dr. Phoebe Barnard, Executive Director of the Pacific Biodiversity Institute and internationally recognized scientist. The Cascadia region is an empowering place to live with wonderful opportunities to build stronger and more focused bridges between government agencies, academic institutions, nonprofits, civil society organizations, and the public policy and communications communities. How can we respond proactively in a way that gives as many species as possible a chance to survive the gauntlet of the next 300 years of dizzying environmental change?
SCHEDULE OF EVENTS
9:00–9:30 Registration & Displays
9:30–11:00 Keynote: WHEN ROME IS BURNING The Effects of a Global Decline in Biodiversity.
11:00–11:15 BREAK
11:15–12:15 Session 1
Class A: PORT OF ANACORTES—A Success Story for 90 Years.
Dan Worra, Executive Director of the Port of Anacortes
Class B: NATIVE BEES OF PUGET SOUND—A Time for Conservation.
Evan A. Sugden, PhD, Entomo-Logic & School of Environmental and Forest Services, University of Washington,
Class C: BALEEN WHALES OF THE SALISH SEA—The "Other" Whales.
Jenny Atkinson, Executive Director of The Whale Museum
12:15–1:15 Lunch
1:15–2:15 Session 2
Class A: ROCKFISH OF PUGET SOUND – Use, abuse, and hope for the future.
Research Scientist, Robert Pacunski
Class B: BATS – Essential Allies, Safe Neighbors.
Research Scientist, Sarah Schmidt
Class C: ANACORTES WOODEN BOAT BUILDERS –Traditional Skills in Modern Times.
Andy Stewart, owner of Emerald Marine
Class D: Interpretive Walk: CHANGING SHORELINES – How Early Settlers and Industry Reshaped the Anacortes Waterfront.
Betty Carteret, Past President of Friends of Skagit Beaches
2:15 – 2:30 BREAK
2:30 – 3:30 Session 3
Class A: HARMFUL ALGAE BLOOMS – When Algae Go Bad
Teri L. King, Marine Water Quality Specialist with Washington Sea Grant at the University of Washington
Class B: EUROPEAN GREEN CRAB – How Our Invasion is Different.
Dr. Emily Grason, Washington Sea Grant Crab Team Project Coordinator
Class C: SAMISH DEPT OF NATURAL RESOURCES – Planning 7 Generations into the Future
Todd Woodard, Director of the Department of Natural Resources, Samish Indian Nation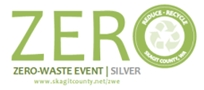 To help promote Zero Waste we ask everyone to bring their own water bottle.
Date and time
Location
Northwest Educational Service District 189
1601 R Avenue
Anacortes, WA 98221
Refund policy
Refunds up to 1 day before event