FICG in LA 2013

Friday, November 1, 2013 at 7:30 PM

-

Sunday, November 3, 2013 at 11:00 PM (PDT)
Who's Going

Loading your connections...
3 of your friends are going.
Share it to get more people on board!
Share

Sara Haughty
San Francisco, California

Luke Picard
London, United Kingdom

Rick Vespucio
Florence, Italy
Event Details
       Welcome to the 2013 FICG in LA! This year marks the 3rd annual FICG in LA, a feature film showcase presenting the best of Mexican and Ibero-American cinema from the Guadalajara International Film Festival. FICG in LA is a joint cultural endeavor created through a partnership between the Guadalajara International Film Festival, The University of Guadalajara, the University of Guadalajara Foundation/USA, and the Consulate General of Mexico. All proceeds from this event will be donated to help the recent flood victims in Mexico. 
       FICG in LA is a window into the world of contemporary Mexican and Ibero-American cinema. This year's FICG in LA will take place at Hollywood's historic Egyptian Theatre, right in the heart of the worldwide film and entertainment industry. 
       As an extension of the Guadalajara International Film Festival, the mission of  FICG in LA is to increase access and visibility of Mexican and Ibero-American cinema; facilitate the exchange of  ideas through storytelling and socially relevant themes; and, strengthen the presence of Mexican and Ibero-American cinema in the U.S., as well as in other parts of the world.
        FICG in LA will include film screenings followed by Q&A sessions with filmmakers and talent, galas and special recognition awards and recognition for Latino and US Latino talent. 
FRIDAY, NOVEMBER 1 - 7:30 PM
Opening Night Gala and Reception  
Tercera Llamada (Last Call) 
Directed by Francisco Franco 
U.S. Premiere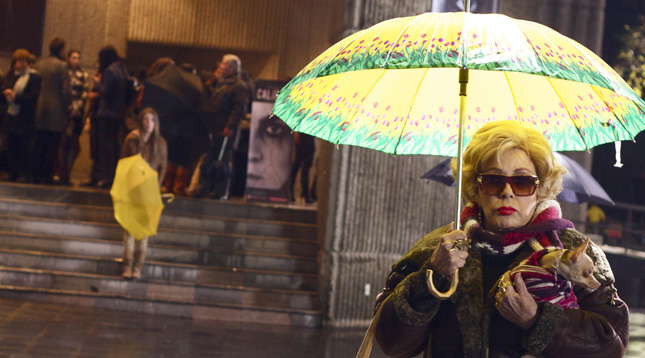 Doing theater is an act of faith. In order for the curtain to go up and a play to be seen on stage, many different personalities have to work together, and many common goals have to be believed in. This film narrates the process of putting on the play Caligula. The harmony of the group, however, is at risk. Written by a French existentialist, the play is being directed by a neurotic depressive. The leading lady is upset with the director, the oldest actor keeps forgetting his lines, the director's assistant is experimenting with harmful substances in order to forget her own failure as an actress, and, to top it all off, a group of emos try to attack the stage crew.
Hacer teatro es un acto de fe. Para que se abra el telón y se vea una obra, tienen que confluir muchas voluntades, muchos objetivos comunes en los que hay que creer. La película narra el proceso de creación de una pieza teatral, Calígula. Sin embargo, la armonía del equipo está en entredicho. La obra, escrita por un existencialista francés, está dirigida por una neurótica con depresión. La diva se ha ofendido con ella, al actor de mayor edad se le olvida el guión, la asistente de dirección experimenta con sustancias nocivas para olvidar su fracaso como actriz y, para rematar, un grupo de emos intenta golpear a los técnicos.
SATURDAY, NOVEMBER 2 – 11:30AM
Rigo Mora Award-Winning Animated Short Films
Presented by Ivan Trujillo, 

Director of the Guadalajara International Film Festival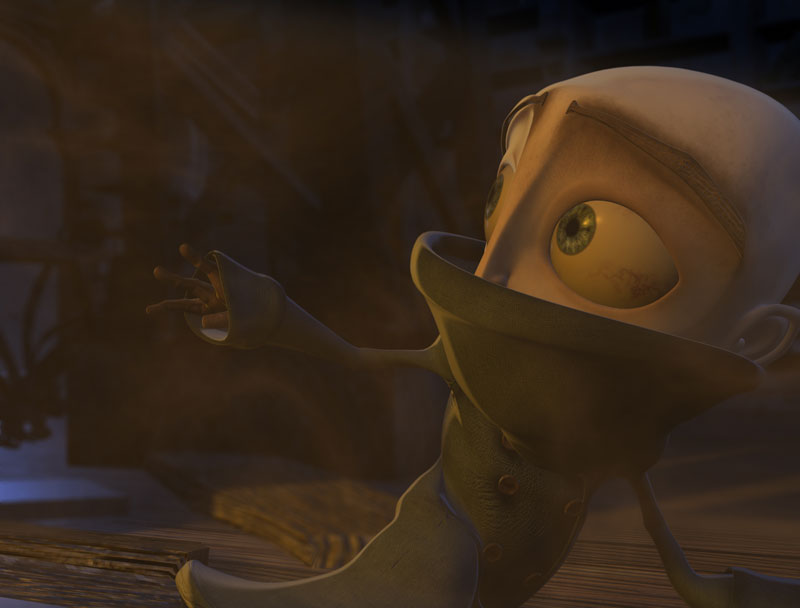 Rigo Mora Award-Winning Shorts || Luna (Moon) by Raúl Cárdenas, Rafael Cárdenas || Mutatio (Mutatio) by León Fernández || Un Ojo (Eye) by Lorenza Manrique || Electrodoméstivo (Home Appliance) by Erik de Luna || La Casa Triste (The Sad House) by Sofia Carrillo || La Noria (The Waterwheel) by Karla Castaneda || Lluvia en los Ojos by Rita Basulto
SATURDAY, NOVEMBER 2 – 1:30PM
Las Mariposas de Sadourní (Sadourni's Butterflies)  
Argentina, Italy, England, 2012, 93min.
Screening hosted by Consulate General of Argentina in Los Angeles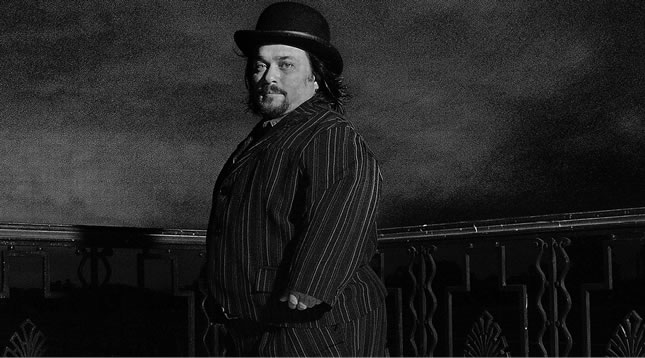 Sadourní has  served half of his twenty-year prison sentence; he subscribes to a transitional system that allows him to leave the prison daily to go to work and to progressively reinsert himself into society. To keep this privilege, he needs to find employment, but all the jobs advertised in the newspapers require a good appearance, and his is nothing but strange. He is confronted with a dilemma: to escape from the prison and endure life as a fugitive, or to adjust to society's expectations through a physical metamorphosis.
Sadourní es enano. Habiendo cumplido en prisión la mitad de una condena de 20 años, accede a un régimen de salidas transitorias que le permiten abandonar el penal diariamente con el fin de reinsertarse progresivamente en la sociedad. Para conservar este beneficio debe conseguir un empleo pronto. En el periódico, los empleadores exigen buena presencia y la suya no suscita sino extrañeza. Esto lo coloca ante una disyuntiva: no regresar al penal y llevar una vida de prófugo, o amoldarse a la sociedad mediante una metamorfosis. Ambas opciones implican una mudanza, la primera es una fuga, la segunda una evasión.
SATURDAY, NOVEMBER 2  – 4:00PM
Directed by Roberto Fiesco
Screening hosted by Outfest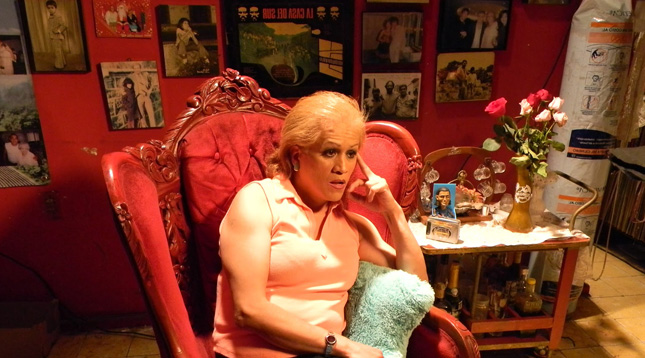 The memory and testimony of two characters: Fernando García, known as Pinolito, who was a child actor in the 70s, and Doña Lilia Ortega, his mother, and an actress. Fernando came out as a transvestite some years ago, and now calls himself Coral Bonelli. They live together in Garibaldi yearning for their past in the movies, while Coral bravely comes to terms with her gender identity. 
Este documental evoca la memoria y el testimonio de dos personajes: Fernando García, conocido como Pinolito, durante su desempeño como actor infantil en la década de los 70, y doña Lilia Ortega, su madrtambién actriz. Fernando se asumió como travesti hace algunos años y ahora se hace llamar Coral Bonelli, ambas viven en la colonia Garibaldi añorando su pasado fílmico mientras Coral asume con valor su identidad genérica. Ambas continúan actuando.
SATURDAY, NOVEMBER 2  – 6:30PM
Directed by 
Juan Carlos Maneglia & Tana Schémbori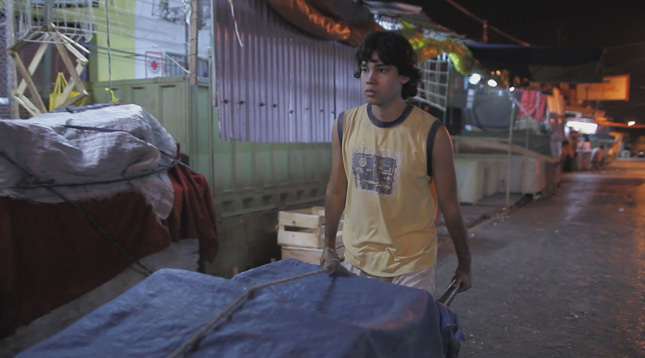 It's Friday night in Asunción, Paraguay and the temperature is 40°C. Víctor, a 17-year-old wheelbarrow delivery boy, dreams of becoming famous and covets a fancy TV set in the infamous Mercado. He's offered a chance to deliver 7 boxes with unknown contents in exchange for a quick US$100. But what sounds like an easy job soon gets complicated. Something in the boxes is highly coveted and Víctor and his pursuers quickly find themselves caught up in a crime they know nothing about. 
Es viernes con 40 grados en Asunción. Víctor, un carretillero de 17 años, sueña con ser famoso absorto en una televisión en el Mercado 4. Entonces recibe la propuesta de transportar siete cajas de las cuales desconoce su contenido a cambio de 100 dólares. La labor parece fácil, pero las cosas se complican. En las cajas hay algo que genera una verdadera persecución. Víctor y sus perseguidores se irán involucrando en un crimen que desconocen del todo.
SATURDAY, NOVEMBER 2 – 8:45PM
Levantamuertos (Death Strokes)
Screening hosted by Film Independent and Project Involve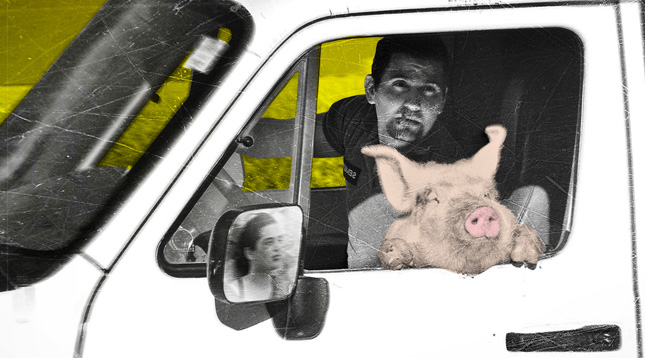 Ivan makes a couple of odd decisions in order to overcome his detachment. First, he goes along with the wild desires of his girlfriend, Rosa. Later he gets tricked into adopting a pig. At a time when Ivan's life turns absurd, he must find himself, beyond death and unbearable heat. The film is also an allegory about the desire to overcome the current hard times in México. 
Levantamuertos es una comedia negra que transcurre durante un verano en Mexicali. Iván trabaja como recogedor de cadáveres. Su contacto rutinario con la muerte lo ha forzado a aislarse de los demás. A lo largo de la película, Iván toma decisiones para sentirse acompañado. Primero cede a los deseos salvajes de Rosa. Después, termina adoptando a un cerdo. Más allá de la muerte y del calor insoportable, debe encontrarse a sí mismo justo cuando su vida se vuelve más absurda.
SATURDAY, NOVEMBER 2 - 11:00PM
El Santos vs. La Tetona Mendoza (Santos vs. The Busty Mendoza)
Directed by Andrés Couturier and Alejandro Lozano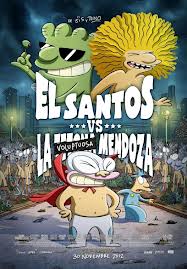 El Santos vs. La Tetona Mendoza is an animated film based on the popular comic book created by Jose Ignacio Solorzano and Jose Trinidad Camcho Orozco. The directos, Alejandro Lozano and Andres Couturuer, capture the comedic core and witty antics of the original story. The story is about a struggling fighter, El Santos, who, in order to cure himself of his depression over his divorce with La Tetona Mendoza, a vivacious and empowered female wrestler, he decides to support a group of zombies who inhabit the city. During his campaign, he must overcome many obstacles that test the strength of his character, in ways that are purely imaginative and unconventional. 
 El Santos vs. la Tetona Mendoza basada en la tira cómica El Santos que desde 1989 publicó de manera regular el periódico La Jornada en México relata con un humor irreverente, las desventuras del Santo, un luchador en decadencia. El personaje, creación de los famosos caricaturistas Trino y Jis, debe lidiar en esta adaptación al cine del inolvidable comic no sólo con su acérrimo enemigo el Peyote Asesino sino también con una plaga de zombies, las Poquianchis, y en especial con la Tetona Mendoza –ex luchadora y ex esposa del Santos–, de quien sigue enamorado aunque insista en maltratarlo.
SUNDAY, NOVEMBER 3 – 11:00AM
Mexico, Germany, 2013, 120 min.
Directed by José Luis Valle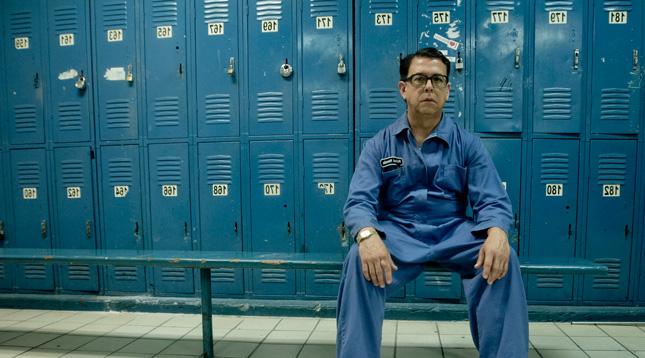 Rafael lives out the hours right before his long awaited retirement as a janitor of a big factory. Lidia, on the other hand, finds out that after 30 years of work as a maid, the old lady has left the inheritance to the dog. Their past is connected by a love story, their future by an unexpected turn of events.
Rafael vive las horas previas al tan esperado día de su jubilación como empleado de limpieza en una fábrica. Lidia, por su parte, se entera que tras 30 años de trabajo como sirvienta en una casa, la patrona al morir le dejó la herencia al perro. El pasado de ambos está conectado por una historia de amor, su futuro, por una jugada inesperada del destino.
SUNDAY, NOVEMBER 3 – 1:30PM
Soy Mucho Mejor Que Vos (I'm Better Than You)
Screening hosted by Consulate General of Chile in Los Angeles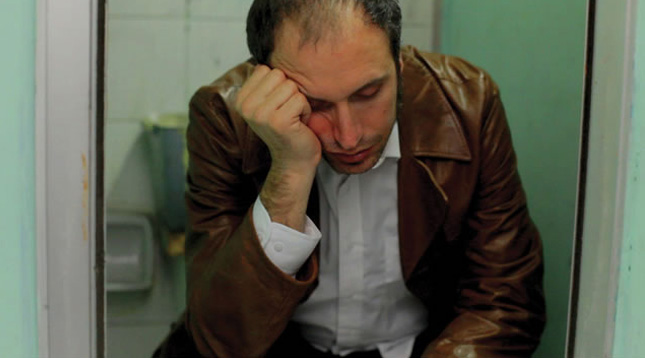 Cristobal is a frustrated entrepreneur who has been hiding out in his small business for the last four days after a break up with his wife over ruining the family trip. Cristobal wanders through Santiago searching for a woman who help him reclaim his ego, only by accumulating failures; meanwhile he thinks of being forgiven...or not?
Cristóbal es un frustrado empresario que lleva cuatro días escondido en su pequeña empresa luego de haber peleado con su esposa por haber arruinado el viaje familiar a España. En una comedia urbana que cuenta esta cuarta noche, Cristóbal deambula por Santiago buscando una mujer que lo ayude a recuperar su ego masculino, ya que acumula sólo fracasos; mientras tanto el sólo quiere ser perdonado… ¿o no?
SUNDAY, NOVEMBER 3 – 3:30PM
Purgatorio, Un Viaje Al Corazon  de la Frontera
(Purgatorio, A Journey Into the Heart of the Border)
Mexico, USA, 2013, 80min.
Directed by Rodrigo Reyes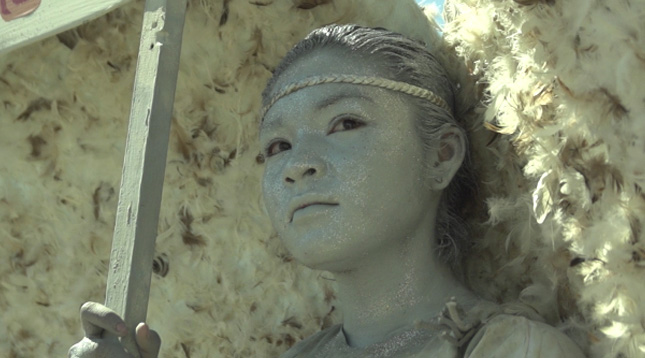 A deeply human portrait of the chaotic reality of the US - Mexico border. Full of stunnig images and crafted like a classic city-symphony where the sum of the pieces add up to a larger whole, This film brings together a universe of small stories to create a compelling and visceral cinematic experience that takes audiences into the very soul of life on the border. 
Un retrato profundamente humano de la realidad caótica de la frontera México?-?Estados Unidos. Lleno de imágenes impresionantes y elaborado como una clásica sinfonía de la ciudad, en la que la suma de las partes forman una visión superior, Purgatorio, un viaje al corazón de la frontera reúne un universo entero de historias pequeñas para crear una experiencia intensa y visceral que transporta al espectador hasta el alma misma de la vida en la frontera.
SUNDAY, NOVEMBER 3 – 5:30PM
Puerto Padre (Port Father)
Mexico, Costa Rica, 2013, 86min
U.S. Premiere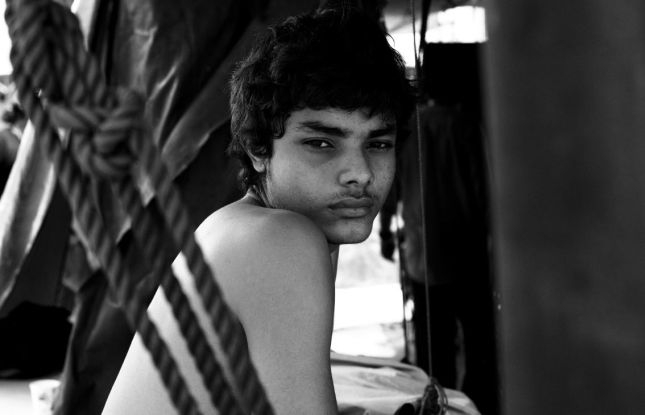 16-year-old Daniel lives with his grandmother in Costa Rica. Disenchanted by his rural surroundings on Chira Island, he decides to leave in order to find his godfather, Miguel Angel, in the country's main city. He begins his search at the hotel where his mother used to work, but the owner, Chico, discourages him. Chico decides to offer Daniel a job at the hotel and soon Daniel meets Soledad, a 17-year-old single mother who works in the kitchen. While working at the hotel, Daniel begins to learn more about his origins.   
Daniel es un joven huérfano de una pequeña isla en el golfo de Nicoya, quien emprende un viaje en busca de su padrino y de oportunidades. Llega a un hotel en el puerto de Puntarenas, donde alguna vez trabajó su madre. En el trayecto, Daniel descubre elementos de su pasado que lo ligan profundamente al destino del hotel…
SUNDAY, NOVEMBER 3 – 8:00PM  
Besos de Azúcar (Sugar Kisses)
Directed by Carlos Cuarón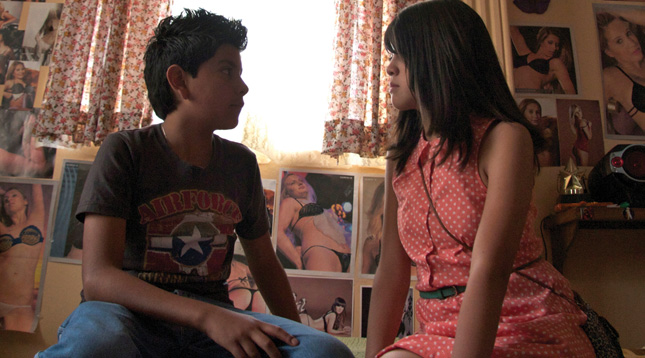 Nacho, a 13-year -old boy, crosses the threshold of adolescence by trying to find his place in life in all the wrong places - in a dysfunctional family and a social setting that is corrupt and violent. Neglected by his family, Nacho finds refuge dancing with the video game tecnodance and passing time with Cacayo, a slow 27-year-old who pirates films to pass time. Until he falls in love with Mayra, an angelic girl whose only defect is being the daughter of La Diabla, leader of the street market vendors, and the sister of Chiquibuki, a little gangster at his mother's service. Could the purity of first love survive the darkest aspects of our society?
Nacho, un niño de 13 años, cruza el umbral de la adolescencia tratando de encontrar su lugar en la vida en lugares equivocados: una familia disfuncional y un entorno social corrupto y violento. Excluido y menospreciado por su familia, Nacho se refugia bailando en la máquina de tecnodance y pasando el rato con el Cacayo, un subnormal de 27 años que se dedica a copiar películas piratas. Hasta que se enamora de Mayra, una niña angelical, cuyo único defecto es ser hija de La Diabla, lideresa de ambulantes, y hermana del Chiquibuki, un gangstercito. ¿Podrá la pureza de un primerísimo amor sobrevivir a los rostros más oscuros de nuestra sociedad? 
When & Where

The Egyptian Theatre
6712 Hollywood Boulevard
Los Angeles, CA 90028


Friday, November 1, 2013 at 7:30 PM

-

Sunday, November 3, 2013 at 11:00 PM (PDT)
Add to my calendar