FHSA 2018 Conference & Expo- Creating Connections | Enhancing Lives
Description
Florida Head Start Association's 2018 Conference & Expo
Creating Connections | Enhancing Lives
Join your colleagues in Florida at FHSA 2018 annual conference, Creating Connections | Enhancing Lives. This conference will provide attendees with a focus on the needs of head start parents, staff, directors, and community partners. Attendees will be offered a variety of opportunities to gain knowledge from listening, interactively and networking with your peers. Some of the topics covered will be in areas of mental health, home visitation, school readiness, STEM, building collaborative partnerships plus so much more.
View Educational Breakout Sessions.
For more information, visit our website www.FLHeadStart.org.
---
Conference Schedule:
*Tenative schedule; Subject to change.
Click here to download full conference and session schedule
---
Conference & Expo Venue:
The FHSA room block has SOLD OUT!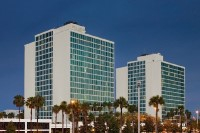 DoubleTree by Hilton Hotel at the Entrance to Universal Orlando
5780 Major Blvd.
Orlando, Florida 32819
Tel: +1-407-351-1000
Fax: +1-407-363-0106
---
FAQs
How do I know if I am a FHSA Member?
Each staff member, parent, Policy Council and Board Member of a Grantee Agency which has paid the agency's 2018 Membership Dues is considered a member of FHSA.
What is the expected conference attire? The conference attire is smart business casual.
Registration Policies:
Refunds & Substitutions
FHSA requires payment upon event registration. Registering for an event constitutes as an agreement to pay the registration fee, whether or not the registrant actually attends the event. No refunds or credits will be granted for non-attendance. If you cannot attend, you are encouraged to send someone in your place. Please contact FHSA to let them know who will be attending in your place.
Is there a cut-off date for Conference Registration Cancellation with Refunds?
Yes, there will be NO cancellations with refunds accepted after 5:00 p.m. March 23, 2018.
May we register more than one person at a time?
Yes, the system will allow you to register and pay for multple registrations at one time. You will have 45 minutes to work on the registrations before the registration process ends.
What type of Registration Payment may be utilized?
Payment may be made with 1) Online credit card payments, or 2) Invoice payment system. All checks should be made payable to FHSA (Florida Head Start Association) and remited to: 111 N. Gadsen Street, Tallahassee, FL 32301. All payment should be received no later than Friday, April 13, 2018.
For any other questions, please send message to info@flheadstart.org or give us a call at (850) 694-6477.
What are my transport/parking options getting to the event?
All rooms include daily parking with unlimited in and out privileges.
Where can I contact the organizer with any questions?
(850) 694-6477
Are CEU's available?
FHSA working to review each session to determine if CEU's can be issued. Watch your inboxes for more information as it becomes available.
Photos & Recordings Notice
By registering for an event, you agree to be photographed, included in video footage, or otherwise recorded for FHSA's promotional purposes.
Accessibility
FHSA strives to ensure that events are accessible to all individuals. If you have special needs (interpretation, food requirements or other accessibility needs), please contact FHSA.