Sales Have Ended
Ticket sales have ended
Thank you for attending the 3rd Annual FGI Dallas Fall Forum! If you'd like to learn more about FGI, please follow us on Instagram @fgidallas or visit dallas.fgi.org. With gratitude! The Fashion Group International of Dallas
Sales Have Ended
Ticket sales have ended
Thank you for attending the 3rd Annual FGI Dallas Fall Forum! If you'd like to learn more about FGI, please follow us on Instagram @fgidallas or visit dallas.fgi.org. With gratitude! The Fashion Group International of Dallas
An evening of education, discussion and connecting featuring (4) panel discussions on Beauty, Art, Women's and Men's Fashion.
About this event
Please join us for the 3rd Annual FGI Dallas Fall Forum at Highland Park Village!
Fashion Group International is the premier professional organization in Dallas serving the Fashion, Beauty, Design, Fine Art and Influencer industries.
Date | Thursday, August 19
Location | Highland Park Village (4) locations per panel
Arrival time | 5:30 pm
6:00 pm Panels
7:00 pm Panels
Select one panel below at checkout.
*HPV map and store listings | Complimentary valet available
8:00 pm
Fall Forum attendees Mix & Mingle at Park House
The ticket price entitles you to attend (2) panels as well as the mix & mingle.
FGI Member tickets | $50 for (2) panels
General Admission (non-member) tickets | $75 for (2) panels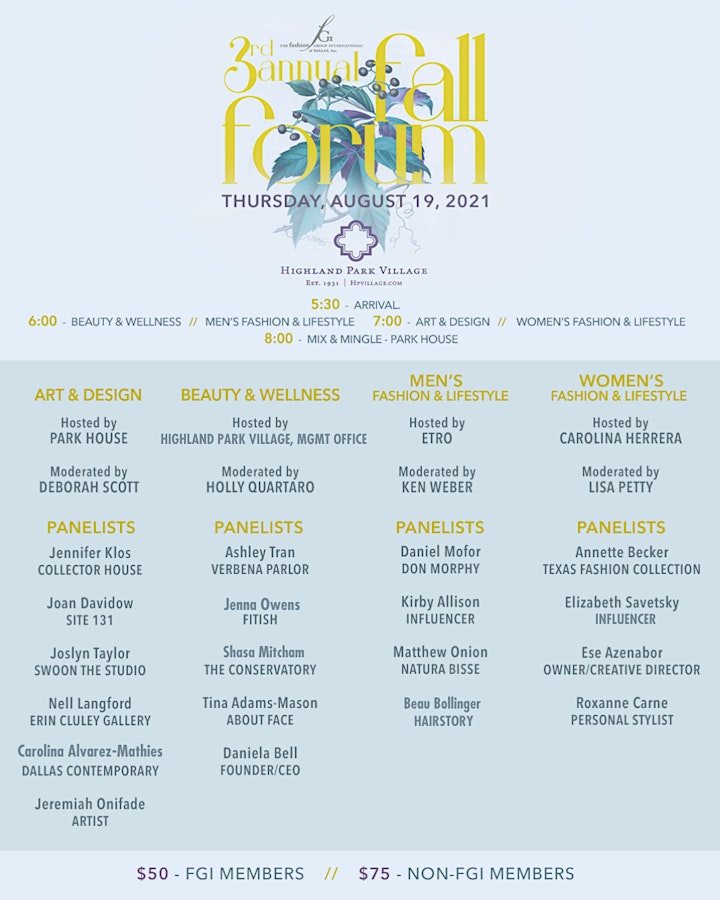 Organizer of FGI Dallas 3rd Annual Fall Forum
FGI mission statement:
The Fashion Group International is a global, non-profit, professional organization with 5000 members in the fashion industry including apparel, accessories, beauty and home.

The FGI mission is to be the pre-eminent authority on the business of fashion and design and to help its members become more effective in their careers.

 

To do this, FGI provides insights on major trends in person, online and in print; access to business professionals and a

gateway to the influence fashion plays in the marketplace.
the goals of the organization are:
To advance professionalism in fashion and its related lifestyle industries.

To provide a public forum for examination of important, contemporary issues in the business of fashion. To present timely information regarding national and global trends that have an effect on the fashion industries.

To attain greater recognition of men's and women's achievements in business.

To encourage men and women to seek career opportunities in fashion and related industries.

To provide activities and programs which enhance networking skills and encourage interpersonal contacts so as to further the professional, social and personal development of members.
THE FASHION GROUP foundation:
      The mission of the Foundation is:
To promote educational programs devoted to fashion and to the study of fashion related businesses through the creation and awarding of scholarships; establishment of internship programs; provision of career counseling services. Organization and sponsorship of seminars and other educational activities on a national and worldwide basis.

To sponsor public service activities in which the fashion industry works, to serve relevant community needs and concerns and to stimulate and encourage membership and industry participation in such public service activities.