FGBMFI S/W3 Annual Business Seminar 2019
About this Event
FULL GOSPEL BUSINESS MEN'S FELLOWSHIP INTERNATIONAL
SOUTH WEST DISTRICT 3, LAGOS, NIGERIA
2019 ANNUAL BUSINESS SEMINAR APPROVALS
INTRODUCTION:
This is the 21st edition.
We present two seminars: Seminar 1 for start-ups and micro businesses and Seminar 2 for small and medium businesses.
Both seminars are scheduled for June 7 & 8, 2019.
These seminars are intended as follow-up and consolidation for the past two editions, 2017 & 2018.
SEMINAR THEMES, TOPICS, SYNOPSES & FACULTY
SEMINAR 1- THE ACADEMY GUEST AND EVENTS HALLS
THEME: Achieving Business Excellence in Today's Economy
TOPICS & SPEAKERS:
KEYNOTE SPEAKER – Engr. Adeniyi Ogunnusi, Principal Partner, CONCEM Associates
1. Becoming a leader: Leadership essentials for small businesses – Prof. Pat Utomi
2. Social media as a key sales channel for SMEs – Mr. Yoma Victor Onosemude, MD. Travel Bay
3. Budgeting and financial planning for small businesses – Mrs. Maureen Okafor, FAAN
4. A practical approach to developing a business plan – Dr. Adebola Olubanjo
5. Funding opportunities for SMEs -Fidelity Bank
6. The Diligent Shall Bear Rule (Prov. 12:24)
SEMINAR 2 – SHERATON HOTELS & TOWERS
THEME: Imperatives for Building Modern Businesses
TOPICS & SPEAKERS:
KEYNOTE SPEAKER – Mr. Tom Ogboi–DC, FGBMFI SW District 7
1. The future of work: Technology and innovation – Prof Pat Utomi, Lagos Business School
2. The discipline of implementing strategy – Dr.LereBaale, Business School Netherlands
3. Establishing processes for sustainable enterprise–Dr. Jude Ememe
4. Trade opportunities in the West African sub region – Mazi Sam Ohuabunwa, MD, Starteams
5. Executive stress and productivity – Mr. ChukwukaChukwutem, MD, May & Baker
6. The Diligent Shall Bear Rule (Prov. 12:24)
Directly lodge or transfer fee into FGBMFI's FIDELITY BANK Account No. 5080002683. scan and send bank teller to fgbmfisw3bizsem@gmail.com; oluboba@yahoo.co.uk
For enquiries contact:
Seyi 0803 747 7855, Sola 0803 529 7839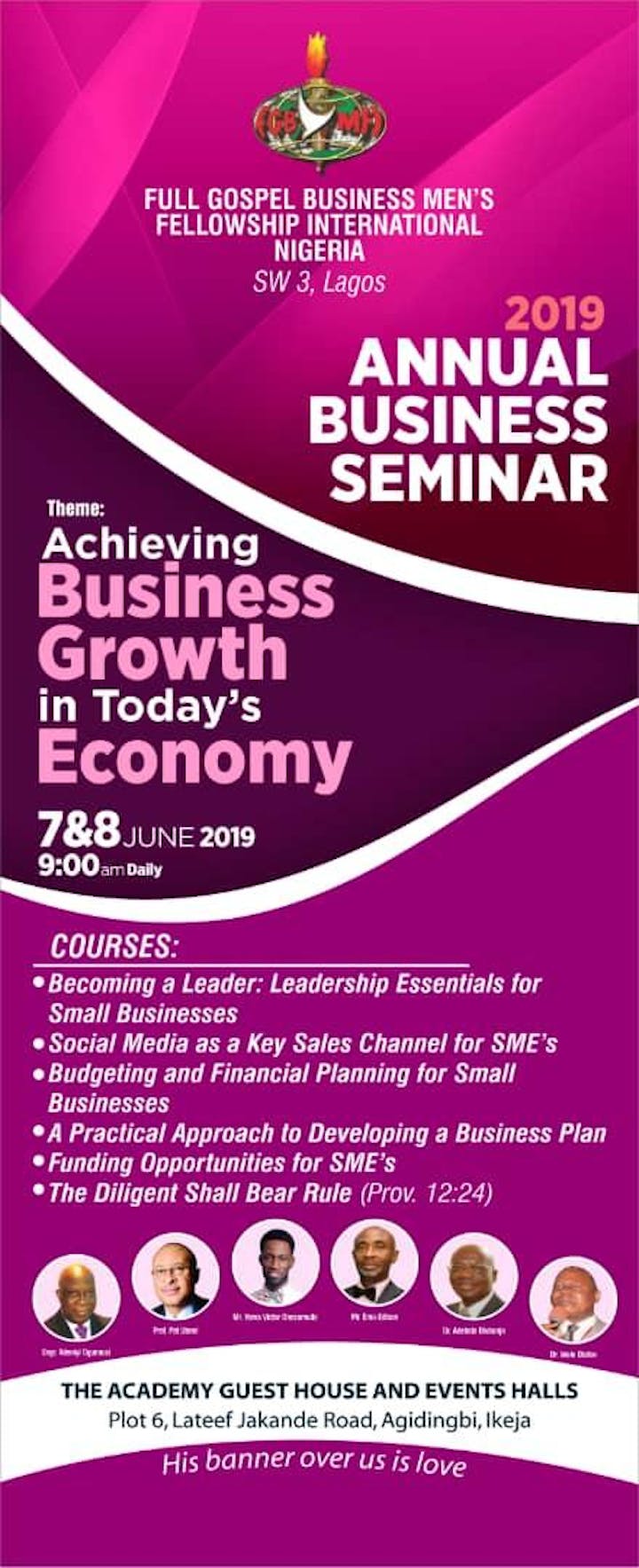 Seminar 1 THE ACADEMY GUEST AND EVENTS HALLS N10,000/participant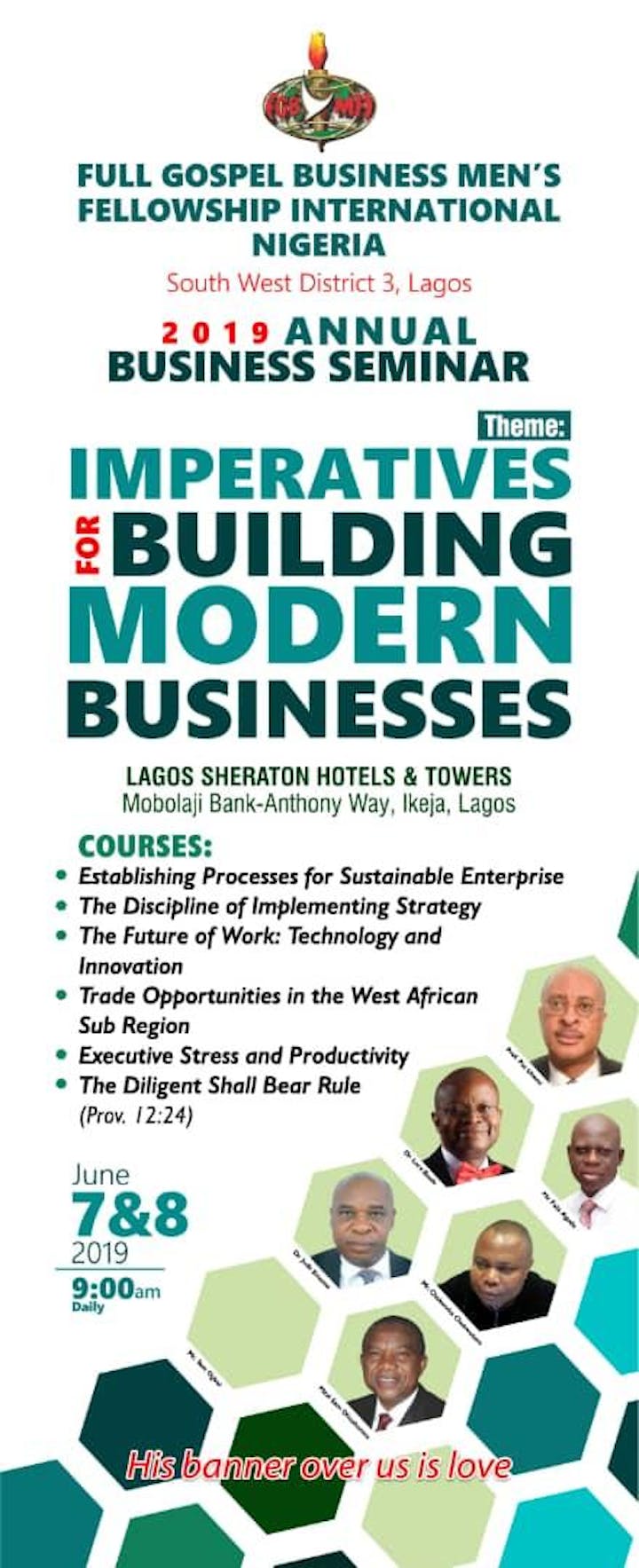 Seminar 2 Sheraton Hotel N30,000/participant