Florida Freedom Keepers is proud to host our 1st Annual Summer Movie Series, in partnership with Andy J. W a k efield and 7th Chakra Films.
About this event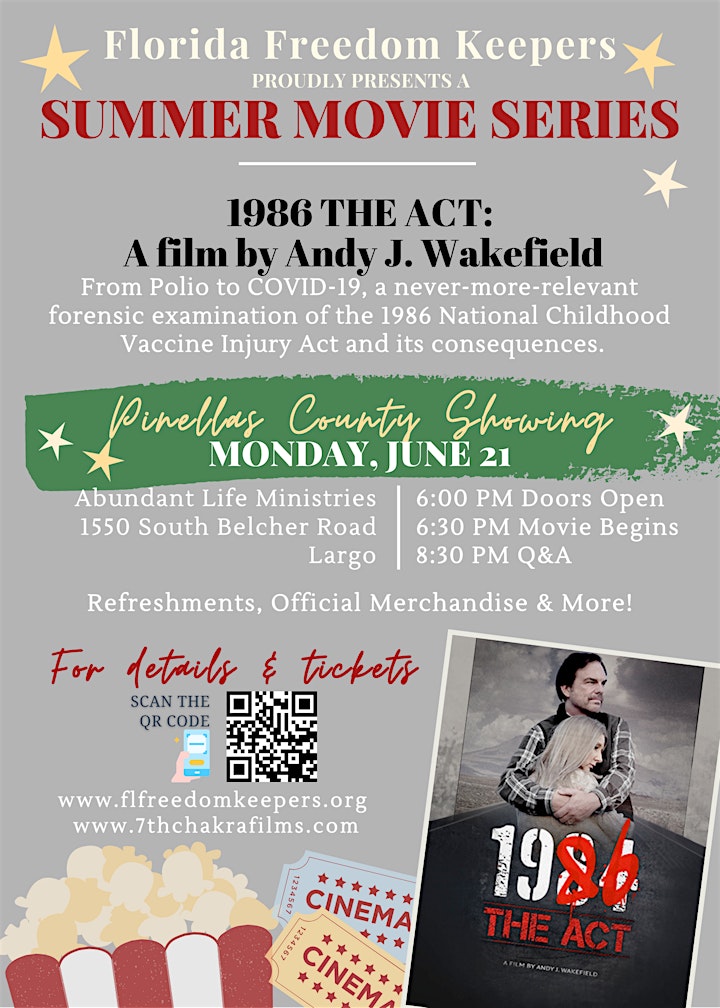 Presenting a film by Andy W a k efield - 1986: The Act
Man and microbe, from Polio to COVID19... a never more relevant forensic examination of the 1986 National Childhood Va((ine Injury Act and its consequences.
Join us for an evening of education and fellowship with like-minded community.
6:00 PM | Doors Open
6:30 PM | Movie Begins
8:30 PM | Movie Ends / Q&A Panel Begins
This 2-hour film is recommended for mature tweens and up.
1986: THE ACT
In 2020, COVID-19 imprisoned billions of people worldwide with mandated testing, forced va((inations, and contact tracing as proposed pathways to "freedom." The groundwork for this pharmaceutical and governmental overreach started long ago in1986, when pharmaceutical companies extorted the U.S. Congress into giving it the best business model in the world: no lawsuits for va((ine products that are mandated by law to be injected into children -- products that have never been properly tested for safety.
1986: The Act is a docu-drama that takes parents-to-be down the rabbit hole to learn the truth behind the corruption, lies, deceit, and premeditated harm that led up to the 1986 policy -- a policy still in effect today that has driven a schedule of 72 va((ine doses by the age of 18 for all American children.
Click here to view the trailer.
ABOUT FLORIDA FREEDOM KEEPERS
Florida Freedom Keepers (FFK) is a state chapter of Freedom Keepers United (FKU) and is responsible for upholding the vision and ideals of FKU at the local level as a brand ambassador. We are 100% grassroots operated with a mission to grow the medical freedom movement through community programs, social media campaigns and educational content.
Learn more about Florida Freedom Keepers!
THE FULL 2021 SUMMER MOVIE SERIES SCHEDULE (see flyer below)
We are thrilled to kick off a statewide summer movie series across Florida - what an incredible opportunity to educate our communities! We encourage you to invite friends and family to your local showing and be sure to spread the word and tell a friend in another city!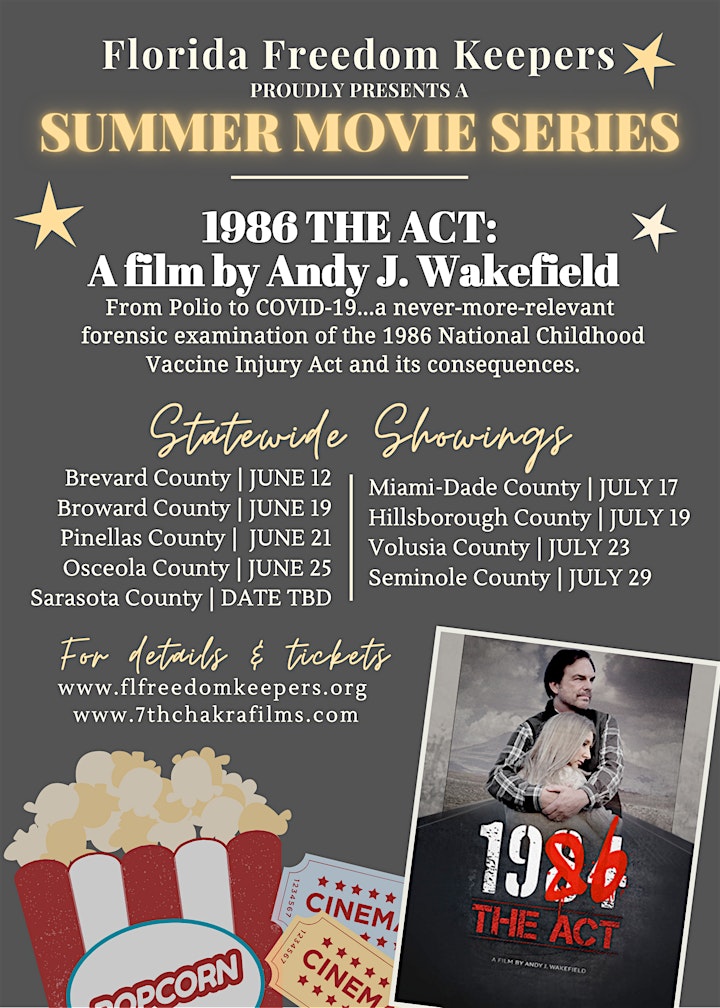 Organizer of FFK's Summer Movie Series - 1986: The Act (PINELLAS COUNTY)