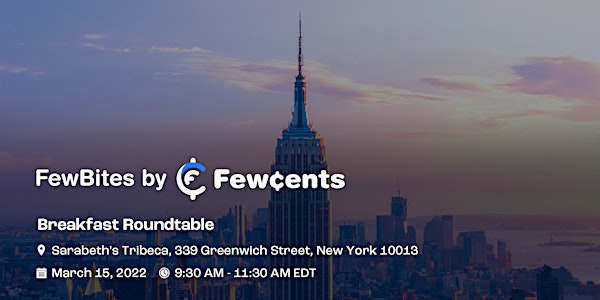 FewBites by Fewcents | March 15 | New York
FewBites is a breakfast roundtable for publishers to discuss with their peers how reader revenue can be maximized in 2022.
Date and time
Tuesday, March 15, 2022 · 9:30 - 11:30am EDT
Location
Sarabeth's Tribeca 339 Greenwich Street New York, NY 10013
About this event
It's a maze out there! In this meetup, we will discuss the different monetization strategies publishers employ for different segments, and at different reader revenue stages.
Reader revenue seems to be every publisher's priority in 2022. With the publishing world being in a constant state of flux, it helps to connect and understand how different publishers are navigating reader revenue. That's where Fewcents FewBites comes in!
FewBites is a series of breakfast meetups that Fewcents is organizing for publishers to come out of those PJs and meet their peers face-to-face, in a comfortable setting with great food and ambiance (at Sarabeth's Tribeca) to discuss ideas, best practices, and strategies for maximizing reader revenue.
After great success in APAC, Fewcents is now excited to support US publishers with their reader revenue strategy.
Fewcents is a monetization plugin for publishers to generate incremental reader revenue from their global audience. It helps publishers identify never-subscribers and increase their propensity to subscribe through a-la-carte payments.
Note: In the interest of maintaining a safe environment for everyone, a valid proof of vaccination will be a condition for entry to the event