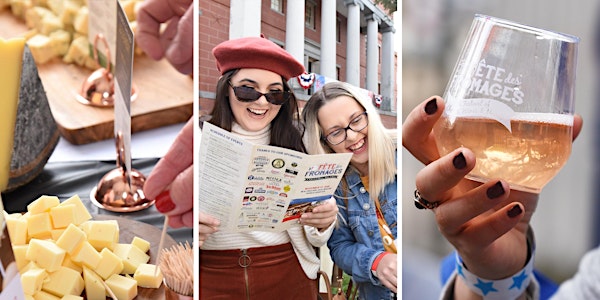 Fête des Fromages: 3 Cheese-Filled Days in New Orleans
Event Information
Location
Fête des Fromages Festival: The New Orleans Jazz Museum, 400 Esplanade Avenue, New Orleans, LA 70116
Fromage à Trois Party: The Cellar on Saint Louis, 2500 St. Louis Street, New Orleans, LA 70119
Cheese & Cocktails Class: The Sazerac House, 101 Magazine Street, New Orleans, LA 70130
New Orleans, LA 70116
Description
Cheese & Cocktails: A Class for the Serious Gourmand
Wednesday, November 13, 2019
7-9PM

The Sazerac House, 101 Magazine Street, New Orleans, LA 70130


21+ only

Join national cheese expert and author Liz Thorpe as she leads an intimate class for 50, pairing five of the world's best cheeses with five signature cocktails. Learn about the cheesemakers, spirits and flavors that make each pairing great.


Fromage à Trois: Cheese, Chefs & Cocktails Party
Friday, November 15, 2019
7-10PM
The Cellar on Saint Louis, 2500 St. Louis Street, New Orleans, LA 70119
21+ only
Come party with New Orleans chefs and international cheesemakers. 15 chefs will each make a "perfect bite" with a singular cheese. Enjoy your bites with cocktail samples and then vote for your favorite. Next, hit the cash bar before working off all that cheese on the dance floor!


Fête des Fromages: New Orleans Cheese Festival
Saturday, November 16, 2019
The New Orleans Jazz Museum, 400 Esplanade Avenue, New Orleans, LA 70116
VIP Doors Open: 11AM
General Admission Doors Open: 12PM
Event Ends: 4PM
Fête des Fromages is an outdoor cheese festival in New Orleans. Taste more than 150 cheeses and meet cheesemakers from around the world. Enjoy unlimited cheese samples and purchase wine, beer, and cocktails of your choice. Listen to local bands and watch chefs Mason Hereford and Dan Stein battle it out on stage in a race to break down giant wheels of cheese. All tickets include unlimited cheese samples, the chance to meet cheesemakers from around the globe, unlimited festival reentry and admission to The New Orleans Jazz Museum. VIP tickets with added benefits are available as are ticket bundles for multiple events.
Join us for these wonderful things to do in New Orleans! We'll see you there!
Location
Fête des Fromages Festival: The New Orleans Jazz Museum, 400 Esplanade Avenue, New Orleans, LA 70116
Fromage à Trois Party: The Cellar on Saint Louis, 2500 St. Louis Street, New Orleans, LA 70119
Cheese & Cocktails Class: The Sazerac House, 101 Magazine Street, New Orleans, LA 70130
New Orleans, LA 70116
Refund policy